True Story: Back in the 90s I had a small nursery in Seattle (tiny really, about the size of The Dry Garden in Berkeley). My partners and I were besotted plant geeks with a laser focus on specialty perennials. Passion gardens and the gardeners who tended them were our stock in trade. Once a year we'd fly to the Bay Area, visit as many nurseries as we could cram into a couple of days, then load up our suitcases with plants to bring back to Seattle to propagate for our like-minded customers. This was long before plants had patents and PR firms behind them.
After reading about a remarkable garden in Walnut Creek in the pages of Pacific Horticulture (in literature that's called foreshadowing) we set off in our rental car to investigate the Ruth Bancroft Garden. Sadly, the day we showed up the garden was closed; but this was before the garden was staffed—or gated. Quietly, the three of us snuck through a break in the wall for a quick look around. I'd seen photos of the Bancroft landscape in The Collector's Garden, a 1996 book by Ken Druse, but nothing prepared me for the scale of the giant cacti and myriad succulents in Mrs. Bancroft's collection. We were blown away! Somewhere in my files I've got a (film) snapshot of us goofily grinning in front of an Agave americana that towered over our heads.
We guiltily—but not so much so as to pass up such a precious opportunity—poked around the garden until we saw Mrs. Bancroft in the distance, kneeling to weed her famed bearded iris collection. That brought us to our senses and we sheepishly left before our trespass was discovered. Misdemeanor aside, the day I got to creep around this immersive landscape remains one of the most magical experiences of my life—gardening or otherwise.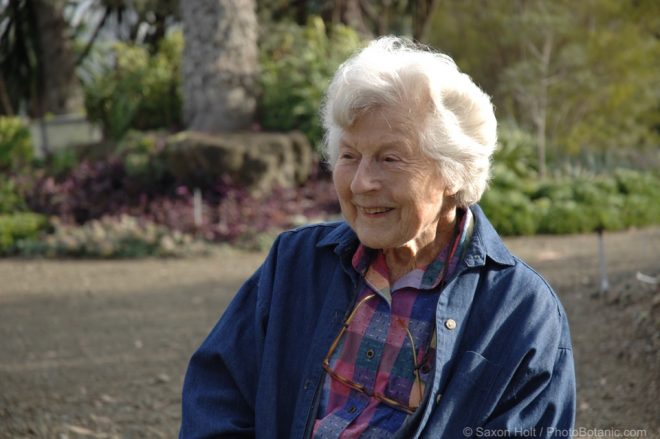 Thank you, Mrs. Bancroft.  Your vision, your curiosity, and your unflagging energy created a living legacy for generations to come.