Autumn 2022
With so many beautiful ornamental plant species and cultivars throughout California and the Pacific Northwest, how do you decide which ones to include in your plant palette? While there are many things to consider—such as water needs, light requirements, seasonality, and aesthetics—one factor too often overlooked is a plant's invasive status.
An invasive plant is defined as "a species that is 1) non-native (or alien) to the ecosystem under consideration and 2) whose introduction causes or is likely to cause economic or environmental harm or harm to human health" (USDA). These are a distinct and relatively small subset of naturalized plants, some of which have been introduced accidentally (through ship ballast, contaminated seed, and other means), while others were consciously introduced to serve a purpose (such as erosion control) or as horticultural plants. Surprisingly, almost 40 percent of invasive plants were originally planted as ornamentals before their invasive tendencies were known (Lehan et al. 2013).
One of the most infamous of these is pampas grass (Cortaderia selloana). Pampas grass is a popular ornamental plant, and its feathery plumes are often used in floral arrangements or on their own for bohemian-themed celebrations. However, each plume contains thousands of seeds, and while they may have an aesthetic appeal, the full-grown plant is large, deeply rooted, and very difficult to remove. It is known for establishing in wildlands and crowding out native plants, and subsequently, wildlife. While its more aggressive cousin, purple pampas grass (C. jubata), has been placed on the California noxious weed list, C. selloana can still be found for sale in some retail nurseries.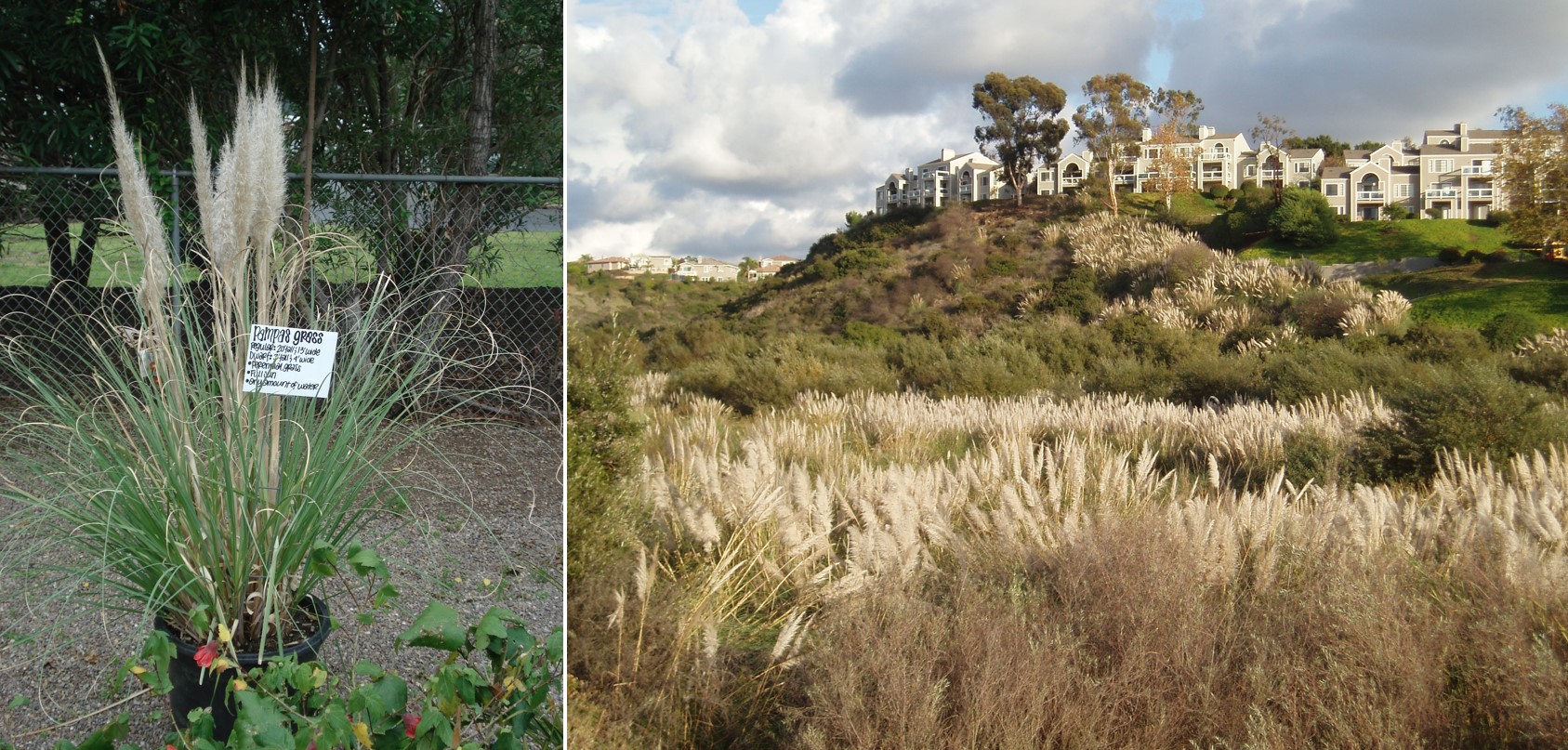 While most of the plants used in gardens and landscaping do not invade or harm wildland areas, a few vigorous species can—and do—escape into the environment and cause a variety of problems like crowding out native species, changing or depleting soil composition, altering water chemistry, and forming dense and impassable thickets. Invasive plants are also an expensive problem. For example, in California, at least $82 million goes into reducing the impacts that invasive plants have every year (Cal-IPC Symposium 2008).
---
SIGN UP FOR OUR FREE MONTHLY NEWSLETTER
---
Many invasive plants are on state noxious weed lists, such as giant reed (Arundo donax), as well as federal, state, or regional do-not-sell lists. However, often regulations are not binding, and many lists consciously avoid economically important plants. As a result, there are still many invasive plants out there that are available for sale or escaped into our landscapes. Some invasive plants are so widespread that bystanders have mistaken them for native plants, such as highway ice plant (Carpobrotus edulis) on the California coastline.
So, what's being done about these pesky invasive plants? And where do you go to find suitable alternatives to popular ornamental invasives? Thankfully, there are many nonprofit organizations working on invasive species issues throughout the West Coast. See the end of the article for a full list of links to these regional resources.
California
The California Invasive Plant Council (Cal-IPC) has a mission to protect California's environment and economy from invasive plants. Started in 1992, Cal-IPC partners with agencies and organizations across the state to address California's invasive plant issues. Cal-IPC offers an extensive inventory of invasive plants in California that includes ornamentals, with links to species evaluations, maps of occurrences, and standardized ratings determined by a team of experts. Cal-IPC provides resources on best management practices and training on tracking and managing invasive plants. Additionally, they advocate for strategic funding and regulation regarding invasive plants.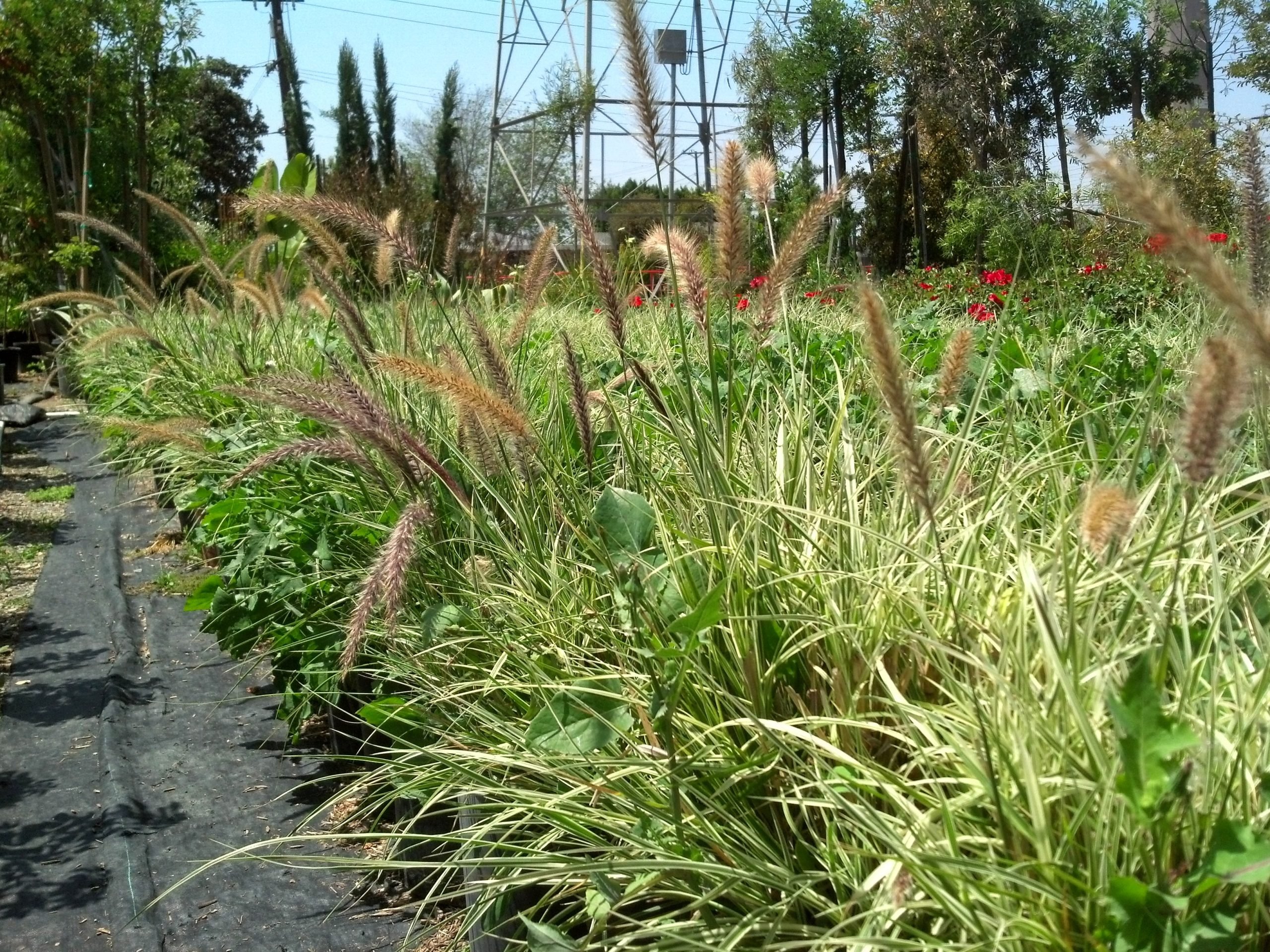 PlantRight is another California organization focusing on the prevention of invasive plants, particularly in the retail nursery sector. Longtime partners of Cal-IPC, PlantRight's steering committee used the Cal-IPC inventory as a jumping-off point to identify key invasive species available in the retail market. PlantRight's advisors created a small, actionable list of the most harmful invasive species sold in California nurseries and garden centers today. Each invasive plant includes noninvasive alternatives. This list is kept up to date with periodic nursery surveys conducted by PlantRight-trained volunteers, mainly University of California Master Gardeners. The results of these surveys are used in education and outreach to the nursery industry and the public.
Cal-IPC and PlantRight work together on evaluating plants that show early signs of becoming invasive. In 2015, in collaboration with scientists from UC Davis and the University of Washington, PlantRight developed their Plant Risk Evaluation (PRE) tool, a decision support tool that uses an online evaluation form to screen potential invasive plants. Professionals in conservation, plant academia, and botanical gardens have used the PRE tool to predict risk of a plant or new cultivar becoming invasive in a particular region. Currently, PlantRight and Cal-IPC are working to train partners in western states how to use the tool and complete evaluations that will be added to the searchable PRE database.
Oregon
Moving up the coast, in Oregon the regulatory body for invasive plants is the Oregon Department of Agriculture (ODA). However, with limited capacity to evaluate and rate invasive species, there are other, nonregulatory groups that also support invasive plant management. For example, Cascade Pacific Resource Conservation and Development is committed to protecting natural resources and supporting local communities. They organize the Western Invasives Network (WIN), which is a regional partnership network of individuals, agencies, and organizations concerned with rural and urban invasive weed issues in northwestern Oregon and southwestern Washington. The mission of WIN is to prevent the introduction and to control the spread of harmful invasive plant species by coordinating information and activities between willing land managers regarding Cooperative Weed Management Areas.
Washington
In Washington state, the Washington State Noxious Weed Control Board presides over invasive plant species. The Washington Invasive Species Council (WISC) educates the public and takes action against invasive plants. Garden Wise: Non-invasive plants for your Garden (2007) by the late Dr. Sarah Reichard is a great resource for anyone interested in planting safe alternatives to invasive plants in Washington. The Washington Native Plant Society also has a database of native plants on their website.
Greater Pacific Northwest
The Pacific Northwest Invasive Plant Council covers the regions of Oregon, Washington, Alaska, British Columbia, and Yukon. Their mission is to protect the Pacific Northwest's "land and waters from ecologically-damaging invasive plants through scientific research, education, policy, and on-the-ground citizen science monitoring and eradication program." Their website has many resources for education on invasive plants and for volunteering opportunities.
Collaborating with Western states
Over the past two years, with funding from the Western Integrated Pest Management Center (WIPM), Cal-IPC and PlantRight have led an effort to build greater communication and awareness across state borders regarding new potentially invasive plants. This effort includes partners in Arizona, California, Nevada, Oregon, Washington, and the Yurok Tribe. The need to collaborate and cross-reference information across state and national borders is crucial to elevate the effectiveness of each of our efforts. This project also includes training on PlantRight's Plant Risk Evaluator (PRE) tool, developed specifically to screen horticultural plants for their potential to be invasive, based on the climate where they are introduced. This year, the team is working on more PREs for species and finding ways to collaboratively use PRE results and other PlantRight tools to make these resources more available to land managers and the horticulture industry.
PlantRight project managers will be giving a brief update on the PlantRight and WIPM projects at the Cal-IPC virtual symposium coming up November 1–3, 2022. This symposium is another way that regional collaborators network and share strategies for preventing and managing invasive plant species in the West.
For more information on invasive plants and noninvasive alternatives in your region, contact any of the organizations mentioned through their websites or social media to find out how you can get involved.
Resources
California
California Invasive Plant Council maintains an extensive invasive plant inventory.
PlantRight maintains a list of most harmful species with non-invasive alternatives
Oregon
The Oregon noxious weed list is here.
Cascade Pacific Resource Conservation and Development
The Oregon Invasive Species Council is developing an online hub for information regarding invasive species.
For more information on native Oregon plants, see this publication by Oregon State University extension, "Gardening with Oregon Native Plants West of the Cascades," [pdf] or this publication from ODA, "Native Plants and Trees of Oregon."  [pdf]
Washington
The Washington noxious weed list is here.
Washington Invasive Species Council
Washington Native Plant Society
Garden Wise: Non-invasive Plants for your Garden [pdf]
Greater Pacific Northwest
Pacific Northwest Invasive Plant Council
For a resource that combines the native plant lists for Washington, Oregon, and British Columbia, check out Native Plants PNW.
Other cited sources
USDA Native, Invasive, and Other Plant-Related Definitions | NRCS Connecticut.
Cal-IPC Symposium. 2008. The Future of Invasive Plant Prevention and Management.
Lehan, Nora E., Julia R. Murphy, Lukas P. Thorburn, and Bethany A. Bradley. 2013. "Accidental Introductions are an Important Source of Invasive Plants in the Continental United States." American Journal of Botany 100(7): 1287–1293.