Summer 2021
I met Kellam de Forest when I began working at the Santa Barbara Botanic Garden (SBBG) in 2013. I had recently learned of his father, Lockwood de Forest III, one of the architects of the landscape at the Garden, but knew little of his influence on the aesthetic of California landscape design. Kellam was in his late 80s, and I sometimes kept him company in the shelter of the live oak at the garden entrance while we waited for his ride after an event. Knowing my interest in education, he often chatted about his mother, Elizabeth Kellam de Forest, who wrote many of the articles for Santa Barbara Gardener, a publication that she founded with her husband.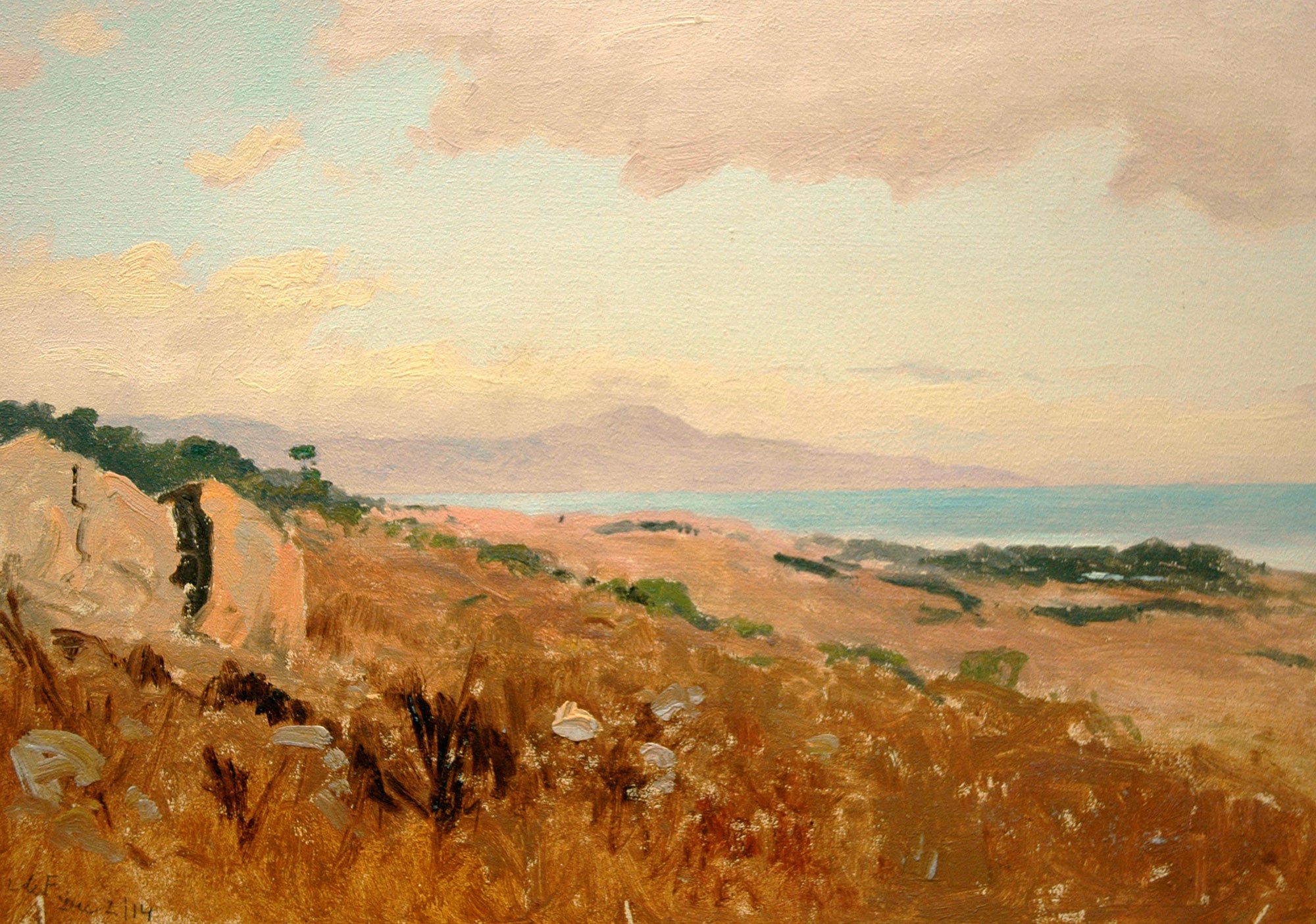 The de Forest legacy in Santa Barbara stretches back nearly 100 years, following a 300-year journey from the Netherlands to California. Since their arrival, the family has influenced wide-ranging movements in fine arts, landscape design, and television. Horticulture enthusiasts are most likely to have seen the work of Lockwood de Forest III or his wife Elizabeth Kellam de Forest. Together, they had an almost-prescient sense for future landscape design trends. At a time when water-intensive gardens were in vogue, the de Forests pushed for drought-tolerant landscapes, summer-brown lawns, and an appreciation for native landscapes, such as Santa Barbara's stunning mountain backdrops.
Learning that Kellam had passed on at the age of 94 renewed my interest in the family's legacy. I discovered that the family had broad-ranging interests in the arts—Kellam, for instance, established a large historical research firm in Hollywood and worked on television shows such as Star Trek and The Untouchables, and films such as The Godfather and Chinatown. Later in life, he worked on preservationist causes, especially championing the landscapes designed by his father.
Jessé de Forest
Our story begins in the Netherlands, where Jessé de Forest, born in 1576, had temporarily settled. He was the leader of a group of Walloon Huguenots fleeing religious persecution, and assembled the first group of Walloon and Dutch families to settle in New Amsterdam. After unsuccessfully petitioning the King of England for permission to settle in Virginia, he came up with a new plan.  He became involved with the Dutch West India Company after informing them of his plans to emigrate to the New World with a group that practiced various trades. The Dutch gave him permission to settle in the West Indies.
After landing in New Amsterdam, in 1624 Jessé left for a reconnaissance in South America and died in Guyana shortly thereafter. While he is regarded as one of the founders of what later became New York, he was not with the first group to arrive. However, a decade after his death, his daughter and sons settled in New Belgium, a territory between Virginia and New England, and the family was eventually based in New York.
Lockwood de Forest II
More than 200 years later, Lockwood de Forest II (also known as Lockwood de Forest Sr.) was born and raised in Greenwich Village and Long Island. He grew up with two siblings. All the children were interested in art, and the Lockwood family traveled in artistic circles. Lockwood Sr. was mentored in his artistic interests by his uncle, Hudson River School landscape painter Frederic Church, and became a well-known landscape painter in his own right and a key figure in the growing Aesthetic Movement.
Early his career, Lockwood Sr. partnered with Louis Comfort Tiffany before starting his own design business. He became an authority on Indian design and architecture, establishing the Ahmedabad Woodcarving Company in India in 1881, bringing new designs to an American clientele, and writing several books on design in India.
Lockwood Sr. began overwintering in Santa Barbara with his wife Meta Kemble while their three children were growing up, settling there permanently in 1923. The dramatic natural landscape inspired him to return to landscape painting.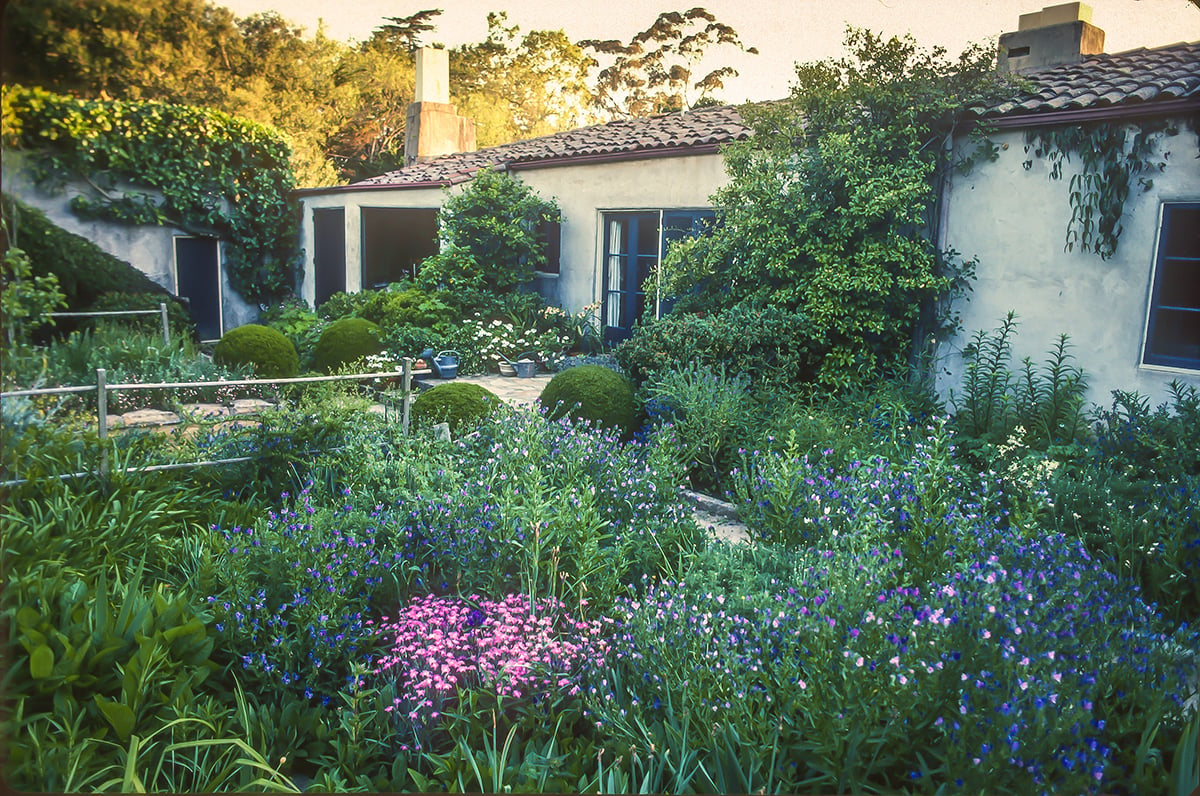 Lockwood de Forest III
Born in 1896, Lock was the youngest of the three children.  While he was the third Lockwood, he went by "Jr." professionally and "Lock" to his familiars. He was deeply influenced by his childhood days in California and developed a lifelong attachment to Western landscapes, notably at the boarding school he attended in nearby Ojai beginning in 1912. Thacher School, established in 1889, has a central ethos that focuses on the benefits of time spent outdoors in nature. Students are encouraged to hike, backpack, and horseback ride in the surrounding Los Padres National Forest.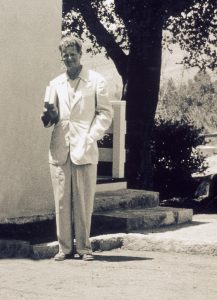 Lock dabbled in college, spending a semester at Harvard and a year at the University of California, Berkeley. In 1921, he travelled to Italy, Spain, France, and England, and explored historic gardens and parks. While he did not complete college, he studied design, and was eventually licensed as a landscape architect.
Working for a brief time in landscape architect Ralph Stevens's office, Lock soon began his own landscape design practice, where he brought to bear the influences of his family history, travels, and upbringing in Santa Barbara. "He was one of the first to really embrace the native landscape in California," says Kellam de Forest about his father.  "Prior to my father there was much more emphasis on water-intensive Beaux-Arts landscapes. Father didn't feel they fit the climate," (Library of American Landscape History).
Elizabeth Kellam de Forest
Lock and Elizabeth Kellam married in 1925, the same year that Santa Barbara suffered a devastating earthquake.  Elizabeth attended Vassar College and Stanford, graduating cum laude in English and psychology, and was a published playwright before she completed college. Their home on Todos Santos Lane, a three-quarter acre parcel with a fine view of the mountains sheltering Santa Barbara, was a wedding gift. Her parents provided the land, while Lock's parents provided funds for the garden and house. Together, Elizabeth and Lock raised two sons (Kellam and Lockwood IV).
During this time, they joined other prominent citizens—including planners, architects, and artists—to form the Community Arts Association, and participated in plans to rebuild Santa Barbara in its now iconic Spanish Colonial Revival style. "Wildly creative and completely unorthodox, de Forest and his unconventional wife took Santa Barbara by storm, both socially and professionally," wrote landscape historian Susan Chamberlin.
Kellam noted that even in their choice of transport, they were unique: "He drove a roadster that he had designed himself. It was built on a Ford Model A chassis with a V8 engine. Its seats were buffalo hide. There was a rear deck to carry plants." This fantastic roadster was known around town as The Buffalo, and Elizabeth later passed down the cherished roadster to landscape architect Sydney Baumgartner.
Santa Barbara Gardener
The same year that they married, Lock and Elizabeth launched The Santa Barbara Gardener, a modest publication with no illustrations, intended for Southern California gardeners. The publication, which they edited until 1942, combined "Elizabeth's plant knowledge and elegant prose with Lockwood's knowledgeable commentary on design" (The Cultural Landscape Foundation).
"Elizabeth Kellam and Lockwood were the original horticulture power couple. The Museum of Art used to have their names carved in marble on a most prominent bench—not lost on an aspiring landscape architect," reminisces Casey Sclar, president of the American Public Gardens Association.
The de Forests were far ahead of their time in advocating for drought-tolerant landscapes composed of climate-appropriate and native plants, as well as summer-brown lawns—or no lawns at all. Lock was one of the earliest Californian landscape architects to question the ubiquitous and generous use of irrigated lawns. Chamberlin writes: "The 1924 article 'Do Lawns Belong in Southern California?' by Lockwood de Forest Jr. is a landmark in West Coast landscape theory."  The Los Angeles Times once noted that Lock "embraced the climate while understanding its limitations."
Innovators
From the beginning, Lock's practice was largely focused on residential landscapes. An innovator in the field, Lock practiced landscape architecture in the Santa Barbara area beginning in the 1920s.
In the first months of his career as a designer, Lock worked for Ralph Stevens, the landscape architect who designed several of Santa Barbara's best-known estate gardens, including Casa del Herrero. Lock collaborated on the design with Francis T. Underhill, with contributions by Ralph Stevens and antiquarians Arthur and Mildred Byne. Landscape historian and former executive director of Casa del Herrero Molly Barker noted that while modifying the design of "The Casa," Lockwood recognized that the structure of Beaux Arts landscapes, the predominant genre of the turn of the century, could be adapted to include subtropical and exotic plantings, emphasizing the locality of Santa Barbara horticultural diversity and its climate. This, along with his use of the foreground juxtaposed with distant views, made him a linchpin between Beaux Arts aesthetic and modern design.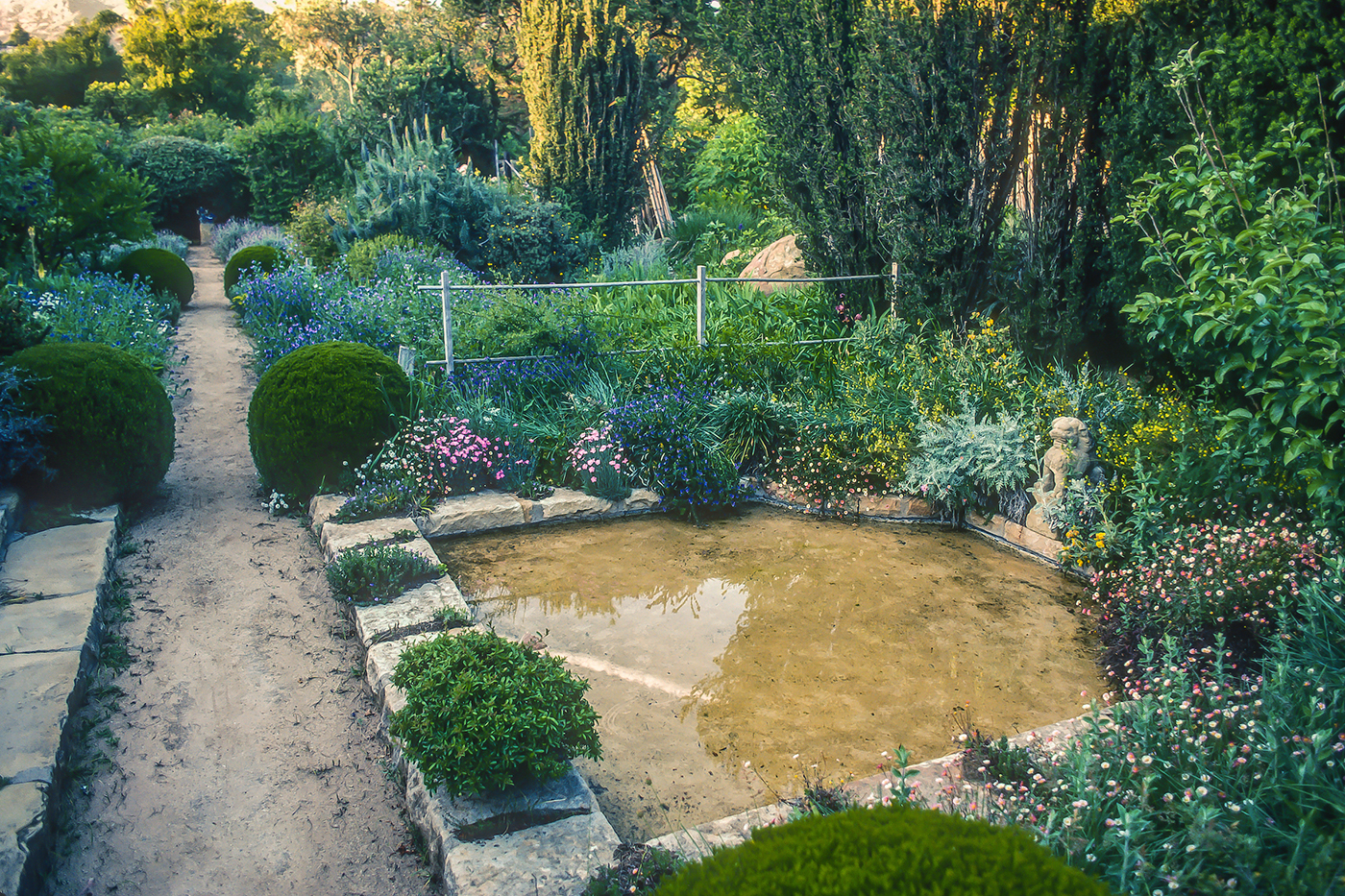 Lock soon left to establish his own design business, maintaining a small office so that he could retain control of all aspects of his work. David Streatfield, in California Gardens: Creating a New Eden, describes Lock's approach to design: "de Forest's designs often used clear formal and axial geometries combined with carefully selected plants complementing the colors and textures of the regional landscape. His horticultural knowledge was considerable and he played a major role in introducing and experimenting with the use of new plants from South Africa. Rejecting stylistic eclecticism his designs are notable for very simple detailing and bold, sometimes theatrical effects achieved entirely with plants" (Streatfield 1994).
Lock and Elizabeth primarily worked on residential gardens in the Santa Barbara area, but Lock's influence went well beyond that sunny coastline; commissions ranged from the Bay Area to San Diego. Sclar mentions learning in Pennsylvania that "several of the notable western native species of incense cedar and giant redwood found their way via railcar from west to east through the efforts of the de Forests."  Beyond his work in landscape design, Lock was active in his community by advising planning groups, teaching at Santa Barbara State College (now UCSB), and donating his time to the Santa Barbara Botanic Garden.
The Gardens
Todos Santos Lane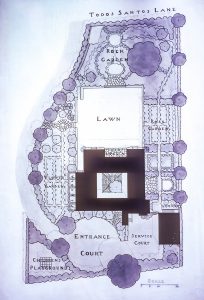 In Lock's own small garden on Todos Santos Lane, he carried out plans that employed his design skills to stunning effect. The family garden was visually linked to the mountain backdrop, dropping the middle out so that the eye traveled unimpeded across the garden to the mountains beyond. This use of the borrowed landscape is one of Lock's great legacies. Their home featured a lawn of kikuyu grass (Pennisetum clandestinum) allowed to die back to brown in summer.
Judy Horton, California Garden and Landscape History Society president during a 2014 conference dedicated to the de Forest legacy, described a visit to his home: "I walked into the dining room and looked out the window. In a moment I learned a design lesson never forgotten. Through the window was a garden that I had not seen from outside."
While carefully designed, the garden catered to the family's needs. "With the site in Mission Canyon, Father could capture the view of Cathedral Peak. Mother, who loved to cook, could have an herb garden right outside the kitchen door. Plants such as lavender and rosemary were chosen both for their color and smell. Father created a special outdoor dining room, which he called the Horse Corral, next to a playhouse he built to house my electric train," Kellam reminisces.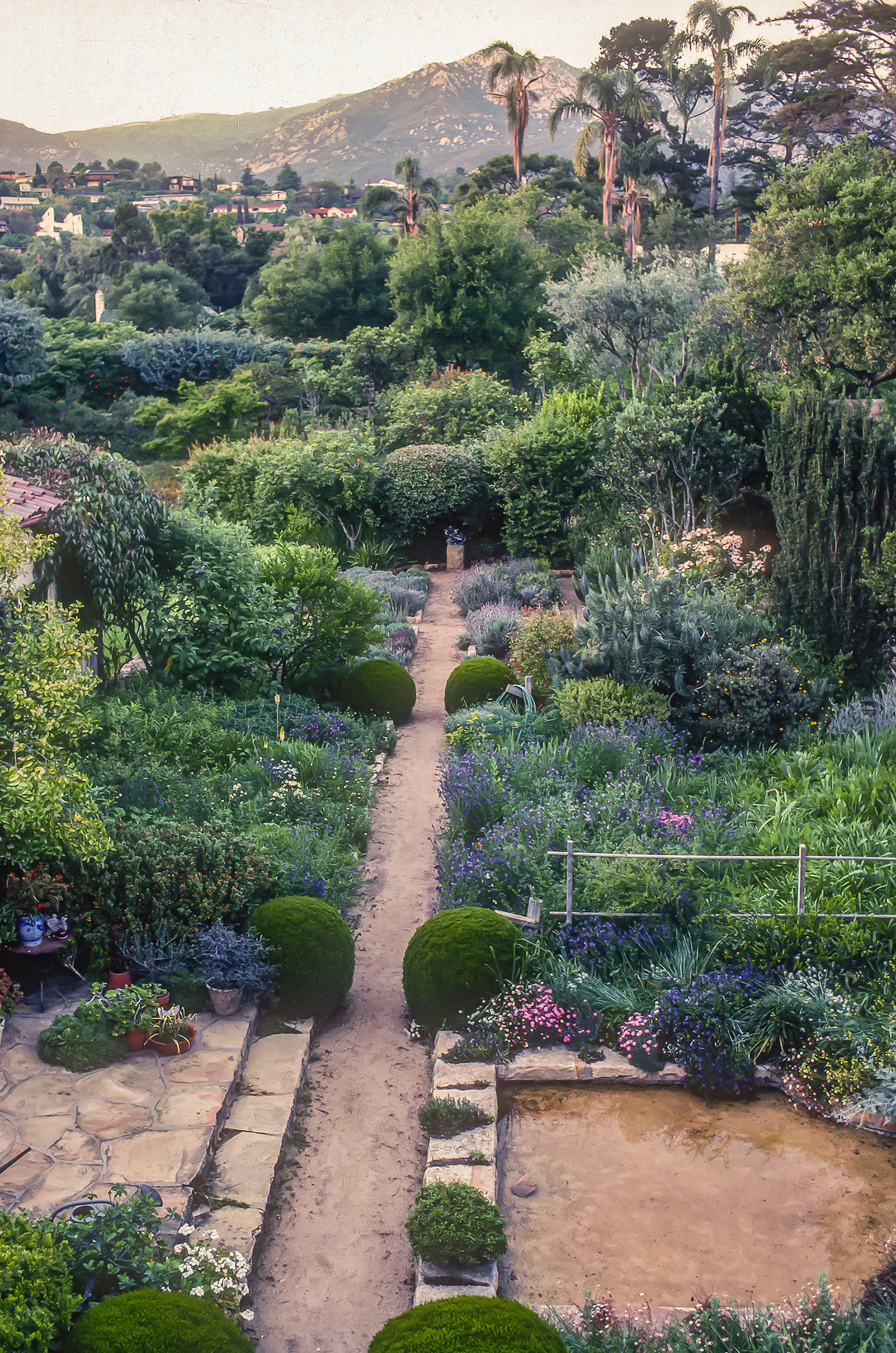 Santa Barbara Botanic Garden
Lock was involved in planning at the Santa Barbara Botanic Garden (SBBG) from the outset of his career. Renowned plant ecologist Frederic Clements guided the design. The first botanic garden devoted solely to the California Floristic Region, SBBG arranged native plants in natural communities.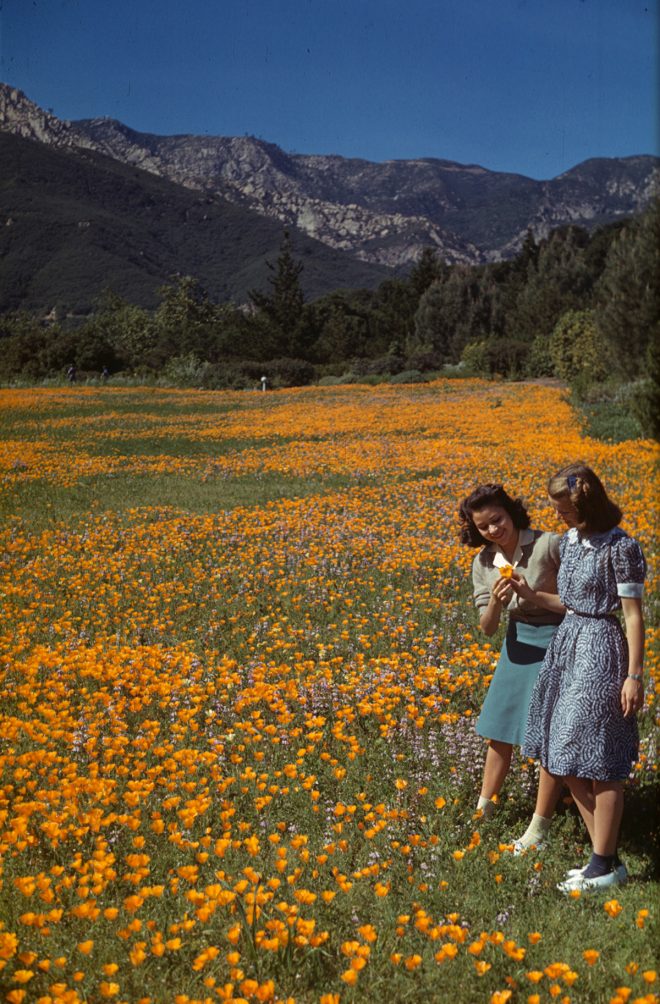 Lock laid out many of the original trails and his naturalistic aesthetic contrasts beautifully with the more formal lines contributed by landscape architect Beatrix Farrand. "The meadow was designed to capture an awesome view of a mountain peak. Borrowing such dramatic views and incorporating them in the designed landscape is one of my father's hallmarks," notes Kellam in one interview.
Val Verde
Lock's masterpiece is widely agreed to be the landscape at Val Verde, a collaboration with Wright Ludington, his cousin, schoolmate, and lifelong friend. Wright was creative and an art collector of note.  "Val Verde was to remain a continuing preoccupation for the rest of de Forest's professional life, and—even as he worked on other commissions—he never stopped experimenting, fine-tuning and inspecting Ludington's Val Verde" (Montecito Magazine).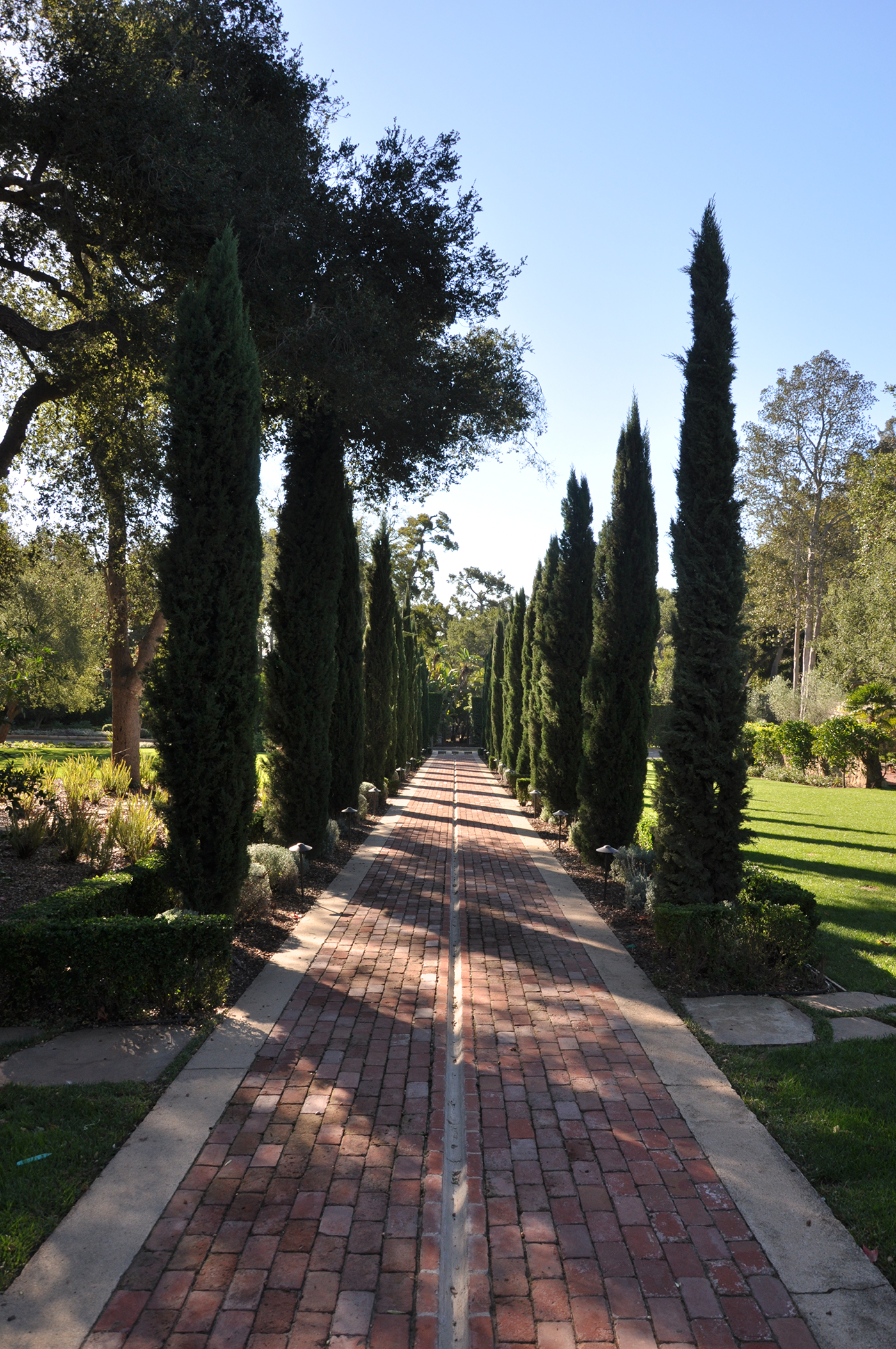 Val Verde was built in the Mediterranean style, with grounds and gardens encompassing a 17.4-acre site. It was a major contribution to developing landscape design in the region. Val Verde is a national, state, and county landmark, on the National Register of Historic Places, and designated a national treasure by the American Society of Landscape Architects.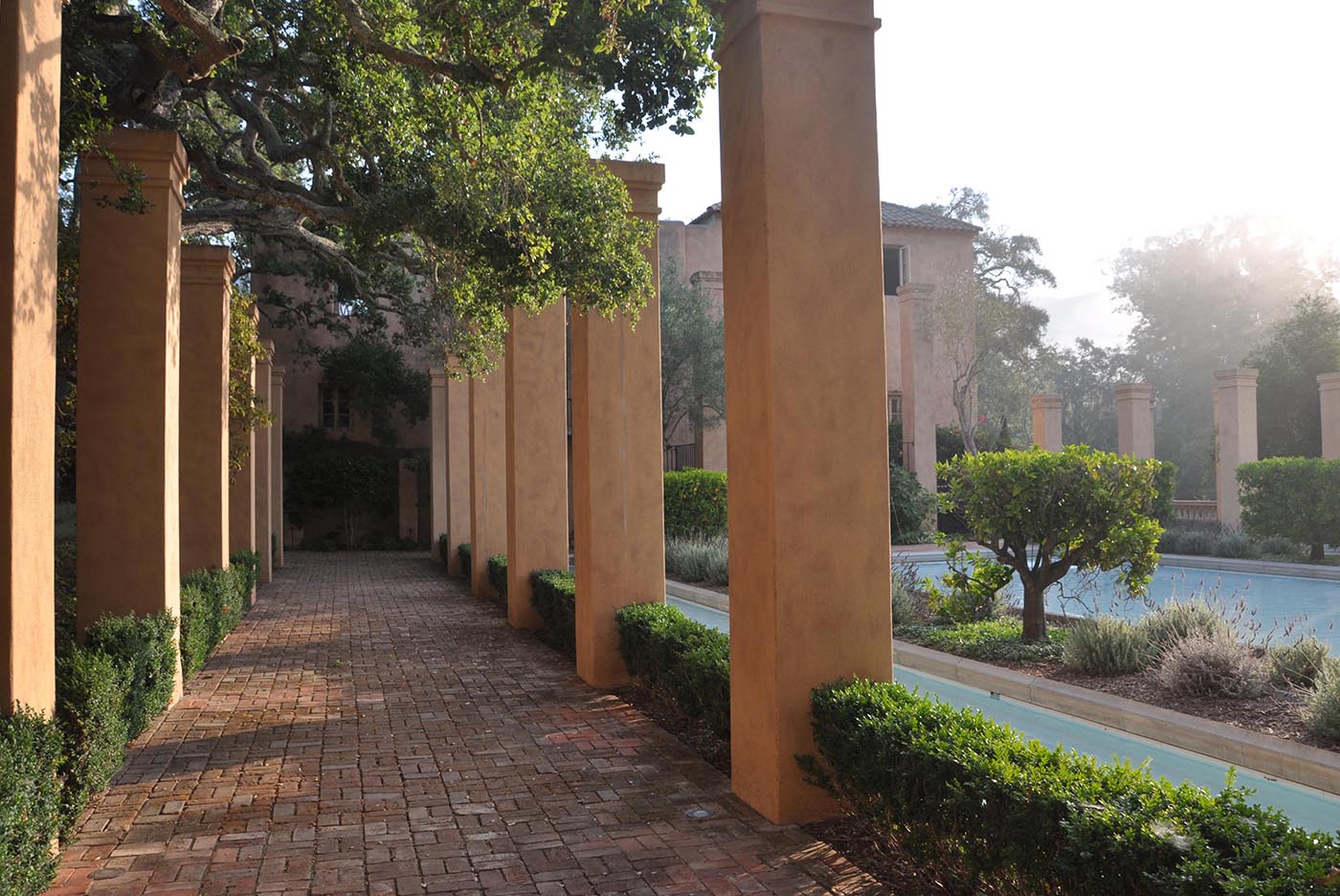 Landscape architect Derrik Eichelberger of Arcadia Studio in Santa Barbara recently spent four years on an extensive restoration of the privately owned estate, reuniting a property and garden that had been subdivided. Eichelberger cites one valuable tool as the chapter on Val Verde in Robin Karson's A Genius for Place: American Landscapes of the Country Place Era, a book which also includes a chapter on Lock.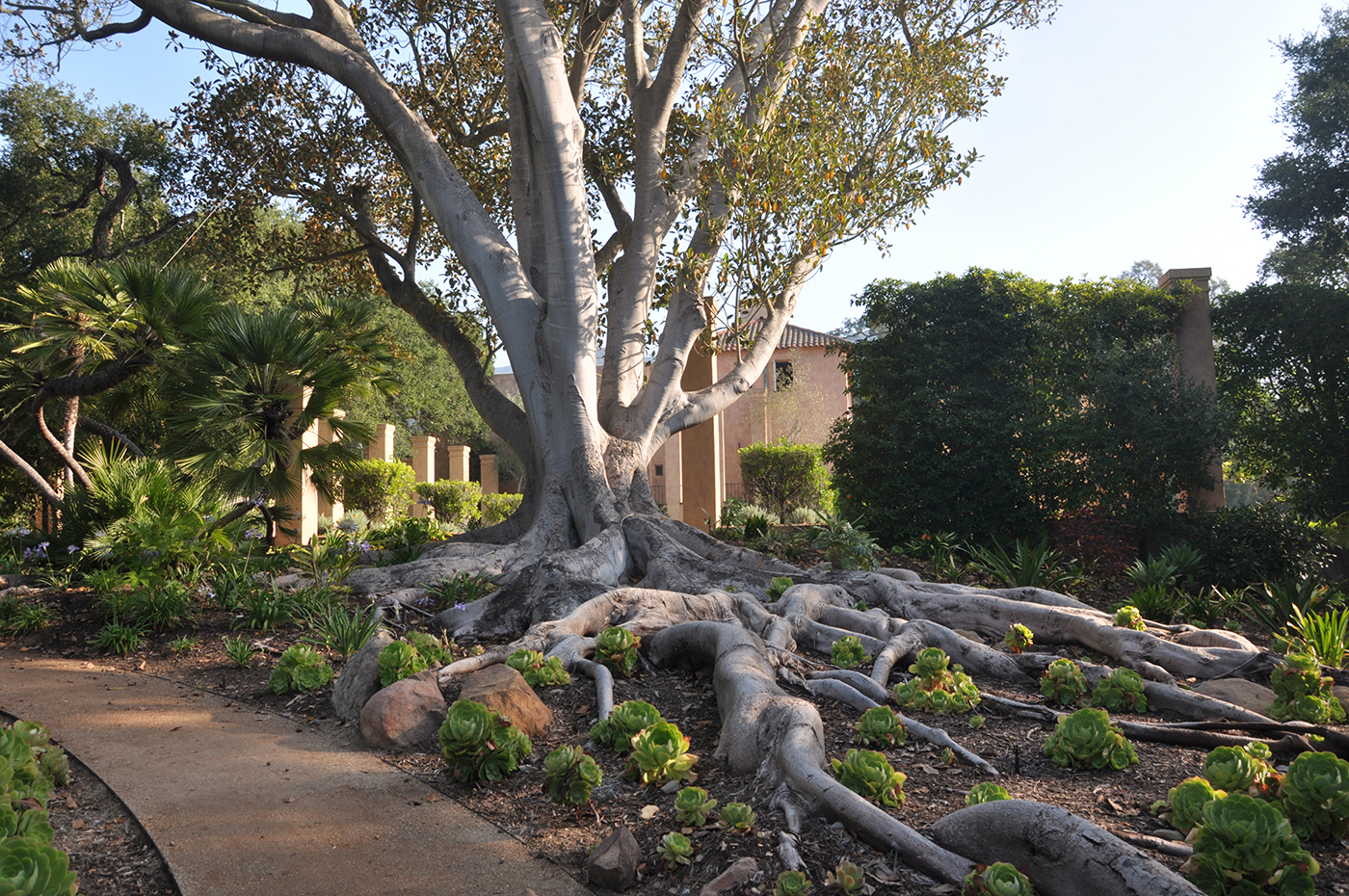 Other Major Gardens
Lock designed hundreds of gardens, either alone or with others; most were private residences.
Casa del Herrero (House of the Blacksmith) is now open to the public and worth a visit for the magnificent workshop alone.  Barker describes the Casa as a Mediterranean interpretation of the grand gardens of the Country Place Era using the language of Moorish architecture. It gained National Historic Landmark status, the highest historic recognition in the United States, for how the garden design fully integrates the house and gardens as one landscape.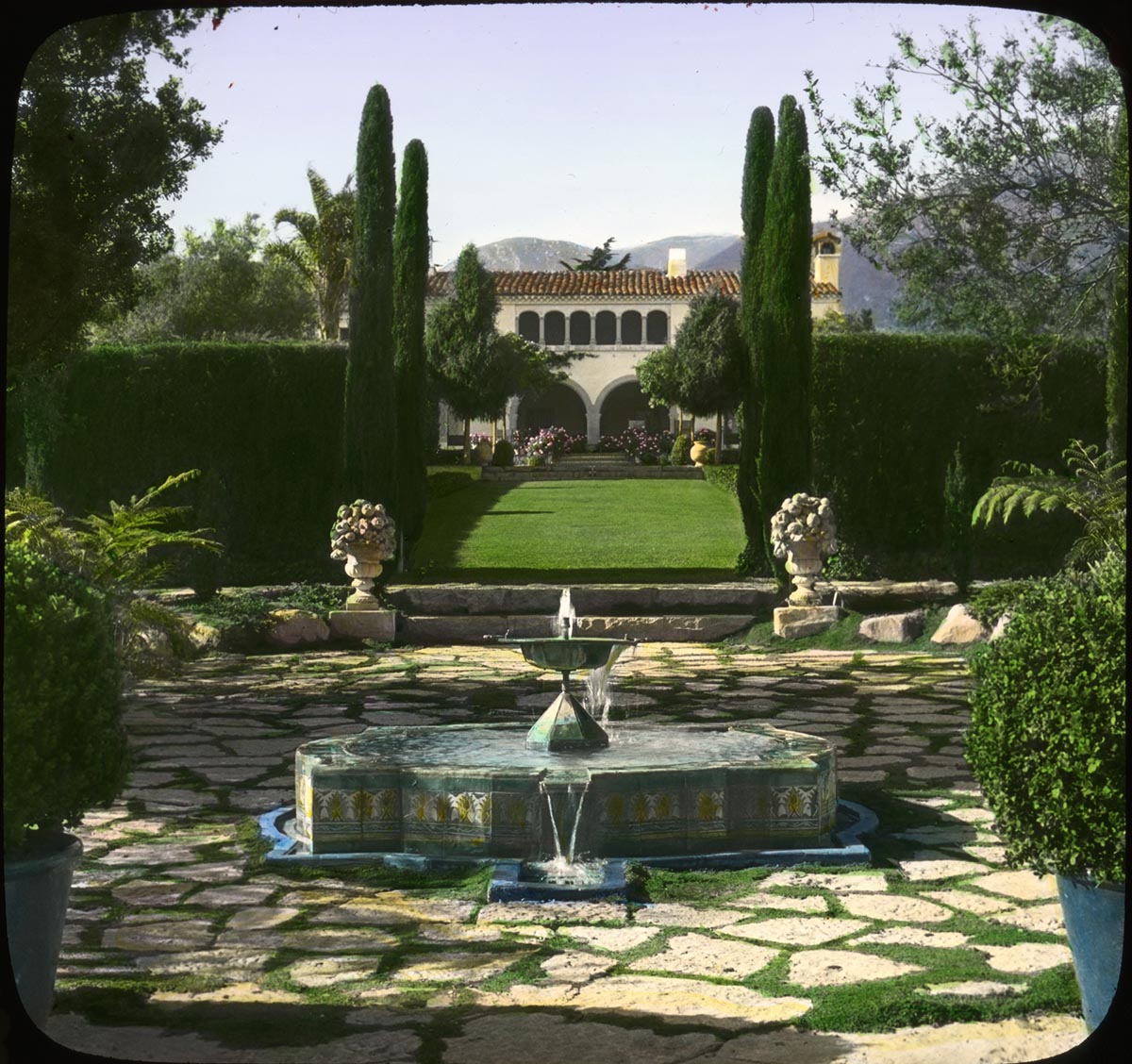 Sited on 3.2 acres, Constantia was the winter home of the Meeker family of Chicago. Here, in this smaller garden, Lock created an illusion of space, again drawing the eye to the mountains. He began work in 1929. As the house was in South African Dutch Colonial style, de Forest used many well-adapted South African plants in the landscape.
Lock designed famed conductor Leopold Stokowski's garden in Toro Canyon, as well as gardens at the Santa Barbara Museum of Natural History and Santa Barbara Museum of Art. His work can be seen in some areas of Lotusland, where he was a contributing designer of Ganna Walska's legendary estate. At the Morton estate, "To simulate spaciousness around the reflecting pool, de Forest used two effective artifices: the pool was built narrower at the far end, and a row or trees planted alongside the pool was clipped shorter and shorter as it moved away from the house, all creating the illusion of greater distances" (Montecito Magazine).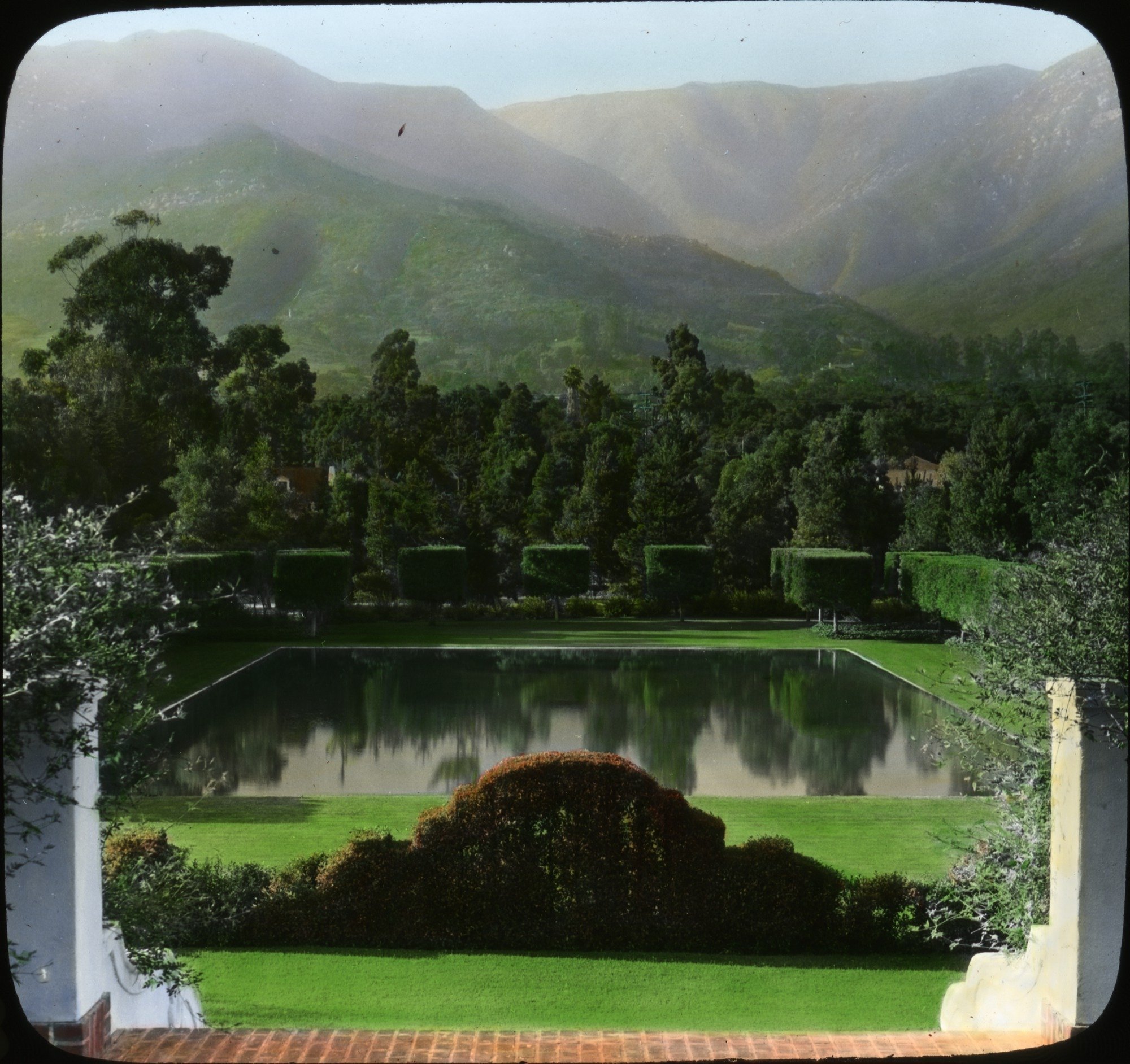 Legacy of Lockwood de Forest III
By 1949, when he died unexpectedly of pneumonia at 53 years old, Lock had gained a national reputation for innovative landscape design and his influence is seen in the next generation of West Coast designers. Elizabeth continued Lock's work, completing his commissions, eventually acquiring a license in landscape architecture in 1954, although she preferred serving as a consultant. Chamberlin praised Elizabeth's selection of drought-resistant plants with colors that played off one another, writing "Elizabeth omitted lawn and selected plants for the garden from a palette of drought-resistant Mediterraneans and natives in silvers and greys that harmonized with the olive trees and the surrounding natural landscape. Mass plantings of lavender under the olives with accents of Italian cypresses and tall Matilija poppies (Romneya coulteri) seem amazingly contemporary — it took California designers fifty years to catch up to what Lock and Elizabeth pioneered."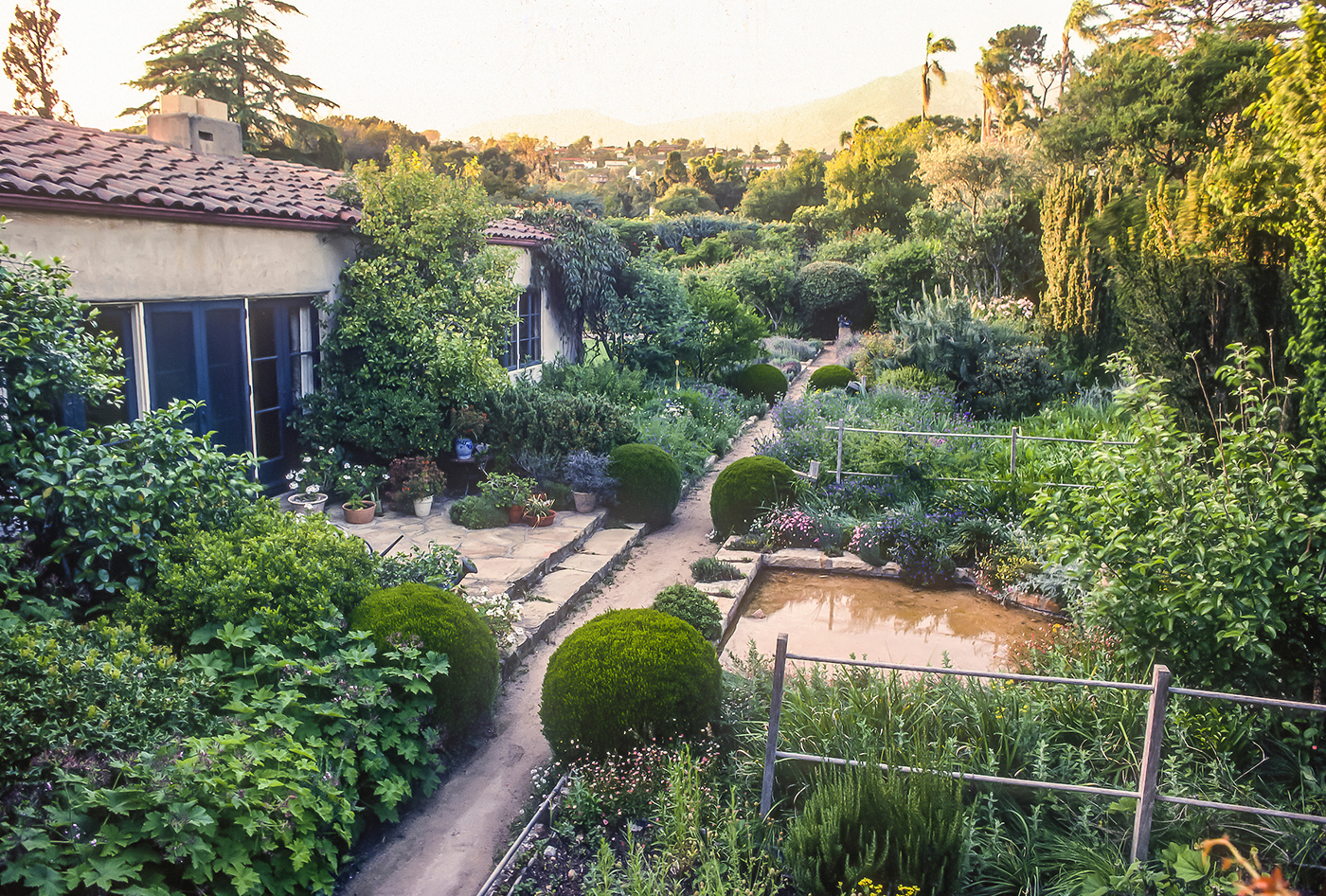 Elizabeth frequently consulted with Thomas Church on his Montecito projects. Still active in her eighties, she wrote a book about Mt. Vernon, George Washington's garden, while supervising the design and installation of the Alice Keck Park Memorial Garden in Santa Barbara.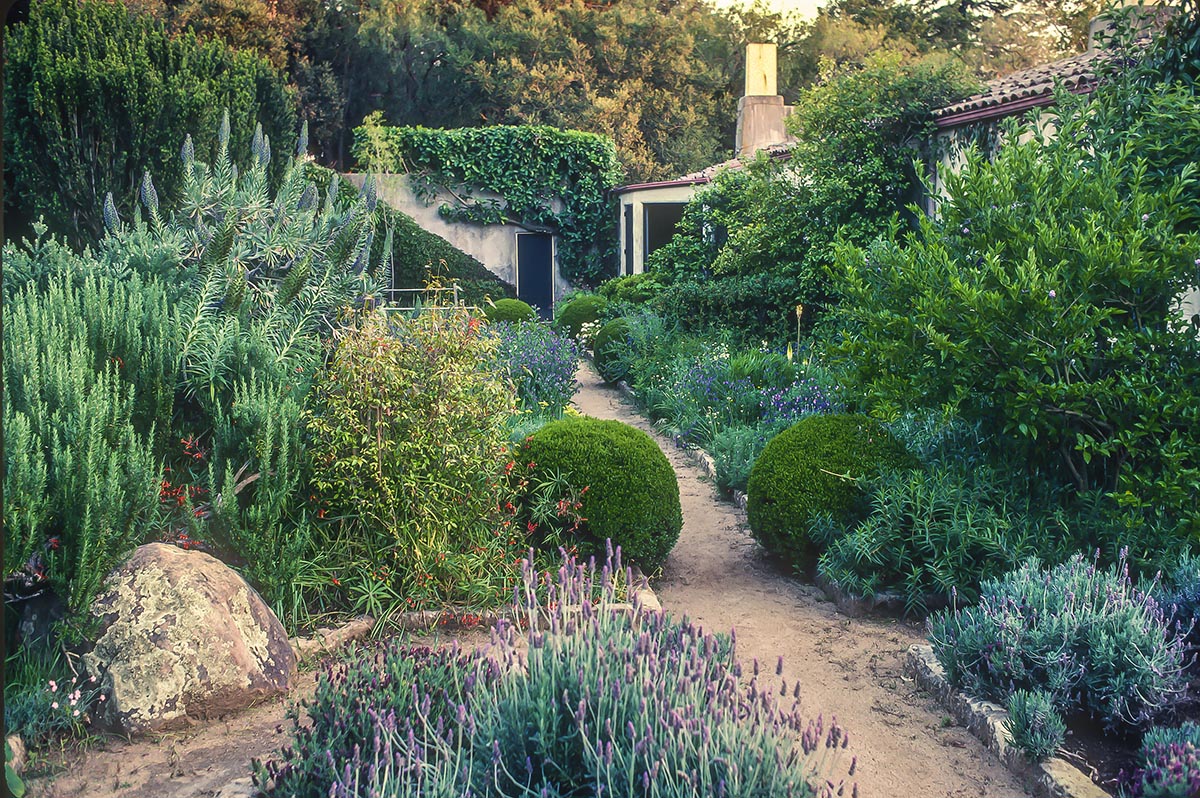 Elizabeth wrote several articles for Pacific Horticulture. "Persistent Small South African Bulbs," to which she was introduced in the 1930s, focused on the horticultural potential for these now familiar geophytes such as Babiana, Sparaxis, Moraea, and Gladiolus.
In the final issue of the magazine's first year, she wrote in "A Parcel of Rosemaries" about the half-dozen varieties in her garden during an era when few varieties were found in California. She waxed enthusiastic about a hybrid that had appeared in her garden: a dark green cascading variety with pale blue blossoms.
It was only after Lock's death that the cultivar was designated as 'Lockwood de Forest.' In a letter to Arthur L. Menzies, Elizabeth said "I can think of no happier memorial" to her beloved Lock.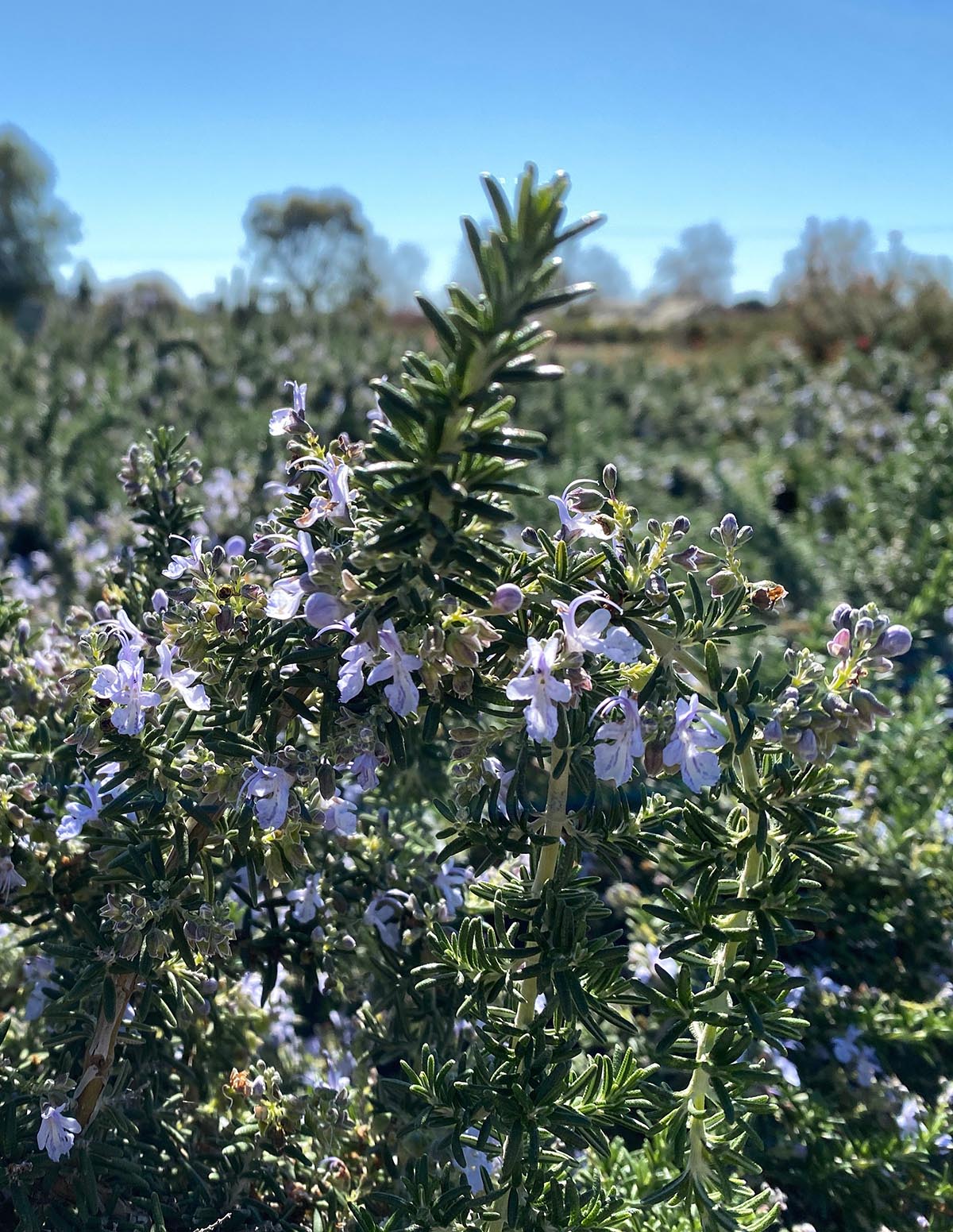 [November 3, 2021] Correction: An earlier version of this article stated that Elizabeth de Forest and Lockwood de Forest III practiced landscape architecture together in the 1920s. However, Elizabeth did not play a formal role in the business until after his death.
---
Resources
I used many notable resources in assembling this article. Landscape architect Susan Chamberlin is an acknowledged expert on the legacy of the de Forest family and their impact on the California aesthetic in landscape design; I relied heavily on her knowledge. Thanks to Molly Barker, Richard Turner, Randy Wright, and Brandy Kuhl for providing conversation and resources.
Eden, Journal of the California Garden and Landscape History Society. 2014. 17, no. 3 (Summer). [pdf]
Eden, Journal of the California Garden and Landscape History Society. 2018. 21, no. 1 (Winter). [pdf]
Carroll, Mary. 2004/2005. "A Garden for All Time: The Santa Barbara Botanic Garden." Noticias, Quarterly Magazine of the Santa Barbara Historical Society 50, no. 4 (Winter) and 51, no. 1 (Spring).
Library of American Landscape History. 2019. VIEW, no. 19. [pdf]
Library of American Landscape History. Kellam de Forest, Santa Barbara, California (2009)
Los Angeles Times. 2021. "Kellam de Forest" [obituary]. January 23, 2021.
Karson, Robin. 2007. A Genius for Place: American Landscapes of the Country Place Era. Amherst, MA: University of Massachusetts Press in association with Library of American Landscape History. Chapters on Val Verde and Lockwood de Forest, Jr.
Menzies, Arthur L. 1963. "The Origin of Rosmarinus officinalis 'Lockwood de Forest'" Journal of the California Horticultural Society, October 1963.
Streatfield, David C. 1994. California Gardens: Creating a New Eden. New York, London & Paris: Abbeville Press.
The Cultural Landscape Foundation. California Dream Personified: Val Verde.
Welsh, Nick. 2021. "Santa Barbara Historical Preservationist Kellam de Forest Dies from COVID." Santa Barbara Independent, January 22, 2021.
For those interested in further information, the Elizabeth Kellam and Lockwood de Forest papers are archived at the Architecture and Design Collection, Art, Design & Architecture Museum, UCSB. The Santa Barbara Gardener is available at the Blaksley Library at the Santa Barbara Botanic Garden and the Helen Crocker Russell Library of Horticulture at Strybing Arboretum in San Francisco.