Spring 2023
Earlier this year a visionary group met as the committee formulating the criteria for Pacific Horticulture's inaugural Design Futurist Award. For this new (and needed) award, they cited their desire to inspire and stimulate the very best that the landscape design world has to steer our gardens and our gardened spaces, public and private, toward their maximum ecological, environmental, and social contribution, to further solidify the collective understanding in our horticultural world of our horticultural leaders and spaces as being critically important ballast against an uncertain future.
An expansive understanding of responsibility, reciprocity, and opportunity is at the heart of the visionary panel of jurors convening in August of this year (2023) to evaluate submissions. Moreover, the award committee wanted the recognition provided by this award to not only be ballast against changing conditions, but to be the durable foundational underpinnings for a vibrant, lively, and beautifully diverse, well-designed future reintegrated with a natural world we are part of, and we love beyond measure.
The design award committee noted that "this new idea of garden beauty weighs the health of ecosystems, people, and climate resilience with traditional ideas about colorful plants and stylish design. And because great ideas belong in the community, the award calls for garden designs that are easily replicable, modest in size or designed for intimate neighborhood community use." Their goal was for the Design Futurist Award to "elevate inspired gardens and designs that showcase our reciprocal relationship with nature, and to demonstrate personal engagement and appreciation of the beauty of resilience, stewardship of biodiversity, respect for our local ecologies, and the environment."
This fall, Pacific Horticulture will feature articles showcasing the winners to make the best design ideas accessible to all gardeners.
But let's not rush to the finish line just yet, let's linger here a little while and revel in the lush and generative process, form, and noted participants in the design and decision of the award itself.
Readers and members of Pacific Horticulture were treated to the vision of the awards committee earlier, and so with just two months left for submitting, we're excited to introduce you to the panel of celebrated design and plant experts, a second visionary group of horticultural humans who have happily answered the call to jury duty on behalf of this year's Pacific Horticulture Design Futurist Award.
It would be difficult to overstate the credentials of this six-person horticultural jury, with a diversity of backgrounds, with extensive and global design experience, with their unbridled enthusiasm and depth of knowledge: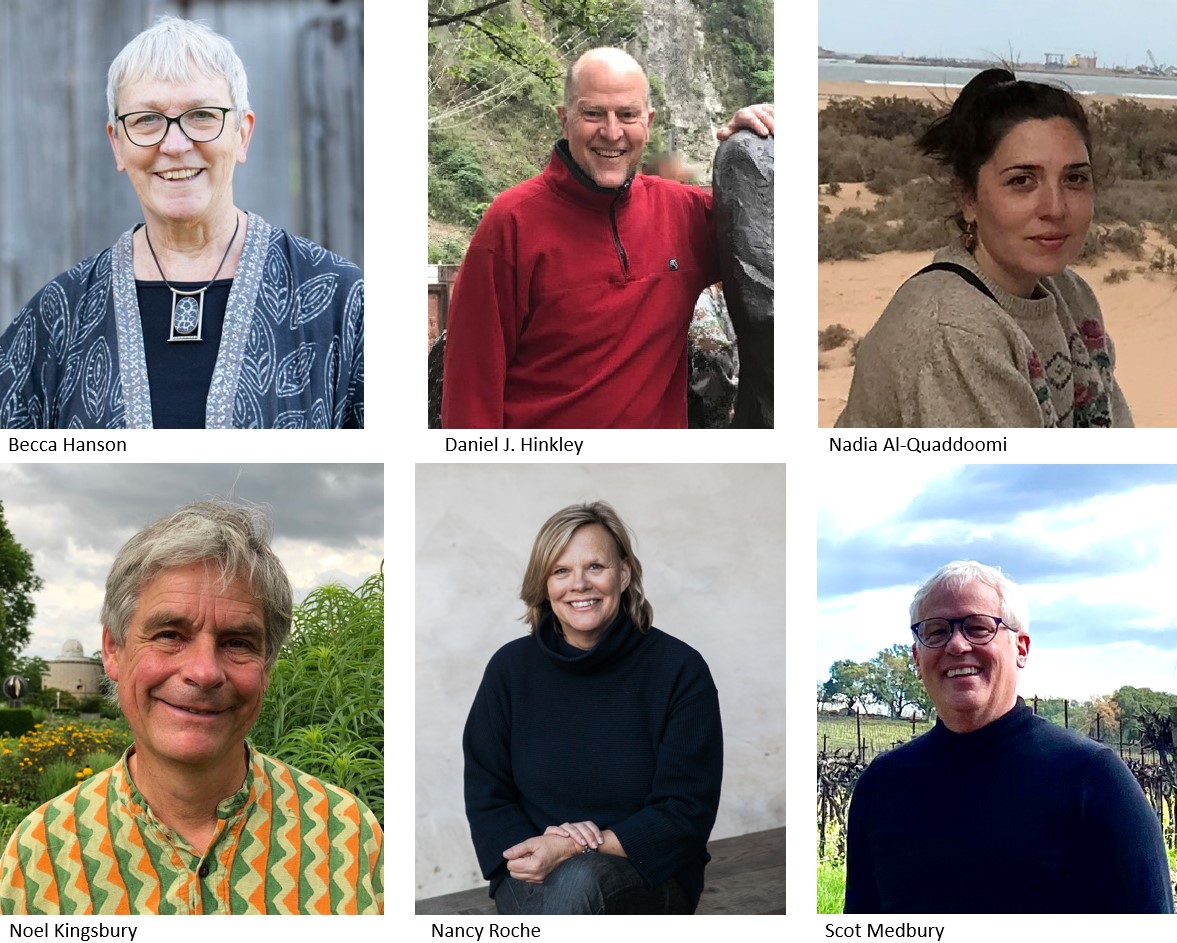 Nadia Al-Quaddoomi (San Francisco, California), Senior Designer, Terremoto. Nadia has 13 years of hard-hitting, scale-ranging, various-landscape-use experience.
Becca Hanson (Bainbridge Island, Washington), of Studio Hanson | Roberts, and SH | R Studios: Conservation by Design "Celebrating Wild Life." Becca is a fellow of the American Society of Landscape Architects and founding director of both The Portico Group in 1983 and Studio Hanson | Roberts in 2003.
Daniel J. Hinkley (Kingston, Washington), writer, lecturer, explorer, nurseryman, and garden maker. He designed and established both Heronswood and Windcliff in Washington state.
Noel Kingsbury, PhD (Oliveira do Hospital, Portugal), internationally acclaimed horticultural writer, teacher, lecturer, and garden/planting designer best known for promotion of naturalistic planting design, and 25 books, four in collaboration with Dutch designer Piet Oudolf. 
Scot Medbury (Eugene, Oregon), an accomplished innovator in American public gardens, having served as director of the botanical gardens and conservatories in Brooklyn, New York, as well as San Francisco and Sonoma, California.
Nancy Roche (Sonoma, California), owner partner of Roche + Roche Landscape Architecture in Sonoma, California.
Just as the insights and mindsets of the awards development committee had valuable information to offer those of us cheering on the sidelines of this progressive new award, so too the insights, expectations, hopes, and perspectives of the jury panel have something to teach us about showing up, growing up, and demanding that the growing world continues to grow ever better.
In interviewing each of these jurors generously sharing (and investing) their time in this task, I was curious about their thoughts and even feelings about all of this. I posed to each of them the same set of questions, which collectively yielded some thoughtful, often surprising and refreshing responses.
Enjoy!
When you think of the many ways in which our world is challenged right now—such as biodiversity loss, climate change, social and political strife, economic woes—how do you see gardens/gardeners as potential contributors to the problems? How do you, perhaps, also see gardens and gardeners as contributing to possible solutions to some of these challenges?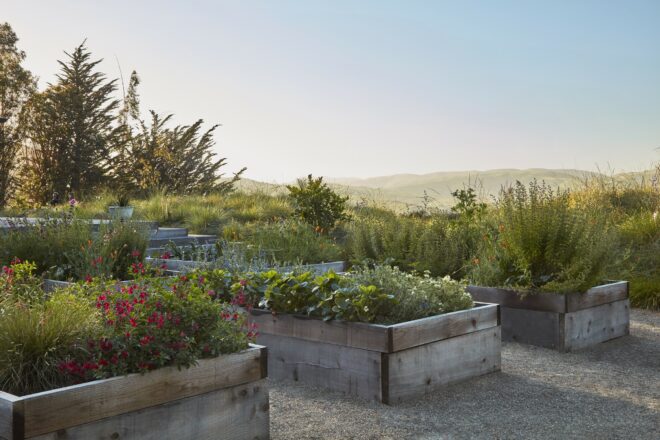 Nadia Al-Quaddoomi believes that "as garden designers we need to be continuously educating ourselves about better ways to approach design in order to propose a holistically high-value landscape; it's an education that will continuously evolve and become more detailed and nuanced, especially with regard to a regional practice. Clients need to see examples of these high-performance futurist landscapes aesthetically represented in the media so that they can build their vision of what gardens can be."
 "Gardens and landscape design in general can easily be a contributor to all these challenges. When I was a newly hired landscape designer at my very first job (2010), a more seasoned landscape designer turned to me with a sad stone expression and declared 'We (landscape designers) rape the earth for materials for every single project.' She went on to say, 'We waste what is existing (hardscape materials) and poison the earth in the demolition and ground clearing process.' Bleak, right?"
Nadia indicates the truth in how "'good' it sounds to say we plant trees and shrubs, but what did we send over to the landfill? What did we spray all over the ground? Where are our new materials coming from; what is the energy expenditure to get all that over to our site? And in the end, is the new design resilient and performative enough to even be worth all of that? Honestly, it was a good way to start my career with such realism and honesty about the current status quo of landscape design. A Band-Aid of planting and the excitement of newness is nowhere near enough to justify the thoughtlessness of material waste, water waste, energy waste, depletion of natural resources, and low habitat value. In essence, treating a site like a blank slate to impose program on—rather than living land with a history and unique opportunities—makes for an incredible amount of waste. As landscape professionals, it is doubly degrading to the environment and wasting opportunity to do so much more good."
In the last few years Nadia's firm, Terremoto, "has been openly discussing how to radically evolve our client relationships to put plant and animal biodiversity, low-waste and site-specific solutions, and fair payment of labor at the forefront of our project discussions—in collaboration with the client's program and personal vision."
She is as exuberant in her belief in the potential of gardens to be places instigating and encouraging positive change. "As much as I indicated above that we can ignorantly and stubbornly waste material, resources, space and opportunity with status quo design—our gardens can also radically contribute to environmental resilience and rehabilitation, biodiversity assets, create places of joy and healing, and promote wage and benefits equity."
She goes on to share one such residential project, called Elbert, that exemplifies this power in the positive. "It is a residence in Oakland, California, that is home to a family in three generations—a lovely and very chatty grandmother, her married daughter, and their two children. Also a large rescued pup. Initially, it seemed like we couldn't take the project because the budget was too restrictive for the size of the property. But the site felt right and had so much potential and the client was really interested in being the primary tender of their garden. In this design, we reused all the existing on-site stone materials to retain grade and create a benched gathering area; kept all existing trees and shrubs that were in good condition; reused existing on-site concrete to create a mix of stone and concrete pavers for paths and gathering areas; planted all low-water and mostly natives to create an eclectic flower-cutting garden; planted fruit trees and provided a vegetable bed area reusing an existing terrace. The overall design used existing on-site materials (with some supplemental stone), is abuzz with insects, is extremely low water, is gardened and tended primarily by the owner along with a local gardener, and the contractor relationship reflected our values of representing the client's interest with quality work while standing up for the of equitable compensation for the labor involved throughout the construction process."
Nadia shares another exemplary project that "focuses on community healing through contributing landscape design is our Café Ohlone project in Berkeley. Café Ohlone is an amazing restaurant with the purpose of sharing traditional Ohlone food and culture through their restaurant. The Terremoto San Francisco office fully collaborated to develop a design using native plants, many of which could be used in cooking their dishes, and referencing the endemic landscape. Local natural materials were sourced for the in-house furniture design and the labor was also an equitable contractor and Terremoto office collaboration." 
"We have come from, I believe anyway, a society that has focused on the 'beautiful'—according to somebody's dictates, in somebody's books, and no other rationale than 'these colors work together and maybe you have foreground, middle ground, background'—to a greater depth of storytelling," said Becca Hanson of SH|R Studios.
What good gardens do, she suggests, "is they approximate the chaos of Eden, but they simplify it in ways that we as mere human beings can begin to understand that natural chaos or exuberance, and then tune into that, the bits of beauty as they strike us, and then, by that appreciation, learn to appreciate the natural world behind it because we can learn to hone in on the details—the minute details—that altogether sum up to this great whole."
Becca describes this shift as decolonizing garden design knowledge, making it accessible beyond academia. In this way, good gardens approximate nature, but have enough legibility or visual accessibility for people to enter and feel welcome and comfortable enough to better grasp—and appreciate—the greater diversity and complexity of wild nature.
Dan J. Hinkley wants to believe that gardens can meet some of the more tenacious challenges of our time. That said, there are some built-in conundrums for him.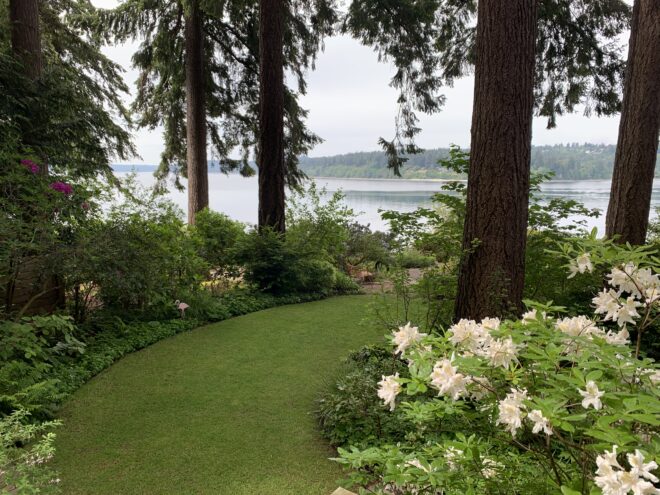 He is not a purely native plant designer or gardener, but he is introspective and interrogates himself regularly about his choices and balancing his plant choices. He believes in the intrinsic value of this kind of critical thinking.
By way of example, he has a lot more wildlife in his home garden than he ever has before, and he believes in the transformational power of gardens even if he does not see them as "the one or only panacea for global problems that are pretty big. I feel like planting anything, planting a great tree is a good thing, a good step in tying up carbon," as well as providing habitat, beauty, and shade.
But, he adds, "you can't do just that. It's a good step, but you also have to choose to make other changes" across the board of your life: drive your car less, use less single-use paper and plastic. He notes that it is often his love of his "garden that inspires him to want to step more lightly," and to make and be more committed to those other life changes.
He sees the transfer of ownership of Heronswood from him to Burpee to the Port Gamble S'Klallam Tribe as being one example of how gardens can and are bridging cultural divides—moving in both directions. He and his husband, architect Robert L. Jones, lived and gardened next to the tribe for 20 years and they had no interaction. Now "tribal members wander the garden." The tribal influence informs and educates Dan, and vice versa. He acknowledges that "the aesthetics of even a partially native and naturalistic European-standard garden are still very different, but there is now dialogue and raised awareness."
Early in his move toward naturalistic garden designs, Noel Kingsbury and his colleagues were asking: "how do we do this better, both aesthetically and technically with smaller gardens, private gardens, urban gardens in mind, too?"
The obvious thing to him and others propagating a lot of interesting, globally inspired perennial plants was "how do we use these as though they were wild plants?" He shares it was apparent early on "that if there were a great answer, it was going to come from Germany. German plantspeople and civil designers were really ahead of the game—creating novel, artificial ecosystems that would serve a function beyond the purely visual," in using good perennials to restore war-and-industry-caused brownfields and urban barrens.
In the beginning, Noel and his peers were very aware of a "gradient" between the strictly visual and the strictly ecological, with concepts like pollinator support in mind—a "spectrum of design work that was very good at capturing a certain concept, think here of Piet Oudolf as exemplifying this best, right across to people who were doing much more radical work, which was genuinely creating ecosystem" analogs in Holland and Germany.
"As time and the understanding of our impending ecological crisis has gotten greater," Noel is feeling "much more now in a normative sense that we really ought to be pushing the ecological much more strongly." This in some ways runs in line for Noel with the question of, "What is a garden?"
Working in the southwest of England on designs of his own or as a consultant for other designers on large properties that would have previously had "half an acre of garden, a couple of acres in a rough old orchard, and a couple more acres in rough old fields. And what are you going to do with these rough old fields but rent them out to a local farmer to graze their sheep?" That cycle, subsequent to agricultural consolidation in the name of efficiency and scale and increased development, happens far and far less frequently, he said, and "more and more people are finding themselves with this liminal space that they do not want as intensive garden but needs a little management."
It's this space he sees as holding "potential to be managed in a way that is really good for biodiversity—do a little bit of tree planting, do a little imaginative mowing, build a scrape or a pond. You don't have to do that much to create an aureole of semi-wild land between the garden and the farmed landscape. A lot of people are doing this successfully, but it seems an opportunity we need to be talking about more: how do we add aesthetic value to it, how do we add biodiversity to it?"
In his multinational and many decades of experience, Noel said he is seeing many places "where farmland is creeping toward the gardened landscape." He thinks there is a good chance with the "ecological future nigh, that this will shift back somewhat soonish as sea levels rise, saltwater inundation, population shifts, and ever-increased suffering of and pressures on 'nature' with need for new farmed land. Therefore, the spaces we can create and manage for nature are going to be increasingly important. Nature will survive in small managed and novel landscapes. In the creation and management of this—and the preservation of genetic diversity—there may well be a role for AI and other emerging technologies," he muses. "I think in the future a lot of people will want to have—even if it's only a few square meters—something resembling nature and in terms of public landscapes, we may be moving towards a model where we are trying far more urgently to integrate nature into urban spaces—for the psychology of green nature around us and for economy of resources—shade, carbon sequestration, water filtration—as well as pure ecological and aesthetic benefits."
At this moment—with the doubling of the number of gardening households in the US in the last five years—Scot Medbury said there is a real opportunity to reach more people than ever with not only the idea of "really cool plants, but also really good for your place on the planet plants and really good for the planet planting and land care methodologies" to boot.
In his professional public garden changemaking, in how gardens can help to meet some of these challenges our world is facing—including social and economic challenges, along with environmental challenges—Scot sees it all being important. And he wants to make sure we do not "lose sight of beauty and standards of excellence." Because when a design is truly beautiful—"when the details work, when a design all hangs together, it feels great, just being in that space feels great."
The idea of beauty has changed for him over the years—as has the question of how to marry different aesthetic standards or overlays. "There are commonalities across different aesthetics, and there is a spectrum across from formalism to wild meadow restoration, for instance. Plastic, trash—no one wants these in a garden; edging of beds even in non-formal gardens help to make a space more legible and navigable."
In her work, in her region, Nancy Roche of Roche + Roche Landscape Architecture does see the potential for well-designed and managed gardens, supplied by good nurseries, to help the world meet some of the need for biodiversity return, habitats restored. She sees examples out there, and explains that the world needs a steady supply of gardens, gardeners, and nurseries to turn the tide in losses. She is very "gratified" that in her career, the world now appreciates that "soil is a living thing that needs to be cared for." But we are balancing this against the fact that time is well beyond nigh" for this kind of perspective and action change.
More and more people in Nancy's region of Napa and Sonoma—"living in this kind of rural residential state, often with an agricultural component like orchards or vineyards on it, but still a relative lot of native 'untouched' landscape as well—are wanting this shift," but there is still a lot of room for change. Since 2017, fire has been in the forefront of how she thinks about everything to do with her designs, and she feels like she is also dealing with clients with such an overabundance of connectivity, immediate responses, immediate gratification in purchasing and having things right away, and generally less patience in all facets of life. The great thing about a garden in their lives is that they happen over time, that's supposed to be part of the joy of it. With some clients there is impatience, and she tries to moderate this immediacy with the temporal nature of the garden. This is true, too, of the messiness of life, which is always going to be part of even the most formal garden, and Nancy thinks this is a good and important gift from the garden to clients. She gets to help people accept that nature is messy and that's part of why and how it works so well. "We need to help people move beyond a culturally ingrained phobia of nature."
In the course of your career, has your own understanding of the word "garden" shifted? Has your own understanding of the values or virtues (of any kind) of the concept of a "garden" shifted?
Since beginning her career in 2016, Nadia's understanding of "how to design a garden for a client has developed significantly; although I think my concept of what a garden is has always retained the impression of my grandmother's house from my childhood."
"I really think the expression of Grandma's landscape was inadvertently ahead of its time. She had a large Spanish-Colonial-style house on a hillside property in Southern California that was about an acre in all." Nadia said. "As my grandmother has gotten older, she just didn't want to put the time and money into maintaining such a large property. The result, especially for me and my siblings, was a magical adventure land. There were brambles and huge trees, tall grasses and weeds," as well as "a long slick and steep dirt hillside my brothers slid down (I avoided this), and a golden cup vine that had grown into a grove of trees and sent down massive tendrils that we swung from. Also, apart from the hedge in the front yard, her property was almost completely unfenced."
This attracted "wildlife like deer and coyotes; my parents always warned us about mountain lions; and of course there was plethora of smaller creatures. This wildlife had no problem moving from one backyard property to another because all the yards had fallen down fences it seemed," she said
Visit the 2023 Design Futurist Award page.
The Design Futurist Award elevates inspired gardens and designs that showcase our reciprocal relationship with nature.  These awards demonstrate personal engagement and appreciation of the beauty of resilience, stewardship of biodiversity, respect for our local ecologies, and the environment.
Nadia knew from the way the "adults talked that all this wildness and magic was not what 'proper' yards were about; of course I knew it from experience, too, because I had been to other people's houses who proudly had large grass yards with pools and maintained shrubs around the edge of the six-foot high fence line and irrigation heads that popped up to spray it all down."
But being the "future landscape designer" that she was, Nadia "knew Grandma had it going on. She had her small, maintained landscape surrounded by her favorite flowers where she hung out all day and drank coffee and read three daily newspapers (and five on Sunday)—and she had a mysterious, exciting, radically biodiverse and habitat-friendly landscape."
When Nadia started designing residential gardens, in order to "deliver a design" acceptable to the client and aesthetic criteria, she "allowed what was so ingrained as a 'proper' garden to influence her. Her work initially was "primarily aesthetically and program driven." However, she shares with pride "progressively I became more relaxed and zoomed out. Maybe it was just the natural benefit of experience. Instead of seeing the client's list of program, I really saw the site. I began to internalize the needs of the environment and the landscape, not just the client and designer: prioritizing native habitat, biodiversity, low-impact and low-maintenance building methods." Being more "open to the site," she "could see it already had existing materials and thriving trees and plants, inherent structure and character. And this is where the influence of my childhood experience and what makes a place magical really began to bloom for me."
Nadia has "become the landscape professional participating in a wonderous process of natural, ecological systems and providing key interventions to facilitate the enjoyment of these places. Pretty rad!"
When we speak, landscape architect Becca Hanson has just discovered a new word—which, she adds, "doesn't happen very often." Zooeyia—the net benefits that accrue from association with other animals. We note that there must be a corresponding word (related to biophilia) for the net benefits for deep and deeper association and surrounding oneself with diversity of plant lives—we are determined to find it.
"I am a landscape architect with a background in plant community ecology," Becca said. She came at it from "understanding the stories plants have to tell us about their place in the world." Becca believes that if we understand this correlation and coevolved relationship, "we can begin to understand everything else about a plant and how it begins to fit in to garden situations around the world." She leveraged her skills and knowledge first in a more classical approach to landscape architecture, working with traditional gardens and large plant landscapes, then moved into zoos around the world, which "has been the bulk of my work over the last 45 years."
In this, she allows plants "to tell that story of the relationship with the animals in a particular place in the world and what beauty and power comes from that association with plants in those landscapes." She describes herself as a "real kind of outlier in the world of horticulture," but she is likewise firm in her belief that "some of the most powerful places occur when you have all these things working in harmony with one another and you can see an animal in that setting, with those plants, and you're close up and you let the plants do a lot of the storytelling for you."
With an increasing global clarity that humans have inexorably damaged the physical spaces where plants and animals are able to live in harmony, you can hear the possibility in Becca's exact skill set and perspective.
She mimics form and function of plants native to various animals' home ground with her plant choices in zoos—they become thoughtful and strategic analogues for the places of origin.
Becca worked on her plant community ecology and landscape design studies more or less simultaneously at the University of Washington. She started her studies in architecture, but thought better of it. One day, in 1975, at age 25, walking with her then-1-year-old son through the Royal Horticultural Society's gardens at Wisley, they came around a corner where planting crews were just finishing Wisley's great rock garden and Becca realized, "Oh, I want to do that!"
Fast forwarding from that originating motivation to her career fullness now, the fundamental drive remains very much the same because "rock gardens are so much about rock garden plants. You don't do other plants, you use plants that are uniquely adapted to that. And they can come from all over the world, but these plants tell the story of those rocky areas that they were adapted to. And when you lock onto that primary consideration, then you always have happy plants! Living in the same conditions in which they evolved."
That coevolution of plants, animals, and places informs every job she designs.
Dan sees his younger self's driving motivation as basic in the beginning, not "pushing any envelopes, but blind love and interest." The "real excitement" started for him in the late '80s and early '90s when he "started having a better understanding of the plant kingdom, all the things he hadn't seen, all the things he wanted to see," which led to his plant collecting and introductions in the mid-80s. That new phase of meeting and seeing plants in their places came with increasing "breadth of understanding what was out there botanically," and he "started going after it passionately."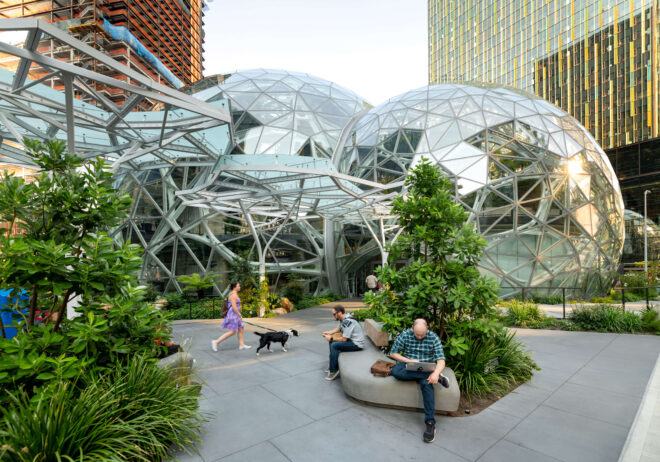 Over the subsequent 50 years, his design and plant-love drive and motivating force has shifted "totally. Probably in much the same way as other people as they mature and evolve as gardeners. As we get to know plants better, I hope, many of us have learned it's mostly about foliage not about flowers, and it's about texture and juxtaposition of textures, but I think my understanding of design went from the rectangle and heavy-handed control to a much more wild, naturalistic feel."
Dan feels "that's the way most gardeners do evolve in time—even in boxwood-hedged formal gardens, perhaps." In his seventh decade, Dan sees this as an illustration of how the garden world itself has evolved in horticultural consciousness.
From this vantage, many new gardeners now start at a different point than those designers and plant hunters of the 1970s–1990s. They are primed for the more important things in garden design of now: "stepping gently on the earth, not using chemical herbicides/insecticides, being aware of soil, water, air, and faunal life quality—from run off to pollinator support. Most people are now entering the business of landscape and garden design with these concepts as part of their awareness and literacy."
Beginning in the 1990s, Noel moved into garden design—"the way many nursery people do: provide plants, provide plans showing people how to use and combine them well." This followed a small nursery business that was born of and fed his own plant love and lust, in the midst of a beautiful moment of a global renaissance and abundance of small, interesting specialty plant nurseries. It was a really interesting horticultural moment in global horticulture from Europe to Great Britain to the US.
From then to now, Noel notes that, "inevitably," his own design aesthetic and design and plant ideals have shifted. In the early 1990s, he joined the ranks of naturalistic gardening advocates because he not only liked the sound of it, but it was a conscious decision that he wanted head in this direction. The trajectory in Britain, which he sees as mirroring the horticultural trajectory of the US, "was that in the 1980s, there was a push to create wildflower meadows [recall back if you will to then Prince Charles's early meadow models at Highgrove beginning in 1980], using Britain's somewhat limited wildflower flora.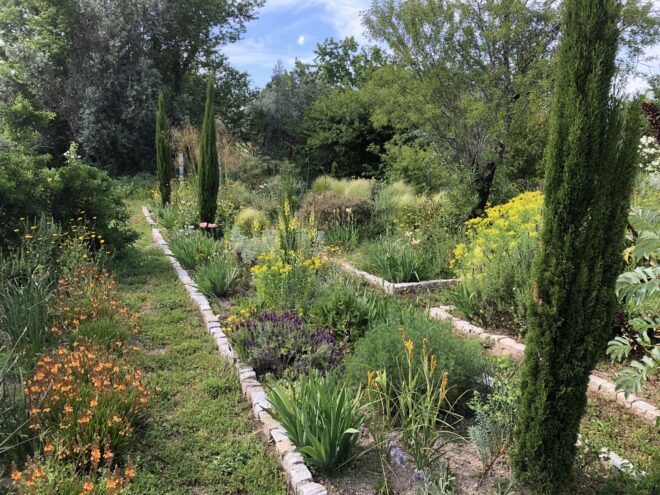 It was genuinely breaking new ground, but it was aesthetically limited due to the limited nature of the flora. But also due to the technical issues behind creating meadows." Since moving to the naturalistic, Noel has moved ever more deeply into both beautiful and ecologically functional garden plants, combinations, designs.
Scot is a 40-year veteran of public gardens, helping to revamp, grow on, and transform several notable horticultural institutions: the San Francisco Botanical Garden (then Strybing Arboretum) and the rebuilding of the Conservatory of Flowers. As the sixth leader of the 110-year-old Brooklyn Botanic Garden (BBG), Scot helped that venerable institution grow and rethink its purpose and its place. In his last years there, he helped defeat the threat of two 40-story, shade-throwing high-rise developments.
After that resistance, it felt like the time for him to move on to another big project for a smaller institution. He helped the rebranding of the plant-rich Sonoma Botanic Garden (previously Quarry Hill Botanic Garden) in Sonoma, California, away from the legacy of a small private garden with a fabulous collection of Asian plants, to a more full-spectrum botanic garden in its region.
Scot likes helping places move to their next levels of growth and development. In 2022, his life partner was invited to the lead the academic library at University of Oregon in Eugene as director of employee engagement, development, and belonging. Scot moved with him as a "trailing spouse" and has taken on the reinvigoration of the historic Korean-War-era glass houses and Quonset hut headhouse. He started his job at Oregon in early April 2023. He wrote articles for Pacific Horticulture back in the George Waters and Dick Turner days, and over the past few years, he has served as one of three judges for the show gardens of the Northwest Flower & Garden show. When Pacific Horticulture Executive Director Sarah Beck approached him to serve as a juror on this new award, his recent immersions in these two very different public garden spaces of the West led him to accept, and he sees his very different kind of horticultural career as affording him a specific lens with which to serve, as he notes: "the passion for plants knows no ethnicity, age, or gender."
He sees the Design Futurist Award as timely and reflective of our greater individual and communal horticultural moment, working to make a happy marriage between "genius of place meeting sustainability."
When Scot thinks about who he was back in horticulture school (a few classes off from Dan Hinkley), he sees his own understanding of a good garden or a good plant as having shifted in these ways: "I've always been interested in design, and the history of environmental design on the West Coast." But he was and is, he shares, laughing, always "really gaga for plants. Gourmet, distinctive plant palettes—not the same boring dentist's office plants, but globally sourced interesting, new, and novel plants," and since his early education in horticulture in the '80s and '90s, he's had a keen interest in native plants, and distinctive native plants of whatever region he is in.
He was aware of the emerging sustainability crisis facing our planet even in his early career. In the course of his work, he said in hindsight it has been interesting to try to "balance design and the original design intent of some of the existing, cool gardens he's worked in," with the now-common garden and design issues of "changing climate, declining biodiversity, and loss of habitats." The prominence of the importance of this balance has only increased with time, of course, as issues of concern have aggregated: including "the drought tolerance of plant choices, and the serious impact of horticulturally introduced invasive plants."
The Brooklyn Botanic Garden is unusual, Scot notes, in being "the quintessential urban garden in the Western Hemisphere, one of the most accessible public gardens by public transportation," and while there it became ever more clear to him that "if over half of the world's population is living in cities like New York/Brooklyn, then if we don't make room for plants, wildlife, habitat—we're sunk!"
One of the ways to "serve community" was to always ask, "How do we plant for wildlife and human life? How do we plant with natives for habitat value?" The work of Doug Tallamy, which has demonstrated that native birds need native plants, was proven true at Brooklyn Botanic Garden over and over. Scot is also very interested in the "cool and groovy plants of the world." For him, finding a middle ground of cultivating a love and knowledge of local and native plants and ecosystems with an ongoing exploration of new plants, is worth striving for, as well as "engaging people with plants they've not seen before while also making them excited about nature." He feels like this combination of motivations is the "gateway drug" which can lead people down the path to becoming an engaged gardener "interested in native plants and biodiversity."
Nancy was always an "outdoor person," and early on she knew she "didn't want to work inside or downtown." Having grown up outside of Chicago, she went to the land-grant University of Illinois, and in her sophomore year, experimentally took an introductory landscape architecture class. She was intrigued but a little intimidated, and ultimately pursued her degree in agronomy. It was the late 1970s and she really interested in soil science and the appropriate technologies movement. She worked in a soil science lab after school, and thought that would be her career path, but when she moved from Illinois to Palo Alto, California, at the age of 22, she was floored with the horticultural abundance and easier climate for gardening.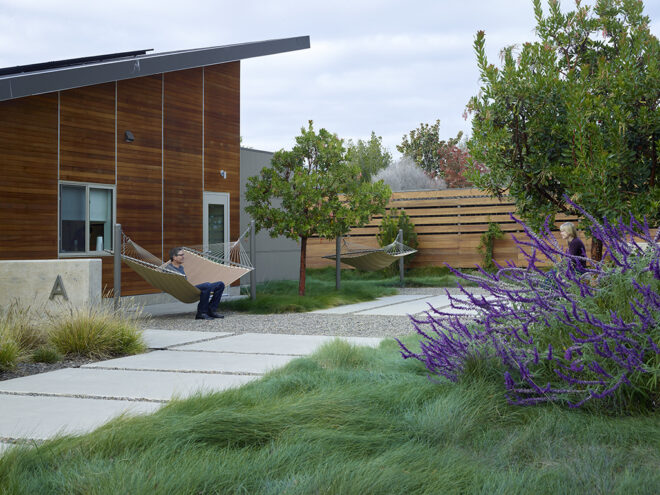 She was in the first cohort at UC Berkeley's Landscape Architecture extension program while working full time at a retail nursery. She was so busy with the nursery business that she moved away from it again, but "it kept coming back to me." She stayed in nursery business and then collaborated with landscape contractors in planting plans and plant procurement for many years. This track was a great education in plants for when she and her husband, each with their own design skillsets, established Roche + Roche in 2004–2005.
Her own design and garden aesthetics standards have shifted over her 40-plus years, in part "just through normal cycles of taste and styles."
Having moved from Illinois to California, it was also easy for her to fall in love with "and be astounded by the abundance and richness and diversity, even seasonality" of the native plants of California, something that was sometimes lost on the people who had grown up around them.
She found that coming from an outside perspective had many benefits, as did being in a horticultural epicenter at a time when there were a lot of small, individually focused specialty nurseries from whom to source great plants. "Although there was a strong English and East Coast overlay from the 1980s through to the early 2000s, too," think: "Penelope Hobhouse, Smith & Hawkin. Gardens are so much about memory and control … and for many people at that time the only images people had seen of gardens were of post-World-War-II-era gardens with these East Coast and English influences." Another change she notes is that now—"at a time when gardeners are being encouraged to grow natives, even locally native plants, there are fewer and fewer small, specialty nurseries to supply them" with ethically sourced, genetically diverse, and toxin-free plants. This reality needs to change and she thinks it is happening —but still too slowly—with nurseries "informed not by just what has sold well before, but rather what gardeners, designers, and contractors want and also what we know they should be planting."
In trying to have this conversation recently with a mid-level commercial nursery in Nancy's radius, she was not sure her points were being completely received, but she sees some glimmers of hope in small, scrappy nurseries trying to germinate into the next independent, organic, local, specialty nursery renaissance.
And finally, in a world in which these are all busy people, I was intrigued as to each juror's reasons for being willing to offer their time and talents in this way. I concluded each interview with this final question: What are your hopes—practically but also philosophically or even spiritually—for the impact of the Design Futurist Award?
"Practically, I hope the impact of this new Design Futurist Award will inspire designers with the boldness to propose ecologically radical and resilient to clients every single time they present!" Nadia said. "And I hope that the impact for future clients/creators of gardens will be thoroughly inspired to say that's what I want my garden to be like!" And further afield from private gardens, "how can we bring this resiliency and biodiversity to the everyday public spaces like parks and streets?"
Philosophically, she writes, "I hope the impact will be that the values of resiliency, biodiversity, and spiritually, I do believe that holistic landscapes heal our souls."
Becca's hopes for this award are layered. "It's an honor to sit on this jury with such esteemed peers. I have spent my whole life being pegged to learn something new every day. I just revel in that and for me this was just another opportunity to learn something—to take myself out of my comfort zone and be able to see things through other people's eyes. And I love gardens, but I rarely get to just talk about gardens and their power. Because we are always doing gardens in the public realm, where the maintenance and care of those gardens is always a little bit fraught and unpredictable … never guaranteed. So we are always striving to develop a sense of care—in the people who will be working in and around these gardens, but also the visitors to these gardens." Again—breaking down the walls to being involved in these spaces, and celebrating a "maintenance mentality"—not just to keep the gardens static, but to get all stakeholders "involved in the true care" of these living and dynamic and spaces. An award like this also gives the jurors, the award creation committee, the awardees, the press an education that might radiate out from all of these, an opportunity to shift mindsets and paradigms around the importance of how we maintain gardens, and how we endow funding to secure that maintenance—and that "you elevate the concept from weeding, for instance, to care of the whole bit of biodiversity that you've just been entrusted."
As we go down the Design Futurist themes, there is not one devoted to maintenance, per se, but all of the themes highlighted by the awards committee—biodiversity, resilience, human health and well-being, future livability—are all predicated on ongoing care: care for plants, for places, for people, and especially for the education and sustainability of those people who care for our gardened spaces moving forward.
Becca would hope that an award like this would "grant whoever is looking at the award winners and submissions and whatever walk of life they're in or whatever the trajectory they are in their own garden thinking, the courage to try something. And to contribute and to be proud of it. Not feel as though what they might try in their gardens has to be prescriptive, but by learning to think about the deep questions of engagement with plants, soil, animals be willing to stop and listen and take on board the lessons that living system is giving back to you."
As an esteemed longstanding designer and plantsman, Dan agreed to invest his time and input as a juror on Pacific Horticulture's new Garden Futurist Design Award because he believes strongly in such investment to help guide and mold our garden ideals and standards going forward. He holds a powerful conviction that there are "aesthetic standards of design that are worth holding onto in the ways designed space and plantings over time and space move us, speak to us."
To his mind, the current idea that "natives are good, and exotics are bad" is too simplistic, reductive, and binary. He recognizes there are differences between people doing derivative, repetitive work, those doing novel work, and those crafting and leading enduring shifts in design and planting paradigms. He wants to help hold this award to those highest standards so that it in turn is invested with the "greatest meaning and respect for those receiving it, and those following the recipients," not wholesale "rewilding," necessarily, but maintaining the wealth of cultural overlay in our ecologically rich and functional well-designed spaces. "You want frogs coming to sing, birds coming to nest, otters and salamanders making their seasonal appearances and lives," these are "hallmarks" for him of his own "gardens' successes."
"A solid understanding of the basic tenets of good planting design remain true now as they were in the 1970s or the 1860s." Our "retinas" respond to great design, "which you can find in nature, and you can replicate in the artifice of a garden," visually pleasing, exciting, welcoming, and navigable, for both humans and other lives.
In summary, Dan shares that he sees such honors as the Design Furturist Award "as incredibly important to recognizing talent, but even more importantly," he sees the value of the future impact of such an award: "at best, this kind of recognition inspires even better work in the future, from non-award-winners and the award winners themselves to live up to such recognition." Having been recognized with many meaningful awards in his lifetime, he does not look back and think, "Oh, good job, me," but feels and holds a "sense of responsibility for doing ever better work going forward."
The 2023 Pioneer Park Competition
The Design Futurist Student Award challenge for 2023 is based on an existing Pioneer Park site. In-person visits are not required to submit entries to the competition.
Learn More: Design Futurist Student Award
Noel said he does see potential hope and optimism about the possible marriage of these concepts: aesthetically pleasing, soul satisfying, and ecologically functional.
"In the past few decades, we have learned a huge amount about how ecology works, what makes ecosystems tick, and there are a lot of people who are very sympathetic to these challenges." He sees the alignment of right-wing populism with forces that can only be described as "anti-nature" and proponents of nature-replacing manufactured products and technologies as alarming and dismaying.
For Noel, who is English by birth and resides in Portugal, it was important to take on this jury position for the American-West-Coast-focused Garden Futurist Award because "an award like this will be a great opportunity to promote the biodiversity potential of gardens alongside of aesthetics globally."
He also wants to see the award avoid easy pitfalls and cautions that in "perusing some West Coast designer and landscaper websites, what I tend to see is a lot of money being spent on landscapes that are very low key, inevitably very tasteful, but so often really rather barren. Where is the biodiversity? Where is the developing ecosystem? There is a lot of talk, and I am very interested in helping to identify designers who are backing up the talk with some quality design and real attention to ecosystems in the broadest sense, and I'm potentially very interested in novel ecosystems. Not just keeping a few nice old oaks and a bit of oak savanna, but actually more experimental stuff, particularly in urban or suburban areas, combining natives and non-natives, or making the most of non-native tree species that are in place and you don't want to remove or you're stuck with them perhaps—I want to see designers being resourceful and creative and looking at how to make the most of these existing conditions for what they do offer."
His understanding of the climates of the US West is helped by his currently living in Portugal. "Similar latitudes, also a tinder box, and yet some very good garden people working to meet the moment in Portugal, in neighboring Spain, in Germany." In many ways, his participation in the judging of this award provides an open line of communication, cross-pollination, and accountability in the global horticultural world, allowing for the best of local talent and the best of global interdependence in some of these very global problems and some of their potential solutions, "trying to understand and then facilitate sharing patterns, plant palettes, and possibilities."
"There's a fascinating intersection between aesthetics and sustainability," Scot said, and he hopes we're seeing a mutualism rather than a dichotomy or binary. Through this award, Scot hopes to support and even propagate, "designers finding their style, their voice, even their plant palettes."
He wants the award to be reflective of our collective "horticultural community—having some human diversity across age, gender, passions, geography of the West Coast, and place in designers' careers."
Scot will be really interested in the details that add personality, durability, splurge factor and to see designs that are crafted to be "grown into over time—the ways gardens really do, not just ephemeral, 'take the photo and get it over with.'"
When I ask him if he hopes that an award like this could support a continued shift in paradigm as to what is beautiful, what is a "great" garden (native, ecological, non-toxic), he said "without a doubt." He wants to see a whole suite of options in the submissions: "emerging sophistication in design, while also less thirsty, less toxic, no invasives, better maintenance methodologies, so that these design submissions and their underlying principles might infiltrate the corporate, the densely suburban, the university campuses, institutional spaces with something much better."
He hopes the final call for submissions will reach as far and wide as possible—so that as many interesting, different, and fabulous submissions as possible will be in the mix.
Nancy was thrilled to be asked to be on this jury and she feels that with her input, and their input as a group, she wants "the next generation of mission-driven designers to be encouraged to just keep pushing forward." She sees us as "having moved a good way along from just pretty or just productive gardens, as the likes of Doug Tallamy have asked us to do, and toward ecologically performatively successful gardens.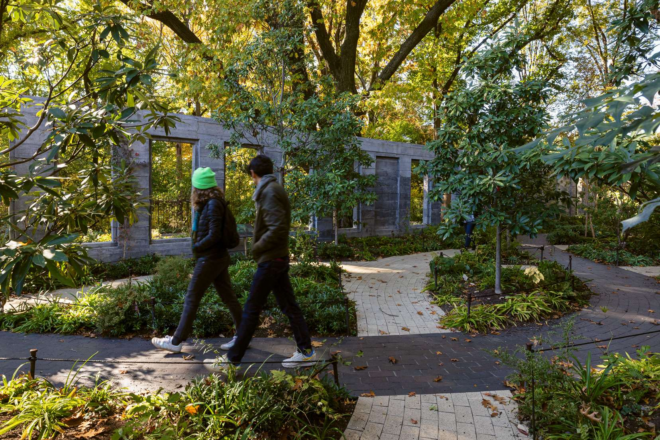 It's asking for people to engage a little more and to see their gardens or surrounding human managed spaces not as 'a couch' but as living things. This is an opportunity with all that is going on in the world, for commonality that is hard to find in many other areas of our lives."
Her greatest hopes for this award are to see its process, its juror discussions, and its decisions inform, inspire, and expand the pool of novel solutions for the problems home gardeners all face regularly—odd spaces, shady spaces, urban noise, what to do with your yard waste, which might seem like a funny thing for an award criteria to include, but in her mind, it's not. It's important that challenges like these are all visible.
She sees this moment in our garden world as "not unlike the call for victory gardens: asking people to come and do your share, we know what the problems are, here are the tools, what part will you take on?"
It's interesting to her that this award is materializing post pandemic, when so many of us realized the privilege and deep responsibility of having access to a garden. She wants to see and recognize with the award are inherent "responsibility to others and to the greater good," to see in these designs "a respect for truth and science," both of which have diminished in the last few years across groups.
In a very elegant insight, Nancy ended our conversation with this: "A beautiful garden which helps to support insect life and plant diversity, helps to percolate more water back into our aquifers, provides what a variety of birds need to be happy, that's demonstrating for people what matters, what's true."
In her experience, gardens are sanctuaries, so Nancy generally likes quieter textural combinations—not jarring contrasts—but she hopes to see some exciting creativity in the award submissions that expand her personal tastes, that teach her how other people think of gardens. She is hoping to see a good balance of innovative solutions and the balance between simplicity and complexity that the world needs.
When looking at the sum of these parts, some of the standout take aways from these dedicated jurors include the importance of incentivizing, recognizing, celebrating, amplifying, and raising the collective understanding, expectation, and industry standards through the best work out there. And to never lose sight of the leadership and paradigm-shifting capacity of just one garden. Let's be our own best jurors, show up for duty, and award the best of our growing world here in our Pacific Horticulture gardens and lives.
Submissions to be considered for the inaugural Design Futurist Award are accepted until July 26. Final decisions by the jury will be announced by October 11.
Submit to the Design Futurist Award
Read the Award Committee's article here: Design Futurist Award Announced: Committee Shares Vision
Listen to Garden Futurist Podcast Episode XXV: Befriend Bugs; Design for Everyone with Kate Hayes
Learn more about the Design Futurist Student Award 2023 Pioneer Park Competition