Winter 2022
Watch Port Gamble Forest Heritage Park, Episode 3 of the Landscapes of Change mini-documentary series, here.
Introduction
Across the Puget Sound from Seattle, Washington, the Kitsap Peninsula is separated from the Olympic Mountains by a deep fjord, providing for a unique environment.  After a long history of commercial timber production, the Kitsap community has come together to conserve a large area of this landscape to restore an ecosystem damaged by logging, so future generations can learn about and enjoy this wonderful environment.  Made up of 3,500 acres, the new Port Gamble Forest Heritage Park has become one of the nation's largest county parks.  This was made possible through an unprecedented collaboration of community leaders, environmental groups, recreational organizations, educational entities, local government, and two tribal nations.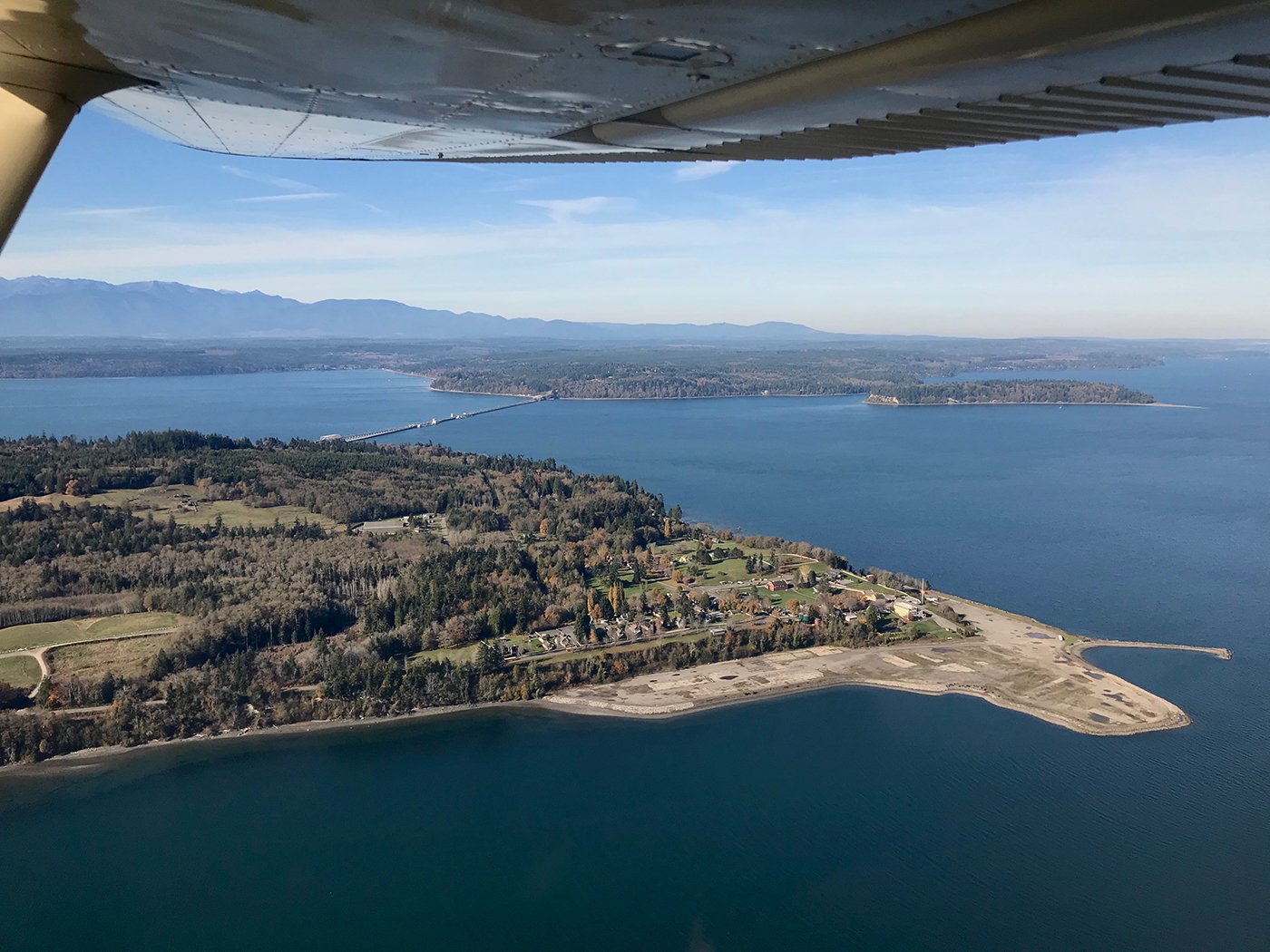 Now wrapping up a master planning process, where the community has worked to find a balance of conservation, recreation, and education, the community is embarking on the long road to acting out their vision.  As the Kitsap community works toward a future of education and research in support of ecological restoration, the Port Gamble Forest Heritage Park project may be a model for Pacific region communities to protect and conserve their precious resources in a changing climate.
Community
A cooperative coalition launched the project to procure land from the local timber company after they announced their decision to divest and sell the timberland for development. The community acquired a total of 3,500 acres of land. The community was able to buy so much land because the timber companies still hold rights to many of the trees and may clear cut sections of trees that they still own. However, the community is raising funds to purchase the remaining timber rights.
Throughout the project stages, community input has been fundamental in the project's success. Public meetings offer a chance to present progress updates and receive input. Park users completed a questionnaire, and the results guided the decision-making process.
The steering committee discusses the master planning efforts and integrates the community's vision for the park. Input from all communications, including public meetings, questionnaires, and polling, shows that the community's main concern has been the preservation and restoration of the forest. Since parts of the forest are still being harvested for timber, large parcels of land are being cleared. Many people want to see the forest restored to a healthy state for people to enjoy. After evaluating the health of the forest, park managers aim to reach out to local universities and use Port Gamble Forest Heritage Park as a test site for multiple forest restoration solutions.
Ecology
One of the main goals of the master plan is to conserve the park through ecological restoration. The forest across the heritage park served a single function for a long time: industrial plantation to produce timber. In a healthy Pacific Northwest forest, we observe different growth patterns and multiple functions. A healthy forest is complex and includes diversity of plant and wildlife species of different age groups. A wide range of plants create a diverse ground cover with intricate vertical and horizontal structure. Rather than a dense canopy with small gaps allowing for different unwanted growth, in a healthy forest we see an abundance of dead trees and a complex vertical stratum. Natural, old growth forests have intact ecological processes that form the basis for self-maintenance in the ecosystem. These processes contribute to forest metabolism, primarily the sequestering and transformation of energy and nutrients, as well as soil formation and water cycling. These interactions create valuable ecosystem services that benefit humans and leave a resilient forest in the face of climate change.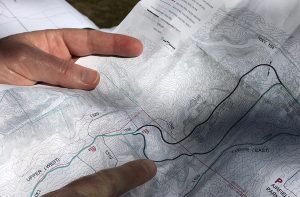 Currently, only 7 percent of US forested regions remain as old growth. The benefits of a healthy forest are endless. It promotes wildlife habitat enhancement and regeneration. It provides clean water, air, and temperature moderation. Forests are key habitats for natural water resources and aquatic wildlife; healthy waters depend on healthy forests. Forests influence how water moves through the watershed. Streams, wetlands, rivers, and riparian woodlands protect soil, filter and slow water, as well as create wildlife corridors and food webs that impact rivers and nearshore environments. Forests provide stable soil that promotes healthy future growth. They offer an aesthetic value that promotes outdoor recreation and provides community access to parks. Given their cultural value, healthy old-growth forests also improve quality of life for the community.
The vision for the Port Gamble forest is focused on the quality of its diverse environment, wildlife habitat, user experience, and recreation opportunities. Park managers will ensure ecological education and economic stability by attracting local and regional visitors. The community aims to promote sensitive stewardship of park land and trails, especially from previously altered landscapes, to improve habitat, and to regenerate sustainable natural system for a wide range of wildlife. There is heavy focus on ethically conserving the forest and deciding which areas can be kept as wetlands and which areas are suitable for recreational traffic. There are also plans for an education center that can teach people about the array of wildlife, vegetation, history, and other assets that give the public a greater understanding of the importance of nature in our lives. Involvement of the community in the forestry planning is what makes the master planning of this park special. Historically in the Pacific Northwest, forest management did not have much community involvement or inclusion. The steering committee aims to create a park and policies that support community values and provide equitable access to all people to actively participate in the management of the park, with an effective effort to ensure diverse participation in advancing the parks visions and goals.
As for the current situation in Port Gamble Forest Heritage Park, the forest is not a healthy forest because of the densely packed homogenous trees planted for timber production. The land is very fertile and can grow strong, large trees quickly. We observe different patterns of regrowth after years of clear-cutting and replanting. Simplified forests are prone to wildfires, disease, and drought stress that could be amplified by climate change. Clearcutting produced high tree density in some regrowth areas, and unmonitored stands formed dense monocultures in place of diverse complex forests.
One of the Port Gamble Forest Heritage Park restoration strategies is silviculture, the practice of controlling the growth, composition, structure, and quality of forests to meet restoration goals. This includes the technique of forest thinning, which accelerates tree growth and complexity in the stands. The thinning process includes removing the species that aren't Douglas-fir (Pseudotsuga menziesii) and allowing for the remaining trees to develop biomass. The plan is to periodically thin the forest, but it is hard to predict how long it will take to restore the forest and for young strands to develop complexity.
Thinning could be applied alongside four additional restoration methods that can accelerate the old growth process. The first technique is companion planting with proper herbaceous species. Some native herbaceous groundcovers can increase growth and survival of trees, protect soil from erosion, and deter unwanted species from establishing. The key is selecting the proper companion to balance between facilitation and competition, so spacing and knowing what shrubs to put with what trees are vital. Looking at genetic diversity within tree species and understory planting with maturing stands by taking advantage of some of the old growth to capture the traits that make them more susceptible to climate change.
The second restoration method involves mitigating compaction by proper site preparation. Tilling and deep soil ripping improve root-to-soil relations, increasing plant growth. Accelerating plant height increases tree survival and enables seedlings to coexist with neighboring vegetation.
Another technique is keeping and adding large woody debris to the site, which aids in increasing complexity. Large woody debris creates sites that provide shade and better access to moisture, protect from large herbivores and mitigate wind. It gives great perching sites for seed dispersers and can help with erosion control.
A final example of a possible forest restoration method is controlling invasive species by physical or chemical removal. Conserving and monitoring existing stands can also control invasive species spread.
It's important to account for differences in regional climate, tree response to disturbance, and stand histories. Strategies should make use of local and Indigenous Knowledge while planning what species to use in restoration. Some unmanaged stands may be on a natural trajectory toward conditions conducive for large trees as well as a diverse herbaceous understory full of lichens, fungi, and fauna.
Recovery of biological and structural complexity should drive old-growth restoration. Developing a long-term forest management plan with a multiple-phase approach means including both community members and experts, as well as a lot of patience and long-term thinking, so the next generation can enjoy a healthy forest supplemented with resources for outdoor activities.
---
Landscapes of Change: This series features stories and projects as they evolve over time, stay tuned for the next episode of Port Gamble Forest Heritage Park.