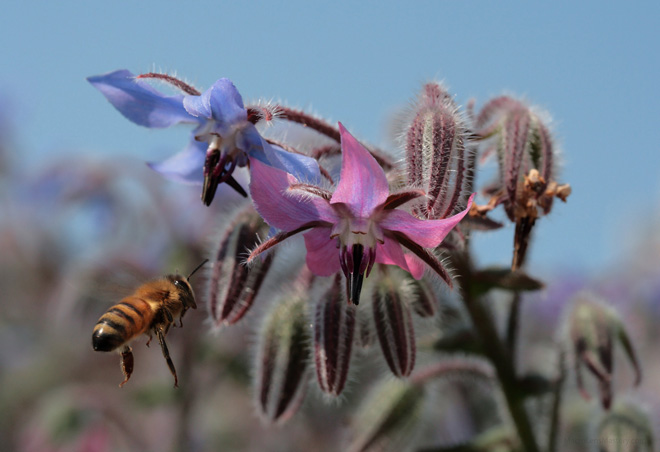 This is an excerpt of a web story that first posted on Genevieve's blog, North Coast Gardening—Gardening in the Pacific Northwest. You can read the full story, which includes resources for purchasing neonicotinoid-free seeds and plants, further honest discussion with industry professionals, and take away action, at www.northcoastgardening.com search: Buying Bee-Friendly Plants.
Recently I've heard from a number of wildlife gardeners who say they are no longer buying plants from regular retail nurseries because there is no way of telling whether or not the pollinator-attracting plants they are purchasing have been treated with neonicotinoid pesticides. Neonicotinoids (imidacloprid, etc.) are a class of pesticide that many studies indicate contribute strongly to colony collapse disorder in honeybees, and can also kill other bees.
However, the pesticide isn't all bad. Neonicotinoids are often used because the application process is so safe in comparison to spraying. Neonicotinoids are watered in and taken up by the plant's roots to treat the plant internally, so when they are applied correctly, there is less potential for agricultural workers to be exposed to harmful chemicals, and fewer residues left externally on the plant when it goes to market. In addition to their use on nursery plants, neonicotinoids are commonly used in non-organic food crops (in fruits, vegetables, wine grapes, and grains), and in the systemic flea medications that are dabbed on the back of Fluffy's and Fido's necks each month.
The problem with neonics is in the pollen. When plants treated with a neonicotinoid produce flowers and pollen, the pesticide is contained within the pollen and bees bring it home to their hive, where (many studies indicate) even small amounts can build up over time into a concentration that weakens or kills the hive.
Though many growers who use neonics say they take precautions by not applying them when the plant is in bloom, and by applying systemically with a soil drench or granular application rather than spraying, this only avoids acute and immediate honeybee death. The more insidious problem is caused when bees take home enough neonic-containing pollen over time to weaken or kill the hive.
Depending on the plant, neonics can linger within the plant and therefore the pollen for a number of years. Is that the case for all plants? No. Seeds that are treated, or tiny cuttings or liners will naturally have a much smaller concentration of the pesticide as they grow and mature, if they are not retreated. However, it's clear that merely avoiding treatment during times of bloom is not an effective way of protecting our pollinators, as the pesticide remains active within the plant for some time.
It's a heartbreaking realization for a wildlife gardener who has purchased pollinator-attracting plants from a major nursery to think that they may have inadvertently killed or weakened many of the bees they were trying to benefit.
Should you avoid purchasing plants from companies that occasionally or regularly use neonics? No, that's not what I'm recommending at all. If you think about the wide variety of plants we purchase, many of them don't attract pollinators. Many trees, conifers, ornamental grasses, ferns, and other plants provide tremendous wildlife value as shelter or in the form of berries or seeds for birds, and are attractive and beautiful in the garden. There is no need to throw out the diverse array of plants available from these nurseries.
Neonicotinoids are not across-the-board bad. It's just that they seem bad for insect pollinators, and particularly bees that live in a hive community. When viewed through a larger lens, they are actually a vast improvement over the many pesticides people used to use which were more dangerous to humans, groundwater, and wildlife. I've spoken with many of the representatives from nurseries that do use neonics, and it sounds as though they use these pesticides responsibly and within a framework of preventive cultural care, organic and natural pesticides, biological controls, and beneficial insects.
Where I do believe neonicotinoids have no place is when treating plants that do attract pollinators. They've been banned in many parts of Europe and in other parts of the world because of their effect on pollinators, and while the case is often made (by those with a financial stake) that the research is inconclusive, it's also true that I don't see any major chemical companies or our government stepping forward to fund more conclusive research. The research that I do see, indicating that small amounts of these pesticides in pollen build up fairly quickly to lethal dose in a hive setting, makes me feel strongly that when I'm purchasing native milkweed or other plants that are specifically for the benefit of pollinators, I don't feel comfortable purchasing plants that have been grown using neonics at any stage of their development.