[sidebar]
Excerpted from 
The Beautiful Edible 
Garden, Design a 
Stylish Outdoor Space Using Vegetables, Fruits, 
and Herbs. By Leslie Bennett and Stefani Bittner with Studio 
Choo, © 2013. Published by Ten Speed Press, 
Berkeley, California. 
Used by permission 
of the publisher. 
All rights reserved.[/sidebar]
You have probably seen the fruitless, ornamental front yard plum tree many times before; like ornamental pear, flowering cherry, and ornamental crab apple, it is a standard element of American landscaping. Once you have decided to grow food at home, the simplest way to begin is by replacing these ornamental trees with your favorite fruiting varieties.
A good focal-point tree should be beautiful enough to stand as a prominent visual feature of your front yard. While some fruit trees, such as pomegranate, citrus, and olive, tend to be grown in a multi-trunk style with branches starting lower to the ground, you should be looking for a statuesque fruit tree in a standard 
form, or single trunk style, for your focal point. Keep in mind that although all fruit trees require some upkeep to avoid looking messy, some are easier to maintain than others. For this reason, we do not recommend high-maintenance cherry or sprawling avocado and fig trees for prominent front yard plantings.
A persimmon (Diospyros spp.), on the other hand, is a great choice for a front yard tree. There are Asian and American varieties that can be grown throughout the country in varying climates. Both Asian types, 'Fuyu' and 'Hachiya', are especially beautiful trees with graceful, reaching canopies. The persimmon tree's fruit and attractive, changing foliage provide visual interest throughout the seasons. Inspring, new leaves are a vibrant, chartreuse-green with matching flowers. As they age through the summer, the wide, rounded leaves, reminiscent of a magnolia, are full and provide great shade. In the fall, the yellow-orange color of changing persimmon leaves is vivid against the landscape, and, as the leaves fade and fall away, the brilliant orange fruits remain hanging on the branches through late fall and early winter, like modern holiday tree ornaments.
A few key perennial edible evergreen shrubs and trees are ideal go-to's for the front garden. They are fantastic double-duty choices because they produce food and anchor different areas of the garden through the year. These edibles can be substituted for more common ornamental plants in a range of garden settings and styles.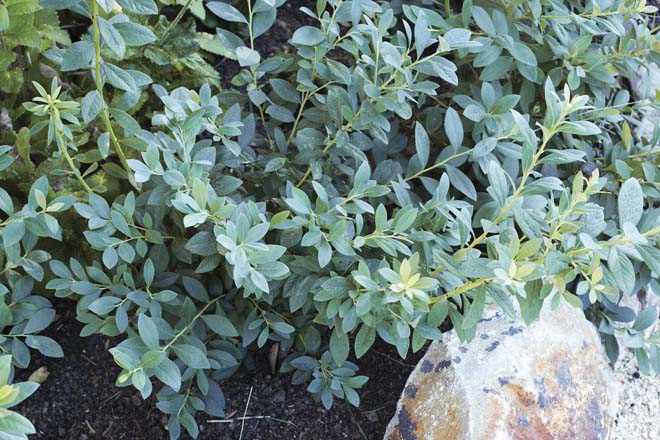 Blueberries have pretty, delicate leaves with white or pink flowers that grow into berries. The shrub's small form is not hugely distinctive, so it works well in any garden style.
Blueberries (Vaccinium spp.) produce most heavily in full sun, but do well in partial shade and even full-shade conditions. Because of their flexibility, they make a great transitional shrub, providing continuity between a shady and a sunny planting bed. Because they can also be repeated throughout a landscape, they are helpful in establishing balance in an edible garden. Evergreen blueberry varieties such as 'Sunshine Blue' are excellent anchor plantings. You can also use them as hedging, as low screens along a house foundation, or to define a pathway or other border.
Citrus (Citrus spp.) is particularly useful in front yard edible gardens. The larger leaf varieties are especially good for screening house foundations and can fill a bare garden corner nicely; it is also perfect for camouflaging building flaws or drainpipes. Chose dwarf varieties to plant in containers to place near your front door or on a porch. You'll appreciate their fragrant blooms each time you enter your home.
The pineapple guava (Feijoa sellowiana) is a versatile shrub that is admirable for its silver-hued evergreen foliage and ability to adapt. Perfect for mixed borders and planting beds that hide unsightly foundations, it can be used in a modern silver-accented garden or to balance out a Mediterranean planting with similarly colored olive trees, lavender, and artichokes. Its silver leaves also do a great job lightening up darker corners and providing a backdrop for foliage and flowers in green or other colors. It is also a good choice if you want to reduce your water use in the front yard. You'll rarely find the super sweet, soft fruit in a store, making it an even better choice for your garden. It is one of our favorite fruits, appreciated as a fresh dessert, in jam, or for cocktail infusions.
Quince (Cydonia oblonga) trees are covered with white and pale pink highly fragrant flowers in spring and can easily be kept quite small. Along with its 
relative, the pear tree, it is a good fit for a cottage- or traditional-style planting bed. There is no reason to plant a flowering nonedible crab apple when the edible variety is just as lovely and produces edible fruit. This tree has a showy burst 
of spring flowers and is adaptable to most climates.
Fig (Ficus carica) and pomegranate (Punica granatum) trees are among the more versatile edibles that you can grow in your front yard. Because they both have somewhat irregular branch structure, they tend not to make good focal points. However, the wide leaves of the fig are beautiful, lush additions to any style of garden, and can serve to anchor a planting bed alongside smaller plants with less presence. While a fig tree is obviously at home as part of a Mediterranean-style garden, its bare winter branches are sculptural and can help imbue a garden with a modern sensibility. Pomegranate trees are another versatile, deciduous plant. It can be pruned into a tree or multi-branched shrub and can be mixed into almost any garden style. Because its red flowers and fruit are so long lasting, you can count on it to add pops of vibrancy to your garden or to tie in to a color theme across your landscape.
---
Fruit-Tree Pruning
Harvesting fruit will be a lot easier if you keep the fruit trees at a reachable size—no taller than six to ten feet. There are two types of fruit tree pruning, named after the season in which they take place. Winter pruning is the time to correctshape and remove larger crossed and diseased branches. For fruit trees grown in home gardens, summer pruning is the more important of the two pruning seasons. Pruning in the summer suppresses growth and keeps trees from reaching full height.
---