No other flower says spring like the daffodil. The pleasure of seeing a whole field of bright yellow trumpets, planted en masse, is a heart-warming and exhilarating experience. What better way to celebrate spring and the daffodil season than to visit Filoli in late February and March, to enjoy its flower fields, and learn about its exceptional collection of daffodils—both historic and modern.
Many of Filoli's daffodils were in existence when Filoli became a property of the National Trust for Historic Preservation in 1975. They had been planted in the early 1900s, during the "Great Daffodil Renaissance," when it was fashionable for estate owners like the DuPonts, the Rockefellers, and the Bourns, here at Filoli, to plant modern types of daffodils from England, in masses on their English-style estates. Whole hillsides and fields were planted with them. Daffodils, as we know them today, were actually a hot new plant then, and wealthy collectors paid large sums for single bulbs of great rarity.
It was not until the mid-nineteenth century that daffodils were used much as garden plants. The ancient types, like the Tenby daffodil (Narcissus pseudonarcissus subsp. obvallaris), Lent lilies (N. pseudonarcissus subsp. pseudonarcissus), a yellow trumpet (N. pseudonarcissus subsp. hispanicus 'Maximus'), and the species narcissus that naturalized throughout the English countryside, grew more like wildflowers. William Backhouse, Peter Barrs, and Edward Leeds are all given credit for popularizing daffodils. The hybrid seedlings they developed between 1840 and 1860 eventually became parents of the daffodils we grow in gardens today. These three men were country gentlemen and nurserymen—absolutely passionate about "improving" daffodils. Their early English hybrids were classified in horticultural groupings and listed in catalogs as Narcissus Leedsi, Narcissus Barri, Narcissus inconspicuous, or star daffodils, and were shipped to America for planting in public parks and in private estates like Filoli.
What makes Filoli's daffodil collection so significant is its diversity and the fact that many of the original bulbs are still growing in the exact spots where they were planted by previous generations of gardeners. Many of Filoli's daffodils are yet to be identified—waiting, like hidden treasures, to be rediscovered by the world of horticulture, and perhaps reintroduced to fill gardens of the future.
Today, Filoli serves as a repository for preserving this special daffodil germplasm. Recently, Filoli's tradition of growing and displaying daffodils has expanded to include the testing of new cultivars and to promoting daffodils for use in California gardens.
Origins, Classification, and Names
Daffodils have been appreciated for their beauty, fragrance and medicinal properties for over 2,000 years. Virgil, in his "Empurpled Narcissus," alluded to Narcissus poeticus, with its white petals, multicolored cup, and a distinctive purple-edged rim. The current theory is that daffodils were probably traded back and forth along the spice routes between Africa and Asia. Today, the American Daffodil Society lists between forty and two hundred species, subspecies, and variants worldwide, along with 25,000 registered cultivars.
Narcissus species originated in Europe, North Africa, and Western Asia. When in close proximity, they hybridize freely with each other in the wild and in gardens. Favorite daffodils were brought to America by early settlers from the Old World, where the bulbs thrived and multiplied. As America expanded its boundaries, pioneers took their precious bulbs with them on journeys westward.
With such a large and diverse group of plants to track, the Royal Horticultural Society developed a horticultural classification system that split the different types of Narcissus into thirteen recognizable divisions, based on flower characteristics such as the relative size of the petals to the cup, the size of the flowers, and the number of flowers per stem. The divisions are: trumpet type, large-cupped, small-cupped, doubles, triandrus, cyclamineus, jonquilla, tazetta, poeticus, bulbocodium, split-cupped, miscellaneous, and species, wild variants, and wild hybrids. The RHS also developed a coding system for the color of the petals and the cup. The American Daffodil Society (ADS) website (www.daffodilusa.org) is an excellent source of information about the different divisions.
There has always been confusion surrounding the common names used to identify different types of daffodils. The ADS adopted the use of "daffodil" as the common English name to describe all the different Narcissus species, variants, and hybrids in all communications, except in scientific writing. It works well when describing the entire genus in general terms. The ADS uses the word "narcissus," as both singular and plural, to denote the genus, although the plural form "narcissi" is equally correct. Narcissus hybridizers and growers use "daffodil" as a common name to describe the larger-flowered and intermediate-sized narcissus that have one flower per stalk, including the trumpet, large-cupped, and small-cupped types. They continue to use "narcissus" as the common name to describe the fragrant smaller-flowered polyanthus type or cluster-flowered tazettas (derived from N. tazetta), and the other smaller-flowered fragrant types derived from N. jonquilla and N. poeticus. "Jonquil" is the common name given to hybrids of N. jonquilla. To add to the complexity, "jonquil" is also the common name used in the South to refer to all Narcissus.
Daffodils in Filoli's Gardens
Daffodils were planted in numerous locations at Filoli and for a variety of purposes. They have always been planted in the formal parterres, combined with winter annuals and other bulbs, like tulips, for achieving Filoli's famous spring bulb displays. They are also planted annually in containers for placing in the formal gardens when they come into bloom. The daffodil bulbs recycled from spring-blooming pots are then planted in long rows in the upper fruit garden and in other locations on the grounds.
Historic daffodils were planted for use as cut flowers in the lower fruit garden and along the olive walk in the working gardens. A wonderful example of a dry border is the 500-foot-long lilac border, underplanted with regularly repeating clumps of historic daffodils, including very early, early, mid-season, and late daffodils, which bloom with the lilacs (Syringa cultivars) in spring. Three tazettas, the Chinese sacred lily (Narcissus tazetta subsp. chinensis), its double form, and 'Soleil d'Or', start the blooming season at Filoli in late December and January, followed by the cyclamineus type 'February Gold' and the late white and orange tazetta, 'Geranium'. This border contains a treasure trove of original historic, unidentified daffodils that are slowly being identified by daffodil experts from the ADS. In other parts of the formal garden daffodils like 'February Gold' can be found growing here and there in clumps. Outside the garden walls, original daffodils can be found naturalized along the entry roadsides, in the pasture south of the stone-walled corporation yard, at the picnic grounds, and in clumps below the wall of the bachelor gardeners' quarters.
New plantings of naturalized daffodils have been added at the entry gate, around the Visitor and Education Center and its parking lot, and along major paths leading to the main residence. A spectacular new daffodil field, containing 75,000 bulbs of one tazetta type called 'Golden Dawn', was added over a three-year period from 2009 to 2011, just west of the main residence. The field is in full bloom in March, against a backdrop of the towering Santa Cruz Mountains. A border of early double 'Erlicheer', mid-season trumpet type 'Mount Hood', and late-blooming tazetta 'Geranium' daffodils were planted at the same time in the lower balustrade bed along the lower lawn terrace, as companions to drought tolerant shrubs, vines, and ground covers.
Diversity of the Collection
The Filoli Daffodil Chart lists 118 known species and cultivars planted in the gardens and grounds, and notes Filoli's historic daffodils and the Wister and Pannill award-winning selections. It is updated on an annual basis and can be found on Filoli's website (www.filoli.org). In addition to those planted in the ground, Filoli grows approximately sixty different new daffodils each year in pots as part of the spring display; after flowering once in their pots, these daffodils are recycled and planted out on the grounds in the following autumn. All together, Filoli has over 200 different types of known daffodils planted in the ground and in pots; this diversity was one of the reasons that Filoli was accepted as an American Daffodil Society official display garden in 2009.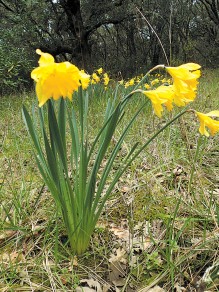 Among the highlights of the collection are Filoli's original daffodils, which have survived on the estate since they were planted sometime during the Bourn (1917-1936) and Roth (1937-1975) periods. The ADS considers a daffodil to be historic if it was registered with the Royal Horticultural Society before 1940. Some of Filoli's most significant historic daffodils have been found outside the garden walls on the grounds. The Lent lily, for instance, was found growing in a former horse pasture south of the corporation yard; this species was immortalized in Wordsworth's famous poem, "I Wandered Lonely as a Cloud." Close by in the same pasture, are a few clumps of the variable greenish yellow, double 'Telamonius Plenus' (syn. 'Von Scion'), first recorded by the English botanist Parkinson in 1620. It is the most common historic daffodil to be found growing at abandoned home sites all across North America. Three Narcissus species can be found along Filoli's roadsides, on the bulb slope, and in the daffodil field. They include the double campernelle (N. xodorus 'Plenus'), the Tenby daffodil, with its chubby, little yellow trumpets, and the late-blooming twin sisters (N. xmedioluteus), which has two small, creamy white, yellow-cupped flowers per stem—hence, its name.
'Twink', a showy double yellow and orange daffodil hybridized by the Dutch de Graaff brothers in 1925, is commonly found naturalized in California's gold-mining country in the foothills of the Sierras. At Filoli, it grows at the gardeners' picnic grounds, where it blooms early and reliably with absolutely no care, nor summer water. Another Dutch selection is 'Hollandia' (1943), developed by Warnaar & Co, Ltd; it is a double daffodil with yellow and orange petals that blooms in early spring along the olive walk west of the fruit garden, where it receives no summer water.
One of the original daffodils found inside the working garden is the ancient 'Maximus' (named in 1576), naturalized along the olive walk—an example of a wild hybrid grown by the Roman emperors; classified as a trumpet type, it has a large showy yellow flower. Many of Filoli's surviving original daffodils are tazettas; the season starts off with the ancient, fragrant, tall white and orange Chinese sacred lily from Northern Africa and its double form, both of which bloom reliably early in the year, in time to celebrate the Chinese New Year. These two bulbs are found along Filoli roadsides, on the bulb slope, and in clumps throughout the estate grounds. 'Soleil d'Or' (1731), an ancient French hybrid, is the next one to bloom; it is found in the same places and can be identified by with its clusters of small fragrant yellow and orange flowers in early February. 'Cragford' (1930), a tall fragrant white and orange tazetta with larger flowers good for cutting, was originally planted in long rows along the olive walk. It was developed by Percival D Williams, an English country gentleman who developed many of Filoli's other historic daffodils, such as 'Halvose' (1927), a fragrant, soft yellow and orange tazetta that is naturalized on the bulb slope. He also developed the small, late-flowered 'Trevithian' (1927), a yellow fragrant jonquil hybrid with narrow grass-like foliage that is naturalized in the daffodil field and planted in the service courtyard bed under wisteria vines.
Newer Selections
New cultivars are grown at Filoli in containers, placed throughout the gardens from mid-February through the first week in May. 'Chromacolor' (1976), developed by William Pannill, received the John and Gertrude Wister Award in 2007; it lives up to its reputation for excellent garden performance, performs beautifully in containers, and has naturalized at Filoli with no summer water. The new Dutch trumpet '4U2' (2002), by N Kuiper & Son, is a spectacular yellow-flowered daffodil with an orange trumpet that lasts for over five weeks in a pot and has naturalized along the path leading from the Visitor and Education Center.
Brand new fragrant tazetta hybrids, developed by William Welch ("Bill, the Bulb Baron" of Santa Cruz, California) hold great promise for California's dry gardens. His new Autumn Colors Group offers the earliest to bloom, often opening in early October! This tall seed-grown selection, which comes in a mixture of colors from white to gold in the petals, with cups of yellow to orange red, makes a deliciously fragrant cut flower for naturalizing and requires no summer water. Welch's fragrant, glowing sulfur yellow 'Avalanche of Gold', sure to win an award someday soon, can be found blooming along the path leading from the Visitor and Education Center towards the main house, and in the upper fruit orchard in early February. It is more compact and can also be grown in containers, or naturalized in the fields, with or without summer water.
Through the years, the gardeners at Filoli have learned some specific gardening practices that have helped to make daffodils an important part of Filoli's spring display. Watch for the next article, appearing in the July 2012 issue of Pacific Horticulture, on selecting and growing daffodils in the garden. They are perfect plants for California's mediterranean climate, with many uses and thousands of cultivars from which to choose.
If You Should Like to Visit . . .
Filoli's Annual Daffodil Days festival usually opens on the last weekend of February; there are, however, daffodils in flower throughout spring in the various sections of the gardens and grounds. Filoli is located thirty miles south of San Francisco, at 86 Cañada Road, Woodside, CA 94062. For information about the festival, about visiting Filoli, or about membership and volunteer opportunities, call 650/364-8300 or visit www.filoli.org.