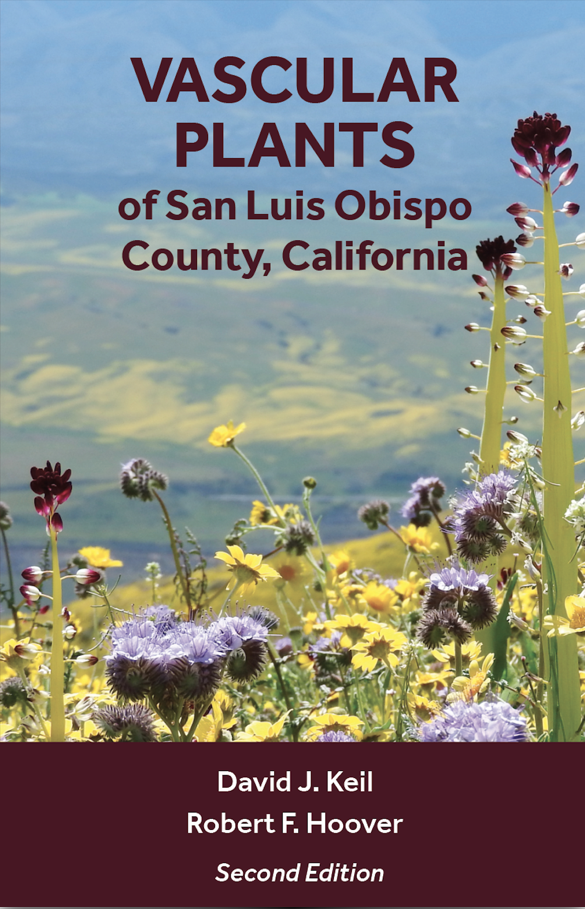 We have had the pleasure of using Dr. David Keil's new regional flora, Vascular Plants of San Luis Obispo County, California, for the last few weeks. There are a number of features that make this second edition a very user-friendly reference. We were impressed by the volume of 911 pages covering 2,181 taxa and the beautiful look and feel of this robust text. From the color photo on the front cover, the softbound book has a sewn spine that will lay flat for usage.
The text is forthright and easy to comprehend. Keil's keys and descriptions are clear and match line for line in the layout. This allows the user to compare features in a systematic manner. The pages are numbered in the upper outside corners and the right-hand page has family and genus along with page number. This layout makes easy work to "thumb index" through the pages. The font is clear and easily read. Genus and species names are presented in bold italic font, allowing one to easily navigate the pages.
All names are accompanied by a full author citation, common name, diagnostic description, and regional locations of occurrence. Flowering times and any appropriate synonyms follow each description.
Sharp color photos accompany flower and plant community descriptions. Several symbols designate nativity, rarity, and weediness, and page numbers of additional photographs.
The book size of 9.75 inches by 6.125 inches makes it small enough to be carried into the field and strong enough to withstand high usage.
Those of us who live in this region have longed for a second edition of this work. The new edition expands greatly on Dr. Robert Hoover's work and is destined to become a classic within the state floras.
Kiel's taxonomy is the most current nomenclature that is in print at present. The book's index is extensive and cross references with older synonyms; bold type indicates current names.
The use and feel of this work are a joy to experience in hand. This is truly a seminal work and should be sought after by all who wish to better understand and know this diverse regional area.
Review by: D. R. Miller and Elizabeth Appel. 
Both authors are cocreators of the Cambria Wildflower Show the last weekend of April, completing its 15th year.
This book is available from Pacific Street Publishing.