OUCH! was the first word that came to mind when I thought about bees. I have definitely had my fair share of bee stings. However, since becoming involved in Dr Gordon Frankie's bee research project at the University of California at Berkeley three years ago, I have been thinking more about the numerous interesting and important things bees do apart from stinging humans. As it turns out, bees, in all their variety, are extremely fascinating creatures.
From the Outback to the Backyard
From the data that Dr Frankie has been collecting over the last thirteen years of research in several California wild areas, he and his colleague, Dr Robbin Thorp (of UC Davis), concluded that there were at least 1,500 species of bees inhabiting California's wildlands-the vast majority of the species native to California. Tagging along on trips to the San Luis Wildlife Refuge (in the Central Valley) and the UC Hastings Reserve (in the Upper Carmel Valley), I became familiar with a wide array of bees, ranging from the giant black carpenter bee (Xylocopa) to the tiny Andrena, which looks more like a winged ant than a bee. Gorgeous metallic green "flying jewels" turned out to be Osmia (Dr Frankie's favorite bees), which, like their striped cousins, the megachilids, gather pollen on their bellies instead of on their legs. Only the common European honeybee (Apis mellifera)-the bee I was most familiar with prior to this project-and the alfalfa leaf-cutter bee (Megachile rotundata) are exotic to northern California.
Apart from identifying and monitoring populations of native bees, our project in the California wildlands was to assess bee-flower relationships. That is, we wanted to get a picture of which bees like what flowers and when. I quickly learned that bee habits are as diverse as the bees themselves. Some are extremely picky eaters: they will only gather pollen and nectar from certain flowers at specific times of the year. Others are generalists and will gather those resources wherever and whenever they are available. With years of data and experience in the field, Dr Frankie can tell exactly which bee species would be visiting what flowers at any time of the year and can readily identify the most popular "bee flowers."
However, as our monitoring project drew to a close and our focus shifted from California wildlands to the urban gardens of north Berkeley and Albany on the eastern side of San Francisco Bay, this familiar bee-flower picture changed completely. Clearly, the floral resources available in urban gardens differ dramatically from those in California's wildlands. In comparison with the large patches of native plants that once colored the East Bay landscape (and still do in a few areas), the urban landscape consists of widely spaced, often tiny patches of both native and exotic plants. At the same time, urban gardens contain a greater diversity of flower species than natural areas, and the vast majority of those species are exotic to Northern California. During the course of our intensive research period (2001-2002), we observed an estimated 600 to 700 plant species, subspecies, varieties, and cultivars flowering between March and October. With reports coming in from around the world of a global decline in bee populations (due primarily to loss of habitat), we began to wonder if urban gardens could serve as a refuge for bees as their natural habitat diminishes.
Bees in Berkeley?
The urban bee project began with Dr Frankie's inexhaustible curiosity about bees; he cannot pass by a flower-whether in a wildlife refuge or in his own backyard-without stopping to check on the "bee activity." As our urban project gathered momentum, he often brought in samples of flowers or bees he had collected on the way from his parked car to the lab. Monday mornings meant an abrupt interruption of whatever I was doing in the lab to follow Dr Frankie to a new neighborhood "bee garden" he had found over the weekend.
My own job could not really be described as "work." With net in hand, I toured beautiful neighborhood gardens on "optimal bee days"-warm, sunny days of 65°F or higher-in search of "bee flowers." Large patches of colorful flowers with dense, full flowering in sunny sites were ideal. Once these were located, I made "bee frequency counts," using a modified version of the method we used in California's wildlands to determine a plant's attractiveness to bees. Flower patches measuring one and a half square meters (about fourteen and a half square feet) were observed for periods of three minutes each to record the numbers of honeybees and native bee species that made contact with the reproductive parts of any of the flowers within the plot. For the sake of accuracy, these counts were repeated several times, whenever possible.
Once the counts were finished, my mandate was to collect a representative sample of the bee species pollinating the host flowers. These specimens were later pinned, labeled and sent to Dr Thorp for identification. I was also to collect a flower sample and to take note of other plants in close proximity to the host patch. Then I was off to nearby Berkeley Horticulture Nursery, where the knowledgeable staff kindly helped identify my collections of host flowers. Plant identifications were at times difficult, as some plants common in urban gardens have numerous subspecies, varieties, and/or cultivars. In a few cases, we were able to take the plant only to the genus level (eg Calendula, Lavandula, and Nepeta). Both native and exotic ornamental plants were identified, and weedy species were noted as well.
Deciphering the Data
These relatively simple counts and collections, repeated several times a week for the past three years (1999-2002), yielded an incredible amount of information. Data from the frequency counts indicated that, in comparison with California's wild areas, honeybee and native bee populations are low in Albany and Berkeley. Most of the bee plants on which we made counts attracted low to modest numbers of honeybees and native bees, and relatively few plants attracted high numbers of bees.
On the other hand, our collections of bee specimens showed that bee diversity (the number of bee species) was surprisingly high in the two East Bay cities. Five families, twenty genera, and seventy-four species have been identified so far from our bee collections. The three bee groups most commonly observed on any given collection day were honeybees, bumble bees (Bombus spp.), and leaf-cutter or mason bees (usually Megachile and Osmia of the Megachilidae).
Another surprising result of our research was that, despite the high plant diversity in urban gardens, only a small percentage of the plants were attractive to honey bees or native bees. Only five to ten percent of the flowering plants examined in any given month had measurable bee activity; about seventy-five percent of these plants are exotics, with the remaining twenty-five percent native to northern California.
We found that Northern California native plants are at least four times more likely to attract measurable numbers of native bees than are exotic plants. The relatively low attraction of bees (especially natives) to exotic plants is understandable. First, many horticultural selections have reduced rewards (pollen and nectar) for bees as a result of commercial attempts to produce larger, showier flowers. Secondly, native bees have evolved alongside native flowers, developing complex relationships with them; these same bees have no evolutionary relationship with exotic plants.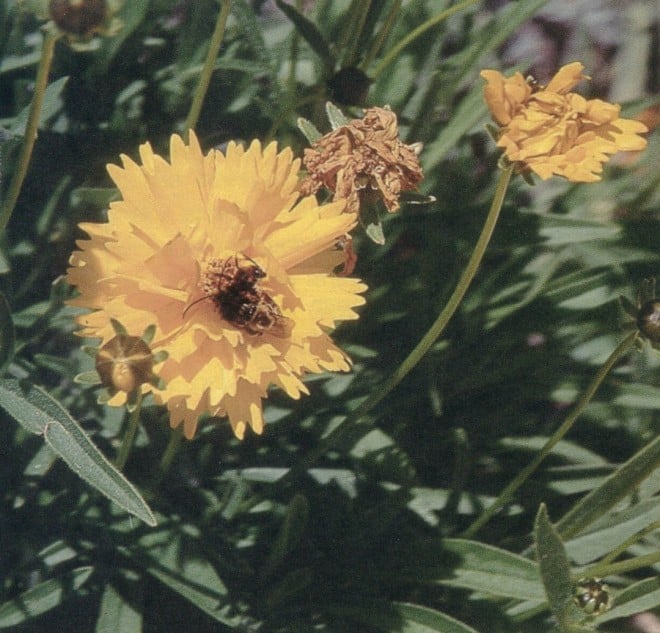 The Bee Gardens
During the course of our research, we found that bees have preferences not only for the flowers they pollinate but also for the gardens they visit. We noticed, for example, that bee frequencies for a particular flower species often varied from one flower patch to the next. Host flowers were visited less when they were relatively isolated from other attractive flowering plants. Visitation increased when a host plant was grouped together with several other bee-attractive plants. Increased attraction to host flowers was especially noticeable when large numbers of attractive flowers were planted in close proximity to each other. These last gardens were simply magical, with bees and other insects of all shapes, colors, and sizes buzzing from one flower to the next, each performing its own unique pollination dance.
Two excellent examples are the Peralta Community Garden in the Berkeley flatlands, and UC Berkeley's Oxford Tract in the student community garden of the College of Natural Resources. Abundance and diversity of native bees, in particular, was more pronounced on flowers in these two gardens, and this was reflected in higher frequency counts on several plants. For instance, California poppies (Eschscholzia californica) in both gardens attracted high numbers of two to three bee species, whereas poppies in all surrounding areas of Albany and Berkeley only rarely attracted native bees, usually bumble bees. In the Peralta Garden, plants such as Cerinthe major 'Purpurascens', Cistus pulverulentus 'Sunset', Clarkia unguiculata, Calendula spp., Erigeron karvinskianus, and Lupinus spp. received frequent visits from diverse native bees. In surrounding urban areas, these plants were rarely visited. Both gardens had unusually high bee species diversity, with as many as twenty different bee species tending the flowers at one time.
Several residential gardens, each containing eight or more attractive bee flowers in large patches, also exhibited high levels of bee activity. These gardens tended to be less manicured, with little or no pesticide use. They were especially successful when they contained attractive plants that bloomed successively over the spring, summer, and fall seasons.
The Sting Factor
Working in these gorgeous bee gardens is by far the highlight of the urban bee project for me. As I zero in on the bee activity, I enter an entirely new world of movement and action in which tiny dramas are unfolding all the time. If I get out early enough, it is sometimes possible to see striped male anthophorids with long red antennae sleeping in flowers of Cosmos bipinnatus. Later in the day, the most popular bee flowers will be covered with territorial male bees zipping back and forth, charging and tackling other bees and shoving them off flowers in a constant battle for dominance. It is hard to imagine the nerve of some of the smaller species that attack bees three times their size-especially since their threatening gestures are merely a façade. Despite their aggressive behavior, male bees of all species are stingless. Female bees are easily distinguished from males of the same species. The females spend most of their time shimmying through pollen and sipping nectar from their favorite flowers; on a good day, their legs, head, or bellies (depending on the species) are covered with bright blobs of yellow, purple, or white pollen.
For me, these precious little bees bring gardens to life. Watching bees at work, I am reminded that gardens are not static, but dynamic places of constant movement and change. Bee gardens are their own tiny ecosystems in which multitudes of organisms work together to carry out life's daily tasks. In this sense, these gardens provide a great service. Their inviting flowers offer refuge for bees and many other animals whose natural habitat continues to diminish. Bees are extremely important, not only to their natural ecosystems, but to humans as well. In northern California, they are the number one pollinators, pollinating about one third of the fruits and vegetables we consume.
Perhaps the most important lesson for me was that, contrary to common knowledge, most bees are non-aggressive. With the exception of Africanized honey bees (which have not yet reached Northern California), and some species of bumble bees that will defend their nests against perceived intruders, most bees are simply too busy to take notice of human observers. Since I began this study, I have had the opportunity to watch thousands of bees in action, taking notes on their behavior within several inches of their painful little stingers. I have never had to wear protective gear and I have never been stung on the job! Moreover, as we continue to collect data on urban bees, we hope to provide gardeners with useful information on which flowers to plant to attract (or avoid) honeybees and native bees (see table). With just a little awareness about where bees are and what they are doing (for example, pollinating the white clover (Trifolium repens) in your lawn) it is easy to enjoy these wonderful little creatures without ever saying OUCH!