Fall 2023
The results are in for Pacific Horticulture's first Design Futurist Awards!
Pacific Horticulture's Design Futurist Award generates accessible, replicable design solutions to a broad audience of gardeners and professionals, taking them behind the scenes with today's most influential and innovative designers. The Award addresses the gap in recognition of garden designers who work on modest-scale ecological and climate-resilient garden design. When it comes to our neighborhood gardens, these types of designs are proving to drive community change and have positive environmental impacts.
The Design Futurist Award collects the very best, most exciting examples of problem-solving by visionary designers and regional plantspeople. The Award exposes the "inner beauty" of landscapes built to conserve plants and wildlife, treat our water and soil as precious, and hold the well-being of human beings at the center of our gardened environments.
The Award called for garden designs that are easily replicable, are modest in size, or have been designed for intimate neighborhood community use.  
A jury of highly experienced horticulturists, landscape designers, and landscape architects evaluated submissions seeking gardens aligned with five of our core themes: Growing for Biodiversity, Drought and Fire Resilience, Nature is Good for You, Garden Futurist, and Sustainable Gardening.
The Top Prize award embodies several themes in an exemplary way, while Honors are given to gardens creating the best examples of a single theme. The contest welcomed gardens of all sizes. The judging was blind—the designer and firm names were removed from submissions.
The winning landscapes range from highly designed projects to single gardeners transforming their home or unused community land. Each is rich with inspiration for gardening toward a resilient future.
Seattle Stunners
The designs were so competitive that the judges awarded a tie for the Top Prize—both in Seattle, Washington.
The Top Prize winners are: Supernature, for a small urban garden in Seattle with a native-centric design, and GGN —based in both Seattle and Washington, DC—for a Seattle home garden design that also uses mainly natives.
Native Plant Steward's Home Garden 
Seattle, Washington
Designer Jonathan Hallet—Supernature
Installation: Dirt Corps., Gaudancio Rodriguez, Ann Stevens, Jonathan Hal
Size: Under 500 square feet
Budget: Under $50,000
Chosen Theme(s): Growing for Biodiversity, Drought and Fire Resilience, Nature is Good for You, Sustainable Gardening, and Garden Futurist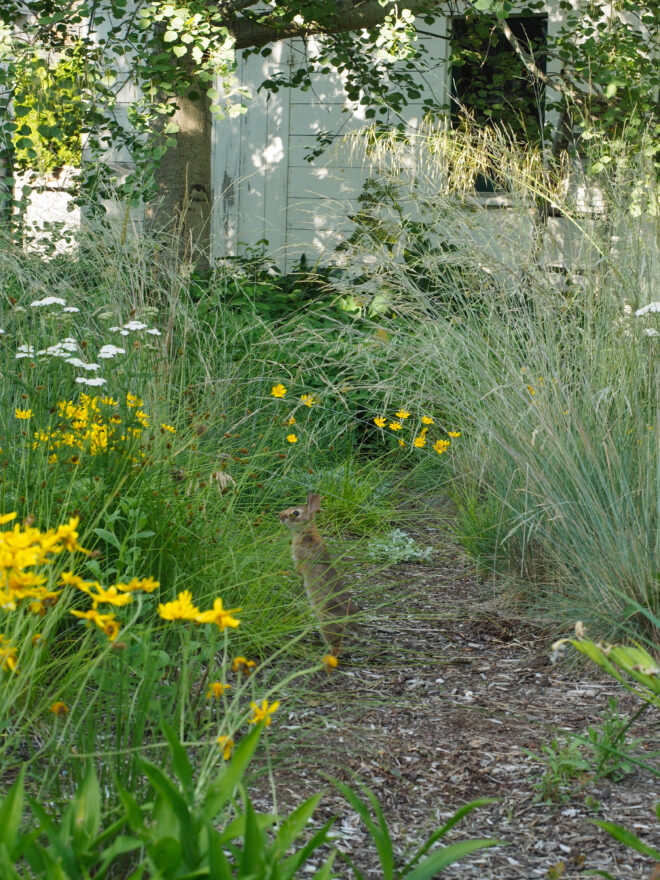 Jonathan Hallet's firm Supernature transformed a typical patchy lawn and shrub borders into a low-maintenance, low-water haven combining a Salish-sea inspired prairie, a fern garden, and an immersive tall meadow—in under 500 square feet of space. Using a cast of mainly native plants, it welcomes wildlife and acts as a living native plant nursery for the homeowner's volunteer restoration work at nearby Ravenna Park.
Why They Loved It
Judges praised the designer's skillful plant selection and layering, saying it exuded "beauty, calmness, and serenity," and "Extraordinary—a gardeners' garden."
Seattle Residence: Repairing the Land 
Seattle, Washington
Design Principal Shannon Nichol, Design Principal and Managing Principal Tess Schiavone, Technical Designer Fred Jala, and Construction Administration – GGN
Installation: Landscape Contractor Dean Backholm
Size: 5,001 – 10,000 square feet
Chosen Theme(s): Growing for Biodiversity, Sustainable Gardening, and Garden Futurist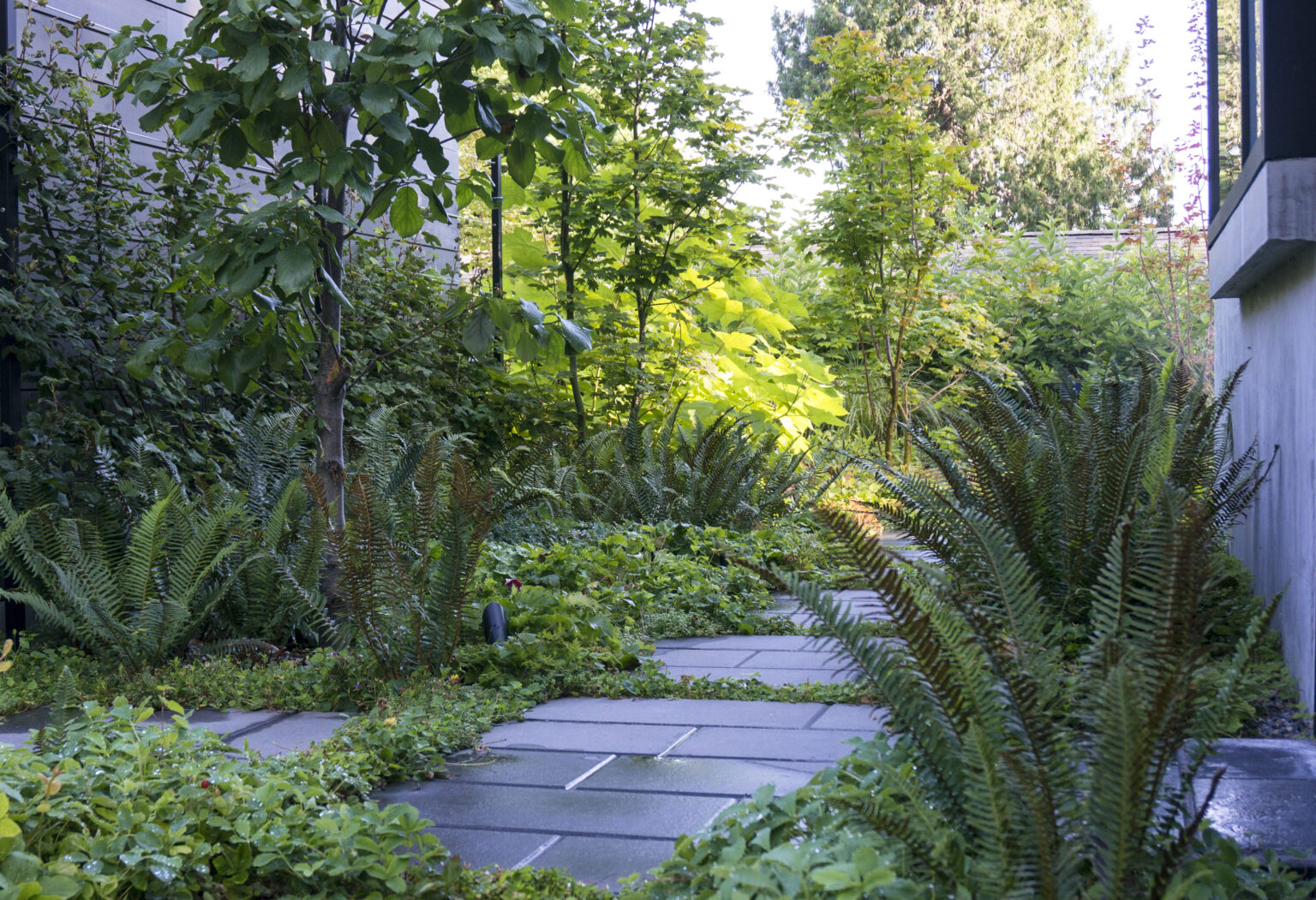 Located in a historic Seattle neighborhood, the design of several distinct garden rooms was driven by the client's passion for native Northwest plants. "The design resituates the garden within the Pacific Northwest ecological context, illustrating the narrative of active regrowth and healing following human disturbance," according to GGN.
A formal-friendly entry is balanced with stumperies of salvaged old-growth cedar acting as natural sculpture set within layers of shrubs, an understory of vine maples (Acer circinatum), and a carpet of tiny plants underfoot. The public-facing parking strips of strawberry and sedums "invite passerby to consider plants that sustainably embody the beauty of native plant communities."
Why They Loved It
Judges said, "dreamy," "stunning," and commented, "It had all the wildness that you could ever want, just cheerfully tamed. Everything felt like it had migrated into its place and was happy there."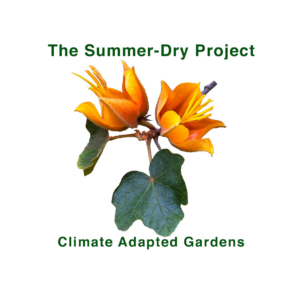 Use of the Design Futurist winning mark on digital and print collateral
A $1,000 gift certificate for outdoor garden pottery from Eye of the Day Garden Design Center
An all-expenses paid trip to the annual Bartlett Tree Experts Client Field Days for one team member. This two-day convening of national leaders provides the latest in arboriculture research and practices at Bartlett Tree Research Laboratories and Arboretum in Charlotte, North Carolina. (Includes airfare, hotel, all meals)
Photography of the garden site by renowned garden photographer Saxon Holt, sponsored by Summer-Dry Project
Garden Futurist Award Honors will be featured in a headline Pacific Horticulture article and will receive plants from our generous nursery sponsors Devil Mountain Wholesale Nursery, Sunset Plant Collection, Pacific Nurseries, and books from our publisher partners Heyday, Island Press, Pacific Street Press, and Filbert Press. 
Honors: Community-Building Projects and Two Gems
The jury awarded honors to five more gardens.
Three are volunteer-powered designs with community at their heart in San Francisco, California, Friday Harbor, Washington, and Davis, California, respectively—and two more California designs in Santa Cruz and La Cañada Flintridge.
Three Community-Centered Projects:
San Francisco, California
Landscape Designer Nahal Sohbati, Landscape Designer – Topophyla
Eric Arneson, Ridge Lane Neighbors, Community 
Size: Under 500 square feet
Budget: $250,000–$500,000
Chosen Theme(s): Growing for Biodiversity, Drought & Fire Resilience, Nature is Good for You, Garden Futurist, and Sustainable Gardening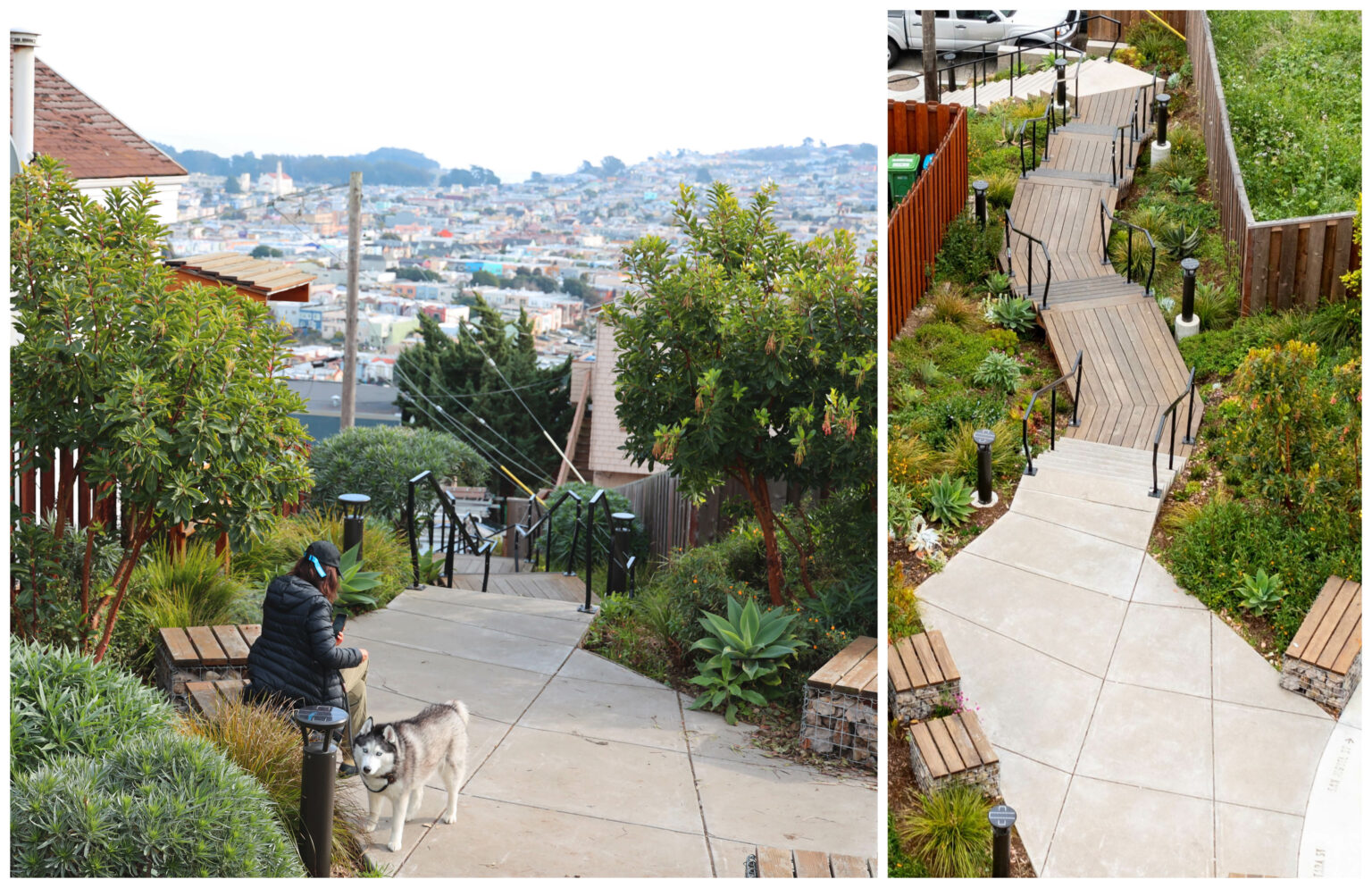 A grassroots triumph of neighbors coming together to beautify a centrally located, previously hazardous urban staircase and corridor. The design, an abstracted butterfly inspired by the "butterfly effect," supports butterflies with host and nectar plants while the community holds educational workshops to spread the word. The location is ideal for a butterfly mating behavior called "hill topping," and the site is roughly 15 feet wide and five blocks long. Numerous gabion benches invite neighbors to rest and chat. Two of the blocks are planted while the rest await funding. Plants such as California pipevine (Aristolochia californica) and seaside daisy (Erigeron glauca) cater to the endangered pipevine swallowtail (Battus philenor) and green hairstreak (Callophrys dumetorum) butterflies.
Why They Loved It
Judges gave the design high marks for including educational signage and bringing the community closer. They said, "a fantastic project," "This made my heart sing," and 
"It's real, it's obviously loved, and it's functional."
Kinship Garden at the Joyce L. Sobel Family Resource Center, San Juan Island 
Friday Harbor, Washington
Jennifer Harris – Catkin Horticultural Arts
Size: Under 500 square feet
Budget: Under $50,000
Chosen Theme(s): Growing for Biodiversity, Drought and Fire Resilience, Nature is Good for You, Sustainable Gardening, and Garden Futurist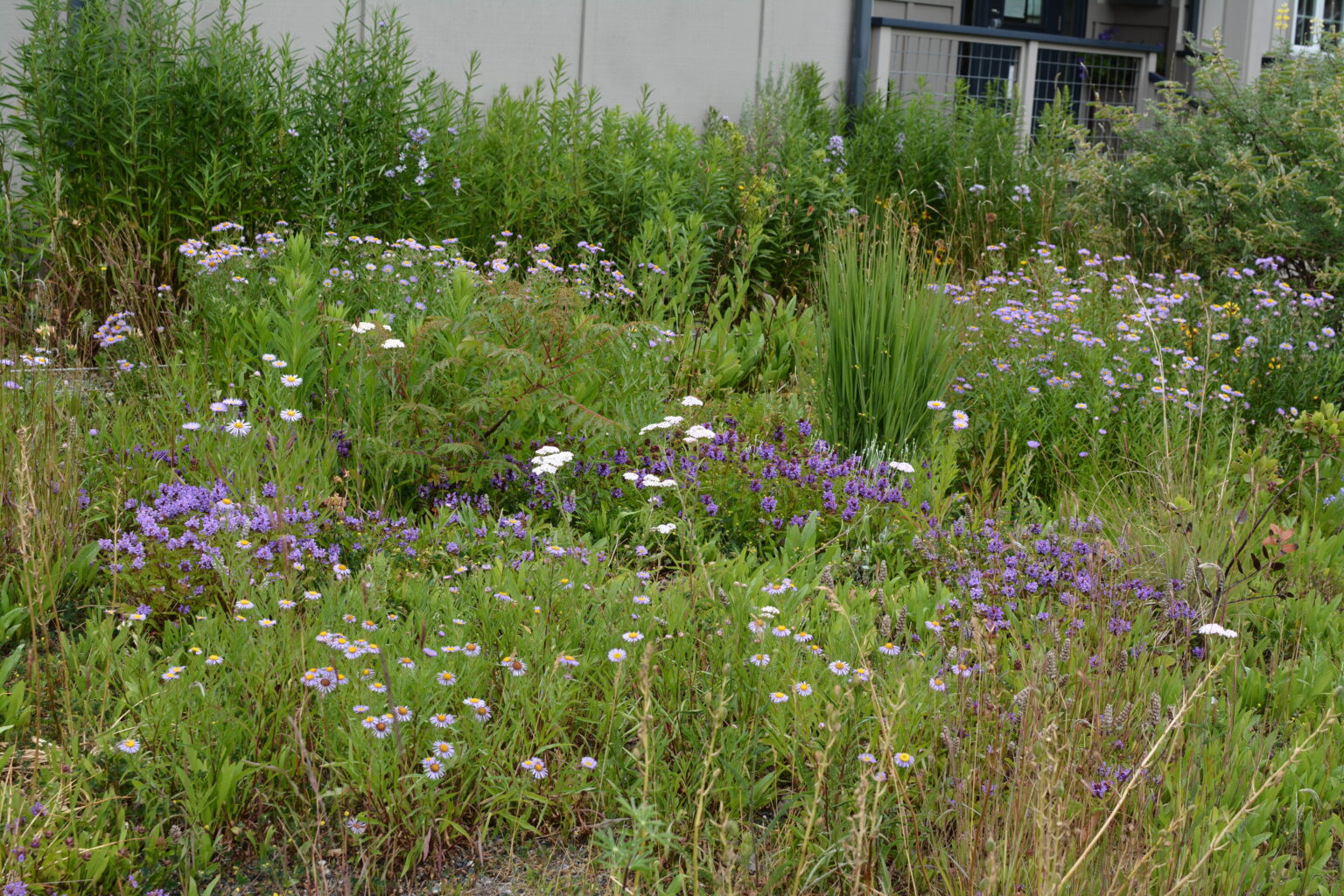 In Washington, on remote San Juan Island, exposed to sun, wind, and sea, this garden supports the community of Friday Harbor. Since colonization, the land had seen hard use as a farm, and now lies in the heart of a resource center that includes offices, retail, the food bank, social services, and senior housing. Rainfall is approximately 28 inches per year.
 "The Kinship Garden was imagined as an oasis within a relative biodiversity desert for native pollinators and birds," Harris said—designed to thrive without irrigation and to use as little plastic and off-island inputs as possible. Using a budget of $10,000, volunteers replaced a lawn and shrubs with over 2,000 native forbs, shrubs, and bulbs. "Our use of sand and gravel for planting and mulching," added Harris, "has yielded enormous populations of ground-nesting wasps and bees—insects rarely seen due to the loss of habitat and food sources."
Why They Loved It
Judges were blown away by the results achieved on a tight budget in a remote location. "Extraordinary." "I just was really moved by this one." "They were very creative, doing a lot with little."
Davis, California
Patricia Carpenter
Size: 1,000–5,000 square feet
Budget: Under $50,000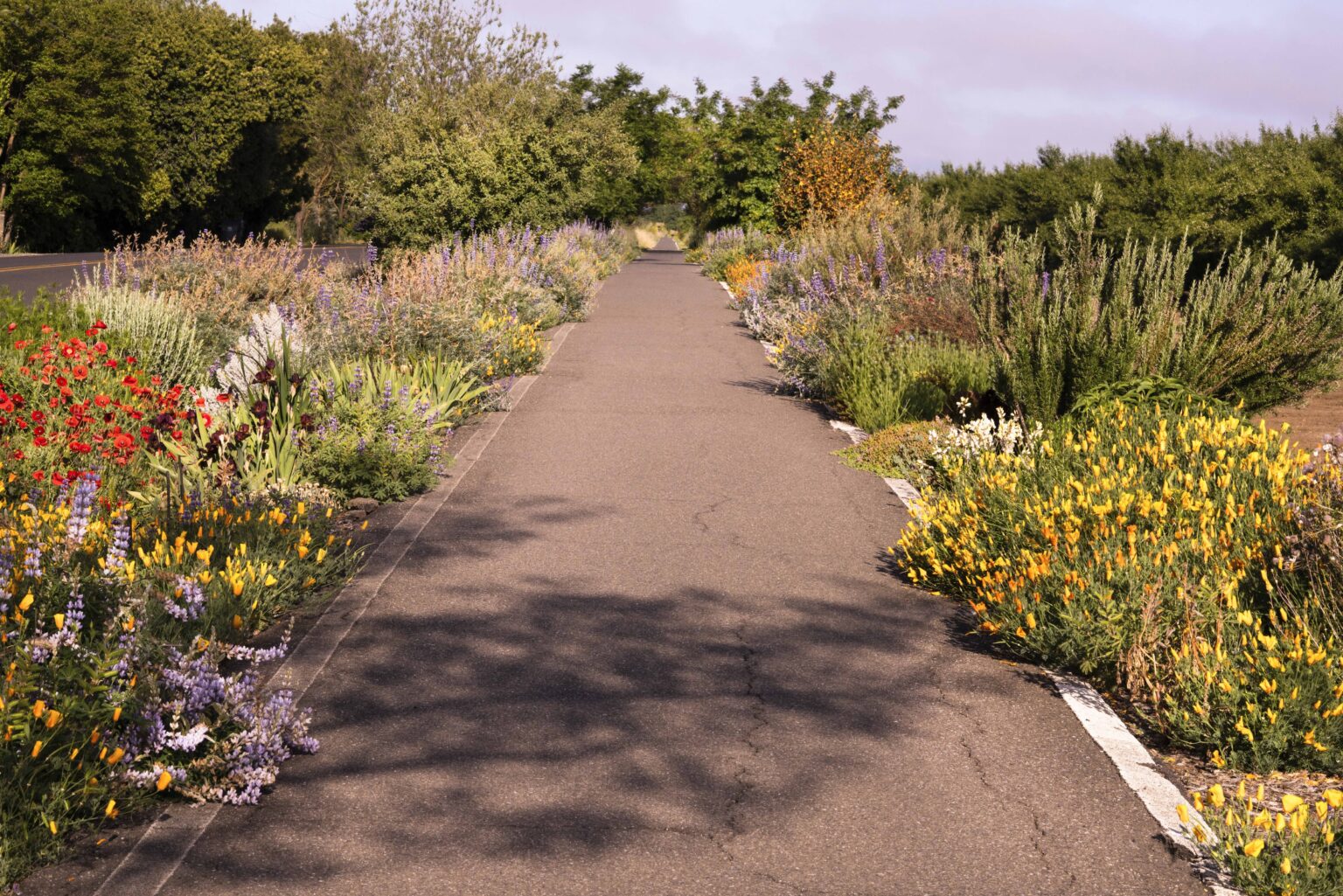 Patricia Carpenter, a California Native Plant Society Gardening Ambassador, adopted the drainage ditch adjoining the bike path passing her Davis, California, house and wove a colorful tapestry of 130 species of native and drought-adapted plants, including explanatory signage. It began as an experiment to see what plants would thrive in harsh roadside conditions without irrigation. (She has been granted planting permission from Yolo County, which owns the land.) By propagating most of the plants, she planted the 4,400-square-foot section for about $1,200. Her neighbor has begun planting natives on the adjoining section, and now bikers and joggers yell out thank-yous to her on a regular basis.
"As a worldwide guerilla gardener I see unused land as an opportunity." Carpenter wrote in her submission. "After 35 years controlling weeds along the bike path in front of my property, I decided to start planting. With climate change and the reality of recurring future droughts, I kept wondering just how little water I could use and the verge experiment began"
Why They Loved It
Judges found the project "very inspirational" and commented, "I love the spirit of reaching out and taking care the landscape and the experiences of people beyond your property line."  
Read more about Carpenter's home garden here.
Santa Cruz, California
President Joni L. Janecki, ASLA, Project Manager Joanne Hutson—Joni L. Janecki & Associates, Inc.
Installation: Jerry Allison Landscaping
Size: 5,000–10,000 square feet
Budget: $250,000–$500,000
Chosen Theme(s): Growing for Biodiversity, Drought & Fire Resilience, Nature is Good for You, Garden Futurist, and Sustainable Gardening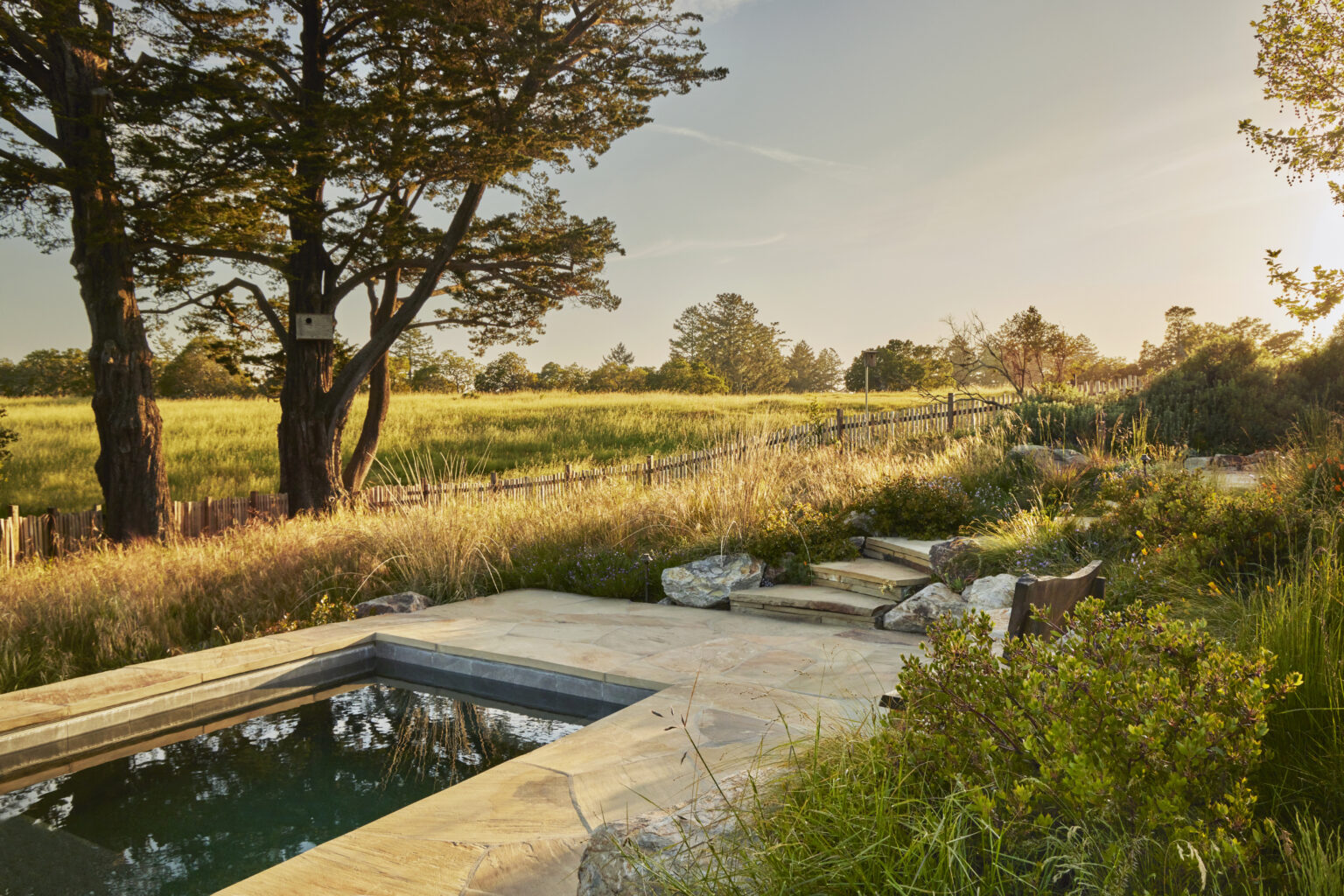 Adjacent to a nature preserve in coastal Santa Cruz, the owner of this 9,500-square-foot pollinator- and habitat-supporting residential project, a wildlife advocate, was inspired to support the area's rich ecology. Native plants punctuate the mow-free fescue upper meadow and the lower grassland, which was designed to echo the meadow in the adjacent nature preserve. Existing mature cypress and oak trees—plus coyote brush (Baccharis pilularis), California lilac (Ceanothus), and sagebrush (Artemisia) shrubs—were protected to preserve their habitat value. Designers crafted "a model of interwoven natural communities" feeding insects, birds, and wildlife, down to the intentional lizard crevices in the rock walls.
Judges appreciated the skillful use of borrowed scenery, in which the plantings and reflecting pool seamlessly dissolve into the surrounding grasslands, and the use of native plants. One judge called it "maximum garden, minimum non-native."
La Cañada Flintridge, California
Principal Landscape Architect Shawn Maestretti – Studio Petrichor, Project Designer Gisela Garay, Regenerative Design Consultant Leigh Adams, Client and Collaborator Jody Kenney
Installation: Jason Wan, Hunter Industries (irrigation), Arrow Sprinkler and Landscaping (installation), Saturate (maintenance), Water Store Tanks, Inc., Watertronics, Inc., Liberty Pumps, IRV Design and Construction, and C.Y. Geotech.
Arrow Sprinkler and Landscaping
Maintenance: Saturate
Size: 1,001 – 5,000 square feet
Budget: $150,000–$250,000
Chosen Themes(s): Growing for Biodiversity, Drought & Fire Resilience, Nature is Good for You, Garden Futurist, and Sustainable Gardening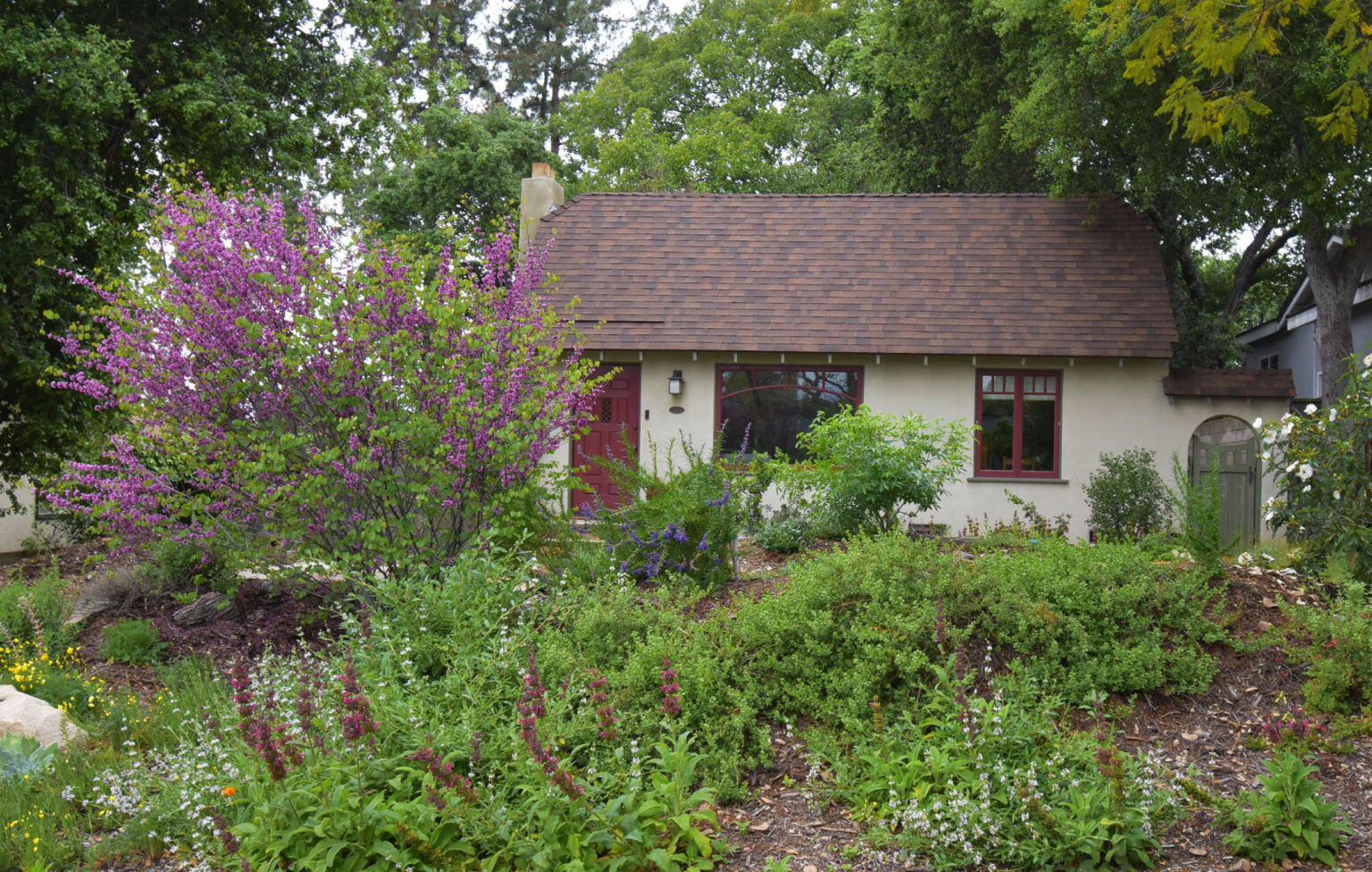 To honor the land's oak woodland heritage, the designer says 90 percent of this garden—in the foothills of the San Gabriel Mountains—is dedicated to California native plants, with "at least 50 percent" dedicated to hyperlocal, keystone species. "In a region that goes up to nine months without rain, our focus was to put this garden to the test through conscious water-harvesting practices to increase water-retention in the soil," Maestretti said. Now the back garden is "a magical woodland" ringed by oaks and hügelkultur berms—and two water tanks—while the front showcases natives, earth formations, and vibrant rain gardens.
2023 Design Futurist Award Jury
Nadia Al-Quaddoomi (San Francisco, California), Senior Designer, Terremoto. Nadia has 13 years of hard-hitting, scale-ranging, various-landscape-use experience.
Becca Hanson (Bainbridge Island, Washington), of Studio Hanson | Roberts, and SH | R Studios: Conservation by Design "Celebrating Wild Life." Becca is a fellow of the American Society of Landscape Architects and founding director of both The Portico Group in 1983 and Studio Hanson | Roberts in 2003.
Daniel J. Hinkley (Kingston, Washington), writer, lecturer, explorer, nurseryman, and garden maker. He designed and established both Heronswood and Windcliff in Washington state.
Nancy Roche (Sonoma, California), owner partner of Roche + Roche Landscape Architecture in Sonoma, California.
Noel Kingsbury, PhD (Oliveira do Hospital, Portugal), internationally acclaimed horticultural writer, teacher, lecturer, and garden/planting designer best known for promotion of naturalistic planting design, and 25 books, four in collaboration with Dutch designer Piet Oudolf. 
Scot Medbury (Eugene, Oregon), an accomplished innovator in American public gardens, having served as director of the botanical gardens and conservatories in Brooklyn, New York, as well as San Francisco and Sonoma, California.
For deep design dives exploring the secrets behind the winning designs, Pacific Horticulture members will be treated to in-depth looks at the award-winning gardens in the months to come, with plenty of photographic eye candy and plant lists for inspiration.
Our Design Futurist Sponsors