After years of gardening on a modest suburban lot, Mary Lynn Cox, known to readers for her annual appeal to support the Friends of Pacific Horticulture, moved to a retirement community. She was surprised to learn that she need not have left her gardening tools behind.
Lake Park Retirement Residence is situated one and a half blocks from Oakland's crown jewel: Lake Merritt. In a neighborhood of high-rise apartments and office buildings, all competing for sunlight and a lake view, Lake Park attracts no notice from the street, where most buildings have the obligatory strip of green lawn or ivy interspersed with street trees and unremarkable foundation plantings. Only as one crosses the grand hotel-like lobby does the unsuspecting visitor glimpse a lovely garden on a generous terrace outside the residents' gracious lounge. Huge containers filled with choice plants are artfully arranged such that the garden cannot be seen in a single glance.
Camellias, rhododendrons, magnolias, Japanese maples, flowering cherries and plums, and a hawthorn (Crataegus x lavallei) share space with azaleas, ferns, and a variety of colorful perennials, including an uncommon climbing begonia (Begonia fuchsioides). A ceramic container holds a small water garden lush with sedges and other water plants. This broad terrace adjoins one leg of the L shaped building. Orchids dominate the shadier terrace that extends for a hundred feet along the other, longer leg of the "L," outside the windows of the spacious dining room. Approximately one hundred cymbidium orchids line this narrower terrace; each group of ten or more orchids, planted in large tubs, alternates with camellias in four-foot-wide containers. Impatiens and other seasonal plants cover the soil beneath the splendid tree-like camellias.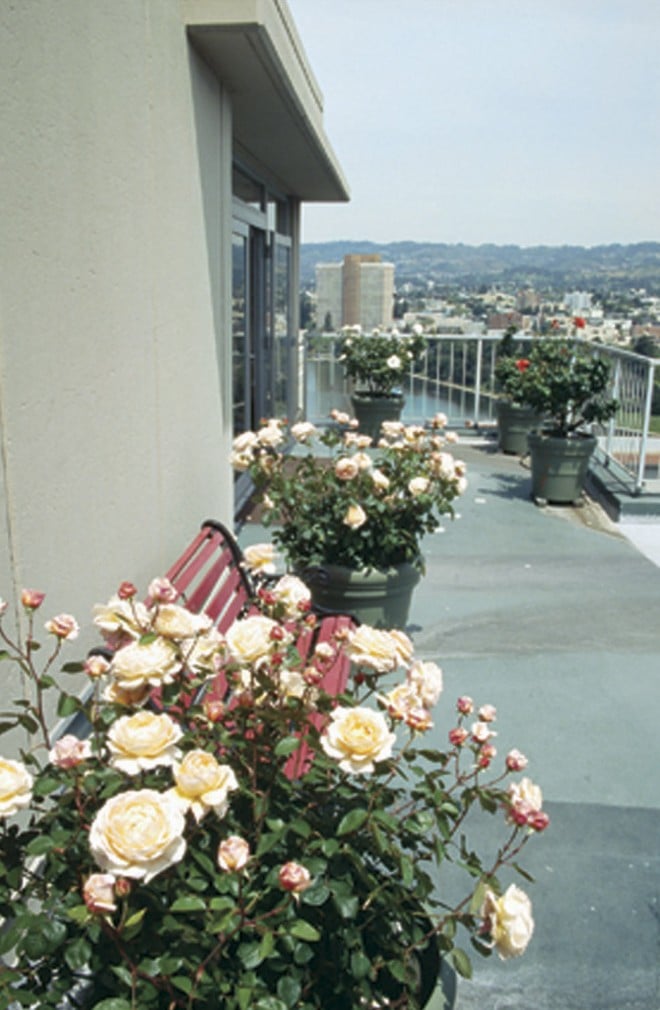 Modest Beginnings
Leaving behind a beautiful garden in the Oakland hills, Lotus Pedersen moved to Lake Park thirty years ago and found the terrace "garden" rimmed with a row of dead and dying privets. An administrator asked her what should be done with the garden. She replied, without hesitation, "Buy a hose." Recognizing that Lotus was an accomplished gardener, a residential council member asked her how much it would cost to start a real garden on that terrace. Lotus arrived at a ball-park figure of $2,000, and then dismissed the thought. To her delight and surprise, she found a check for that amount in her mailbox the next day.
From this modest beginning, Lake Park now boasts three distinct gardens. All have been planted and tended by the residents, under the supervision of Lotus, who had immediately become the chair of the garden volunteers. Some of the men built large containers; others bought soil and plants. A number of plants were donated as memorials to loved ones. Residents bought a shredder and a composter and recycled everything green they could find to continually improve the soils in the containers. They installed hoses and a drip system—and even bought a pallet jack to move the heavier containers.
Lotus encouraged volunteer gardeners to choose an area of interest and take responsibility for it. The results are testimony to the talents and interests of the many gardeners who have lived at Lake Park over the years. Marge Mezger, for instance, is now responsible for the downstairs terrace garden. Another resident tended the orchids, dividing them when needed, and even returned to repot them again after he had moved to a nearby apartment building. Rose enthusiasts are completely responsible for the care and pruning of the rooftop rose garden. Other residents weed, sweep the walks, and prune as necessary.
Over the years, volunteers have learned a great deal about container gardening and about the astonishing number of microclimates that can exist even on a single roof top. The garden reached a height of magnificence—and was scheduled to be photographed for a segment of the Victory Garden television program—when the Loma Prieta earthquake struck in 1989, damaging both building and plants. Despite that setback, the gardens continue to impress.
Gardening On High
Two of the gardens are on the roof of the twelve-story tower. One wing of the roof is home to over seventy roses, including both shrub and tree forms, all growing in identical containers made of recycled plastic. The other wing surrounds three sides of the Vista Room, a popular penthouse gathering space for residents; here, an assortment of choice shrubs, perennials, and herbs fill a variety of containers. This garden also houses the volunteers' tool shed.
From within the Vista Room, beautiful shrubs against the windows and on the open roof deck enhance and frame the views of surrounding buildings, Lake Merritt, and the distant Oak-land hills. Several Japanese black pines (Pinus thunbergii) and a mugo pine (Pinus mugo subsp. mugo), artfully sculpted as large bonsai, are silhouetted against the northern skyline. On the east side a small fountain is surrounded by a huge white rhododendron, camellias, and a deciduous magnolia (Magnolia x soulangeana), with benches and chairs interspersed to allow enjoyment of the view. A few roses and containers of herbs fill a sunnier area; the chef enthusiastically uses the herbs in his haute cuisine.
To the north of the Vista Room, a canopy shelters a coral bark maple (Acer palmatum 'Sango Kaku') whose its bark shimmers and glows in the morning sunlight. Bamboo, nandina, and orchids all benefit from the canopy, which provides protection from the hottest midday sun. More herbs in wooden planters and pots of Mexican bush sage (Salvia leucantha) and rosemary cluster near the pines. Along the western edge of the roof is a stunning grouping of Chinese pieris (Pieris formosa subsp. forrestii), a weeping cherry, a scarlet-flowered Cape honeysuckle (Tecomaria capensis) against the gate, and star jasmine (Trachelospermum jasminoides), which takes on rich foliage colors in winter in this exposed location. Farther along, a wooden fence encloses an area with three vireya rhododendrons; one of them, 'George Budgen' flowers gloriously in brilliant yellow and orange at least twice a year. A fuchsia also enjoys the wind protection in this quiet corner.
Although the garden committee members in this retirement community have changed over the years, Lotus has been the guiding spirit whose passion for gardening has provided continuity. Now in her midnineties, she has stepped down as garden committee chair and passed the trowel to Kay Riddel, who has lived in Lake Park for sixteen months with her husband Bob, a rhododendron enthusiast. Both avid gardeners, the Riddels hosted the 2001 Friends' Garden Party, to celebrate the twenty-fifth anniversary of Pacific Horticulture, at their spacious former garden in El Cerrito. It appears that the gardens at Lake Park Retirement Residence are in good hands.
Gardening in Containers
Gardeners have been cultivating plants in containers since ancient times. For those curious about the long history of the garden pot, a visit to the 2006 San Francisco Flower & Garden Show might be in order. Pacific Horticulture is cohosting a traveling exhibit entitled "A Place to Take Root," which traces the evolution of the garden pot, with an emphasis on America's historic potteries; more than four dozen pots comprise the exhibit. Contemporary containers of various types and origins will be planted by fifteen to eighteen local public gardens to reflect their respective plant collections; each garden is participating as a means of promoting awareness of public gardens in the region—the mission of the Bay Area Gardens Network (BAGNet), our co-host for this exhibit.
"A Place to Take Root" can also be seen at the Northwest Flower & Garden Show, hosted there by the Northwest Horticultural Society (NHS).