Beginning in the spring of 2011 Pacific Horticulture ran a series of articles titled "Striving for Diversity" that focused on encouraging gardeners to expand the variety of trees planted in their landscape. Botanist and series contributor Matt Ritter had this to say about his vision for the series:
We need more diversity in tree planting. Why? Our mild climate allows for it, diversity is more interesting and beautiful, and diverse plantings are safer, making the urban forest more resilient to onslaughts of pests and diseases. Yet, most trees sold and planted in California come from a list of no more than a hundred or so species. A recently published survey of approved planting lists for California municipalities showed that only twenty-six percent of the tree species currently grown in the state are approved for future planting. Given the relatively risky nature of the nursery and landscape industries, it is, perhaps, not surprising that growers and designers are often hesitant to experiment with new trees. However, if we plant only trees that we know will succeed, we are likely to become mired in a horticultural rut without ever discovering new species that might prove to be of great merit. Nothing ventured…nothing gained.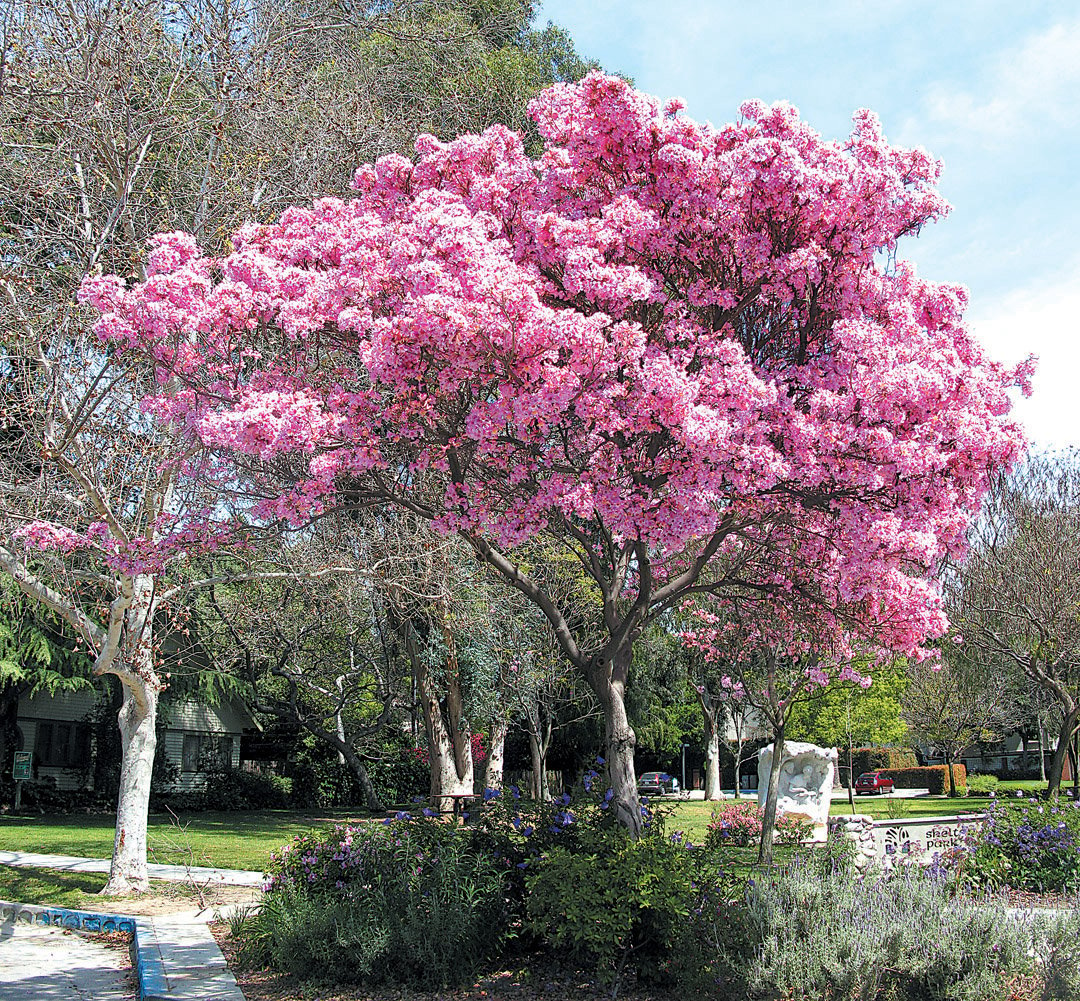 The Trumpet Trees  Handroanthus sp.
Photographs do not do these trees justice. They are best experienced firsthand, preferably on a bright, sunny, early spring day. Asking for them at your local nursery or finding streets, parks, and gardens where they are growing is well worth the effort. If you catch one in full bloom, you are sure to be entranced.
Fragrant Champaca  Magnolia champaca and M. xalba
These two beautiful trees have many common names including champaca, michelia, champak, golden champa, Joy perfume tree, banana shrub, white sandalwood, and white jade flower… This tree was traditionally used to make fragrant hair and massage oils. In fact, Jean Patou's famous perfume, Joy, the second best selling perfume in the world after Chanel No. 5, is derived, in part, from the essential oils of champaca flowers.
Soapbark Tree  Quillaja saponaria
Soapbark tree is native to central Chile's narrow mediterranean-climate zone from the coast to above 6,000 feet elevation. As with their respective climates, the similarities in vegetation communities between California and Central Chile are striking. Soapbark is associated with varying habitats, including the matorral, Chile's equivalent of chaparral, and evergreen woodlands similar to those dominated by oaks in California. In fact, a young soapbark could easily be mistaken for a coast live oak (Quercus agrifolia) at a glance.
Japanese Blueberry Tree  Elaeocarpus decipiens  October 2011
Japanese blueberry tree (Elaeocarpus decipiens) is a beautiful, broad-leaved evergreen from East Asia. Its compact form, lush growth, and elegant branching pattern make this tree a great lawn, garden, or street tree with almost year-round appeal. In spring, bronze-colored leaves emerge and soon mature to a luxuriant, shiny dark green. Before the previous season's leaves fall, their chlorophyll degrades, revealing a brilliant reddish orange color in the dying leaves.
Persian Ironwood  Parrotia persica
With so many worthy ornamental traits and an adaptability to a range of climate zones, Persian ironwood rewards those who choose to grow it, offering interest and beauty in every season. It should be grown more frequently in Western gardens.