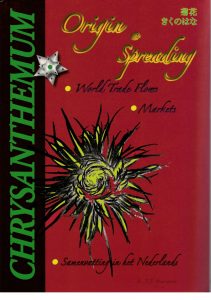 Reading this book made me feel very small. It is the definitive reference book on chrysanthemums for the foreseeable future. Even better, it is not particularly long and organized into helpful sections. It is written with a commendable clarity and parsimony. Minor lapses in English are completely unimportant.
The first half deals with floriculture and floral commerce in the modern world. The second half takes care of the long and complex history of this beautiful flower in both Asia and the Western hemisphere.
The only problem is that Menheer Spaargaren is so modest one needs a microscope to see his name at the bottom of the title page. His website indicates that has a very strong background in horticulture, history and plant genetics.
The history and background of modern cut flowers and how they appeared in all their dazzling variety has interested me for many years. One can walk into an ordinary American supermarket and find six different cultivars of a flower like the chrysanthemum. This seems unremarkable but is in fact extraordinary. Like the wallpaper no one even thinks about it.
One of the late Richard Gorer's books first drew my attention to this topic. In "The Development of Garden Flowers"  (1970) he paid tribute to Victor Lemoine for his legacy of hundreds of new cultivars, which now provide the basis of modern floral commerce. This was a new name. I had never seen it before but the fact that Lemoine had bred more than 400 cultivars of lilac focused my concentration powerfully.
The next remarkable thing I found was that no one had ever written anything about Lemoine. The sole biography is a doctoral thesis by a pharmaceutical student at the University of Nancy, the town in which Lemoine worked for most of his life. That was it, nothing else. The absence of any interest in such a man was appalling and incomprehensible.
Without having to work too hard it became apparent that there were many others in that golden age of heroic horticulture such as Louis Van Houtte.
Just restricting oneself to the chrysanthemum revealed a legion of men who prospered and were internationally famous and are now forgotten. Spaagaren also elucidates in careful detail the enormous contribution of the ancient Chinese and Japanese masters to the development of the fragile and exotic varieties of the flower, which almost overwhelmed Western society when they first appeared.
'Mrs Alpheus Hardy' is a perfect example of that. In this jaded age it is hard to imagine the level of excitement the frilly and birdlike flower created, possibly now only rivaled by the appearance of Beyoncé on a concert stage. It bore almost no resemblance to the small unobtrusive plant known as Matricaria in the 17th century.
The growth of an international market in horticulture and floriculture also did not happen by itself. Here too Menheer Spaagaren traces the movement of floral markets around the world. He uses colored charts and tables to drive home his points. Alas I was only allowed 500 words so must cease now but I think the reader gets the idea.
Judith M. Taylor MD, author of Visions of Loveliness: great flower breeders of the past (Ohio University Press   2014). A sequel, An Abundance of Flowers: more great flower breeders of the past, is a press. She has contributed articles on the development of the modern chrysanthemum to Chronica Horticulturae where this review first appeared and other journals. Dr. Taylor resides in San Francisco, California.