Green clarifies the mind, calms the nerves, and heals the anxious.
From "A Gardener Comes to Terms with Green" in our summer issue of Pacific Horticulture:
Alison Hoblyn, author of Green Flowers, says green "provides a kind of comma, somewhere to rest the eye between stimulating and opposing color areas."

Maybe it is this restfulness that makes it so easy to ignore.
---
Winter:
Fatsia japonica  'Camouflage'
Helleborus argutifolius; H. foetidus 'Wester Flisk', H. hercegovinus
Mahonia nervosa, Mahonia  x media 'Charity'
Osmanthus decorus
Phillyrea angustifolia
Pinus aristata 'Skagit'; P. wallichiana 'Nana'
Sarcoccoca hookeriana var. humilis
Taxus baccata 'Horizontalis'; T.b. 'Amersfoort'
Thuja occidentalis ' Mr. Bowling Ball'; T.o. 'Tiny Tim'; T.o. 'Mossy'
Vaccinium ovatum
Spring:
Anemone nemerosa ' Bracteata Pleniflora'
Arisaema triphyllum
Dryopteris wallichiana, D. crassirhizoma
Euphorbia characias  ssp. wulfenii, E. c. 'Portuguese Velvet'
Fritillaria raddeana, F. affinis
Ornithogalum nutans
Osmunda regalis ' Purpurascens'
Oxalis oregana
Paris polyphylla
Polygonatum odoratum 'Variegatum'
Rhododendron 'Shamrock'
Tellima grandiflora
Tulipa 'Spring Green'
Summer:
Astrantia major 'Shaggy'
Bupleurum fruticosum
Eryngium yuccifolium
Eucomis pole-evansii
Galtonia candicans
Hemerocallis 'Lime Frost'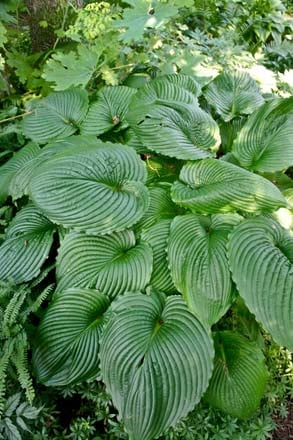 Hosta 'Niagara Falls'; H. Devon Green'; H. Aphrodite
Hydrangea paniculata 'Lime Light', H. arborescens 'Annabelle'
Moluccella laevis
Nicotiona alata 'Lime Green'
Zinnia 'Envy'
Fall:
Mosses!