In Pursuit of Sustainable Spirits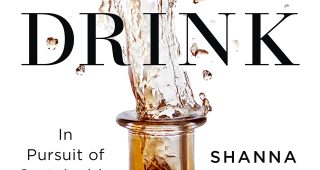 If you've ever wondered what the climate crisis might mean for the future of alcohol, author Shanna Farrell will transform the way you think about shopping for spirits. While we may insist on organic, locally grown produce, we often don't see spirits as food, even though they come from the same crops. A Good Drink: In Pursuit of Sustainable Spirits instills the sense of responsibility and accountability for alcohol selection that we already consider when purchasing food products. As Farrell points out: "We lose a lot when we forget that spirits are food, we don't understand the consequences of production."
Farrell masterfully shares the stories behind people in the spirits industry who have found the key ingredients to not only mixing a tasty alcoholic beverage but also to helping solve the climate crisis. These are the untold stories of distillers grappling with the question of how to make spirits production more sustainable in the face of high and rapidly increasing global demand.
Farrell explores how the sustainable development of spirits has not permeated the eco-conscious masses while the local food movement has enticed transparency and systemically transformed how meat, dairy, and produce are sourced. This book illuminates the unsustainable future of many popular cocktails that require globally sourced ingredients, as well as the need to shift our thinking about how we produce and purchase spirits.
Sustainable, plant-rich spirits, much like agricultural food products, hold enormous potential for climate change mitigation if adopted on a global scale, but anyone wishing to make global spirits more sustainable will be working against established trends. These stories demonstrate how many common retail alcohol brands contribute to climate change, water pollution, and pesticide use.
Before I read this book, I had no idea of the limitations to sustainable spirit production and the challenges to producing better drinks with minimal harm to the health of the environment. A Good Drink highlights the technologies and practices of those working to remodel spirit industry production patterns for a brighter future for our planet. Global alcohol preferences will continue to be a key driver of both agricultural and land-use-related emissions.
Farrell's mission was simple: taste spirits, learn their stories. In doing so, she enriches our understanding of the careful consideration some people in the spirits industry are taking to invest and educate others on how alcohol is an integral part of our food system. How do we preserve local ecology while producing spirits on a large scale?
A confluence of stories from different parts of the world provides profound revelations of where we are in the production of spirits and where we might be heading. Behind every good drink is the tremendous pressure on the communities and environment that produce it. Each chapter gives a glimpse of how spirits derived from specific plants are woven into the fabric of a country or region's landscape, economy, and history, and social life. Thanks to A Good Drink, the sustainability of alcohol is no longer an afterthought for me. Distillers are recognizing their role in the system of sustainable agriculture. From field to bottle, every drop counts.
Review by Tommy Rosenbluth, 11/2021