Over the last nine years, the Great Plant Picks team has been compiling a list of the best plant choices for gardeners in the Pacific Northwest, from Eugene, Oregon to Vancouver, British Columbia, along the maritime coast. Administered by the Elisabeth C Miller Botanical Garden, Great Plant Picks (GPP) brings together participants from among retail and wholesale nursery people, garden designers, and botanical garden staffs in Oregon, Washington, and British Columbia, to select the most reliable performers for the gardening public. This educational and horticultural outreach program of the Miller Botanical Garden promotes the vision of Mrs Miller, who always encouraged gardeners to grow the best plants they could find.
The GPP additions for 2009 include a variety of groundcovers, late flowering shrubs, selections from the sedum trials, and a host of urban-friendly trees. One of the groups I find exciting this year is the selection of useful groundcovers. Mrs Miller was a great proponent of groundcovers; she often combined several different groundcovers to create a tapestry of color and texture that would last through the year. Always enthusiastic about her favorite plants, she shared the best of her groundcovers with the City of Seattle, Stanley Park in Vancouver, BC, and many of her gardening friends.
Among the plants she experimented with were cotoneasters. Known as a tough and reliable group, cotoneasters can also be a bit mundane, but two of my personal favorites were chosen this year: Cooper's cotoneaster (Coton-easter cooperi hort.) and gray leaf cotoneaster (Cotoneaster glaucophyllus). Cooper's cotoneaster is a mystery plant: the plant in cultivation is not likely the true C. cooperi, nor does it match up well with descriptions of other species or cultivars. Mysterious as its origin may be, I would not have a garden without it. Hugging the ground, it forms a tight mat of bright green leaves with an occasional scattering of Christmas-red berries. A slow grower, it is easily kept in bounds and can be mixed with other plants without fear of a foliar coup.
A taller shrub, gray leaf cotoneaster forms a three-foot-tall spreading mound of smoky gray-green leaves. The unusual color of the foliage always draws me in; the branch tips are lined with silvery gray leaves grading to charcoal green deeper into the bush. In late fall, muted red berries line the stem, reminding me of glowing embers in a summer barbeque.
Another shrubby groundcover I have admired is a non-flowering dwarf selection of English laurel (Prunus laurocerasus 'Mount Vernon'). (I can hear the groans now. English laurel! Has GGP gone mad?) I usually have to twist arms to get people to plant this, but I have never had a complaint after they did. 'Mount Vernon' laurel has all the tough qualities of its big brother, but none of its bad habits. Growing to only two feet tall, it forms a dense, compact mound tolerant of sun or shade. It can never aggressively reseed since it produces no flowers.
Perennial Groundcovers
Several of the selected perennials are great as groundcovers for smaller areas. The sedum trials have produced many recommendations. Sedum kamtschaticum creates a thick cover and is tolerant of a wide range of soils and droughty conditions. 'Weihenstephaner Gold' is notable for its prolific, rich yellow flowers followed by deep red seed heads; less vigorous is 'Variegata', with leaves edged in creamy white, which is lovely mixed with the blue-leafed sedums, such as S. cyaneum or S. sieboldii. A newer species is Sedum kimnachii, a hardy, drought tolerant Mexican species with a light apple-green color when grown in good soil with water; when deprived of a rich growing environment, it takes on brilliant orange tones, especially in the winter.
Geraniums as a groundcover? There are several colorful selections for that role. Geranium macrorrhizum becomes a thick evergreen groundcover, surprisingly effective at excluding weeds. Clear white flowers on its cultivar 'Album' are backed with a pink calyx that gives the overall planting a blush tone; 'Bevan's Variety' and 'Ingwersen's Variety' offer varying shades of light and dark pink. For smaller spaces, the more demure G. ×cantabrigiense is a better choice; sharing the floriferous nature and evergreen habit, at six inches, it is only half the height and slower to spread.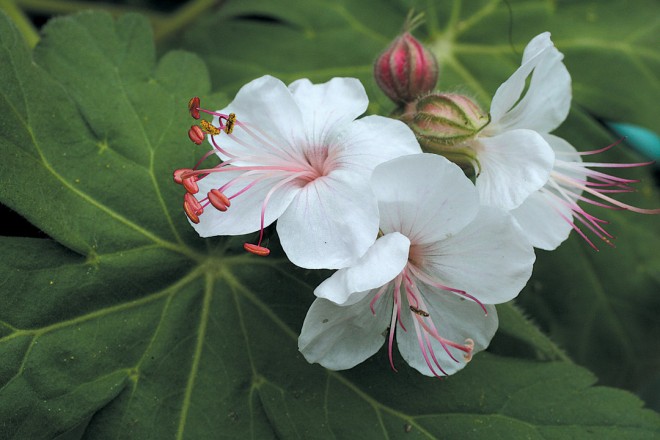 In perennial beds some of the spreading bellflowers (Campanula) will move around until they find the perfect spot, and then settle in. The tongue twisting Dalmatian bellflower (C. portenschlagiana) and Serbian bellflower (C. poscharskyana) are excellent creepers for rockeries. They will fill in between the stones and cover the rocks with blankets of blue flowers. For a deep purple blue look, try 'Resholt's Variety'; for a pale lavender blue, 'Camgood' (commonly sold as Blue Waterfall). A cross between the Dalmatian and Serbian bellflowers, C. 'Birch Hybrid', is a good spreader with clear purple flowers. Although all of these bellflowers have a delicate appearance, they are surprisingly tough when given rich, organic soil and good drainage.
Shrubs for Summer
Well represented in this year's list are a number of summer-flowering shrubs, the best known of which might be the five excellent cultivars of lacecap hydrangea (Hydrangea macrophylla). Three old favorites are 'Mariesii', 'Mariesii Lilacina', and 'Mariesii Perfecta', each a sister seedling selected in the early 1900s and sharing the classic lacecap form. 'Mariesii' is covered in slightly domed flower heads, which are edged with showy sterile florets of the palest lavender blue surrounding a center of deep purple blue fertile flowers. A scattering of sterile lilac blue to lilac pink florets dance around a clear blue center on 'Mariesii Lilacina', giving an open and particularly lacy appearance. 'Mariesii Perfecta' (often sold as 'Bluewave') flowers abundantly in shades of sky blue to pale pink; the flower heads are perfectly edged in sterile florets surrounding the delicate fertile blooms within, creating a most perfect lacecap form—as the name implies.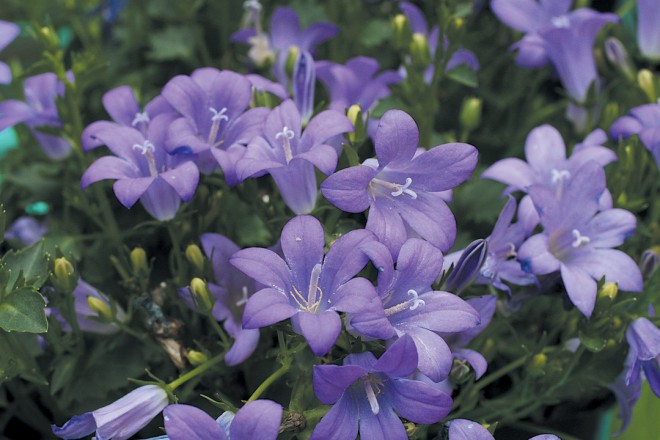 The remaining two hydrandeas were chosen for their dazzling color and excellent habit. 'Blaumeise' is a Swiss cultivar brought into the country as one of the Teller Blue series. Prolific in flower and robust in growth, it is best in acid soils where it gives an unforgettable display of the richest and brightest blue imaginable. The outer sterile florets are huge and fully encircle the deep purple blue fertile flowers. 'Lanarth White' was chosen for its remarkably beautiful white flowers. It readily puts forth flat flower heads loaded with large sterile florets irregularly edging the blue to lilac fertile flowers. When it reaches its peak, the glowing effect is unparalleled.
Weigelas have jumped in popularity in recent years with the influx of new selections and longer flowering seasons. One that remains at the top of its class is the old standby, Weigela florida 'Variegata', whose light pink, tubular flowers splashed over rich green and cream variegated foliage in late spring to early summer. Its resilience in tough gardening conditions and its charming daintiness make it a welcome addition to the landscape. A proven performer from among the new cultivars is W. florida 'Alexandra', more commonly known as wine and roses weigela. Deep burgundy foliage is the perfect compliment for the rose pink flowers, and its compact habit works well in smaller urban gardens.
For small spaces, two bluebeards (Caryopteris x clandonensis 'Dark Night' and C. incana Sunshine Blue ['Jason']) provide interesting late-summer flowers, often not until August or September. 'Dark Night' produces clusters of midnight blue flowers backed by gray green foliage. Sunshine Blue kicks it up a notch with bright golden foliage completely resistant to scorching in full sun; its flowers are a clear mid-blue followed by turquoise seedpods that provide interest through the autumn.
A Few Trees
Summer color on a larger scale is available from a few of the tree selections for 2009. Colorful foliage is the feature for Acer shirasawanum 'Autumn Moon' and golden catalpa (Catalpa bignonioides 'Aurea'). 'Autumn Moon' is luminous with golden yellow growth tipped in orange red; the rich colors hold well through the growing season, then provide a smoldering orange fall display. Golden catalpa will become a beacon in the landscape. The large, heartshaped leaves emerge acid yellow and hold their color through the summer. Once established, it can be cut back hard every year to maintain a more compact size and retain that brilliant color right where you can't miss it!
All of the plants mentioned here, the full 2009 GPP list, and lists from past years can be found on the GPP website: www.greatplantpicks.org. Great Plant picks works with nurseries and master gardeners throughout the Northwest to provide free nonbiased information about the best plant choices the region has to offer.
2009 Great Plant Picks

Perennials and Bulbs
A collection of cobra lilies
Arisaema candidissimum
A. consanguineum
A. ringens
A. sikokianum (3-6, 14-17)
A. triphyllum (1-6)
A collection of groundcover bellflowers
Campanula 'Birch Hybrid'
C. portenschlagiana and 'Resholt's Variety' (2-9, 14-24)
C. poscharskyana and 'Blue Waterfall' (1-12, 14-24)
C. rotundifolia (1-10, 14-24)
A collection of holly ferns
Cyrtomium caryotideum
C. falcatum and 'Rochfordianum' (5-9, 14-24)
C. fortunei (4-9, 14-24)
C. macrophyllum (7-9, 13-24)
Dichelostemma congestum
ookow
Dichelostemma ida-maia 'Pink Diamond'
pink firecracker flower
A collection of coneflower (Echinacea) cultivars (1-24)
E. purpurea 'Bravado', Bright Star ('Leuchtstern'), 'Magnus', 'White Swan'
A collection of Mediterranean spurge (4-24)
Euphorbia characias subsp. characias 'Humpty Dumpty'
E. characias subsp. wulfenii 'John Tomlinson', 'Lambrook Gold'
A collection of groundcover hardy geraniums
Geranium cantabrigiense and 'Biokovo', 'Cambridge', 'Karmina' (1-24)
G. macrorrhizum and 'Album', 'Bevan's Variety', 'Czakor', 'Ingwersen's Variety' (1-24)
A collection of miniature daffodils (1-24)
Narcissus 'February Gold', 'Jack Snipe', 'Tête-à-tête'

Penstemon 'Midnight'
A collection of groundcover stonecrops
Sedum 'Bertram Anderson'
S. cauticola 'Lidakense' (1-11, 14-24)
S. cyaneum
S. ellacombianum
S. ewersii
S. kamtschaticum and 'Variegatum', 'Weihenstephaner Gold' (1-11, 14-21)
S. kimnachii
S. pachyclados
S. pluricaule 'Island of Sakhalin'
S. selskianum
S. sieboldii (12-9, 12, 14-24)
A collection of toad lilies
Tricyrtis 'Sinonome', 'Taipei Silk', 'Tojen'
T. formosana 'Gilt Edge', 'Samurai' (3-9, 14-17)
A collection of triteleias (3-9, 14-24)
Triteleia ixioides 'Starlight'
T. laxa 'Corrina' and 'Queen Fabiola'
Shrubs
Abelia 'Mardi Gras' (4-24)
variegated abelia
Caryopteris clandonensis 'Dark Night' (2b-9, 14-24)
bluebeard
Caryopteris incana Sunshine Blue ('Jason') (2b-9, 14-24)
golden bluebeard
Cotoneaster cooperi
Cooper's cotoneaster
Cotoneaster glaucophyllus (11-14, 18-20)
gray leaf cotoneaster
Cotoneaster salicifolius 'Repens' (3b-24)
spreading willowleaf cotoneaster
Forsythia intermedia 'Fiesta' (2b-11, 14-16, 18, 19)
variegated forsythia
Hydrangea 'Preziosa' (3b-9, 14-24)
A collection of lacecap hydrangea cultivars (3b-9, 14-24)
Hydrangea macrophylla 'Blaumeise', 'Lanarth White', 'Mariesii', 'Mariesii Lilacina', 'Mariesii Perfecta'
Kalmia latifolia 'Keepsake' (2-7, 16, 17)
mountain laurel
Mahonia repens (2b-9, 14-24)
creeping Oregon grape
Prunus laurocerasus 'Mount Vernon'
dwarf English laurel
A collection of evergreen azaleas
Rhododendron 'Blue Danube', 'Girard's Crimson', 'Girard's Fuchsia', 'Glacier', 'Hardy Gardenia', 'Herbert', 'Hino-crimson', 'Hinodegiri',
Sarcococca ruscifolia (4-9, 14-24)
sweetbox
Spiraea betulifolia 'Tor'
birch-leaf spirea
Weigela florida Wine and Roses ('Alexandra' ) (1-11, 14-21)
wine and roses weigela
Weigela florida 'Variegata' (1-11, 14-21)
variegated weigela
Yucca filamentosa (1-24)
Adam's needle
Yucca flaccida (1-9, 14-24)
Adam's needle
Yucca recurvifolia (7-10, 12-24)
curve-leaf yucca
Vines
Clematis 'Betty Corning' (2-11, 14-24)
Hedera colchica 'Dentata Variegata' (3b-24)
variegated Persian ivy
Trees and Conifers
Acer shirasawanum 'Autumn Moon' (3b-6, 14-16)
autumn moon maple
Asimina triloba (2-9, 14, 18-21)
pawpaw
Catalpa bignonioides 'Aurea' (3-10, 14-24)
golden catalpa
Chamaecyparis pisifera 'Filifera Aurea Nana' (2b-6, 15-17)
dwarf golden threadleaf cypress
Cladrastis kentukea (synonym C. lutea) (2-9, 14-16)
yellow wood
Fagus sylvatica 'Rohanii' (2b-9, 14-21)
Fargesia murieliae
umbrella bamboo
Gymnocladus dioica (1-3, 7-10, 12-16, 18-21)
Kentucky coffee tree
Magnolia loebneri 'Leonard Messel' (2b-9, 14-24)
pink Loebner magnolia
Magnolia virginiana Moonglow ('Jim Wilson') (3-9, 14-24)
sweet bay magnolia
Quercus frainetto
Hungarian oak
Quercus phellos (2-4, 6-16, 18-21)
willow oak
Thujopsis dolabrata 'Nana' (3b-7, 14-17)
dwarf hiba cedar
All selections in the Great Plant Picks have been chosen for their suitability in USDA hardiness zones 7 and 8, which covers most of the Pacific Northwest, west of the Cascades. In the list above, zone numbers in parentheses refer to Sunset zones (when available) in the latest Sunset Western Garden Book and have been provided as an aid for readers beyond the Northwest. Plants may not perform equally well in all of the Sunset zones noted.
To learn more about Great Plant Picks and the nearly 700 plants picked to date, please visit the website at www.greatplantpicks. org.