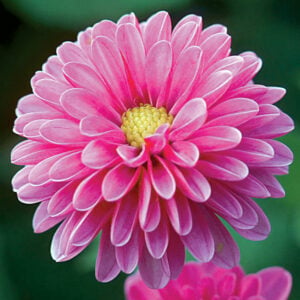 Franck Avril puts his passion for color and nature into his photography.  Work on his website, EverydayJourney.net, illustrates his belief that beauty surrounds us in all forms, always close at hand.
Avril began photographing flowers in earnest in 2004  shooting dahlias in the San Francisco Bay area.  To date,  He is the recipient of over 60 awards from the American Dahlia Society (ADS), including "Best Photograph" in  2005 and 2006.  In 2011, The Helen Crocker Russell Library of Horticulture of the San Francisco Botanical Garden at Strybing Arboretum (Golden Gate Park) hosted an exhibit of his dahlia photographs.
His photography has been featured on several occasions on covers of the ADS Bulletin, and one of his photographs graces the back cover of the ADS publication Raising Beautiful Dahlias The Easy Way (2006). His work has occasionally appeared in other national publications, including in the San Francisco Chronicle.
Franck Avril's photos appear in Bloom Time in the fall 2012 issue of Pacific Horticulture.
Shelagh Fritz is the Garden Conservancy's project manager for the Gardens of Alcatraz. She began working on Alcatraz in 2006, becoming the first gardener on the island since 1963. Commuting by ferry to the island is a unique part of the job. During her time on the Alcatraz, she has developed a passion for Mediterranean plants, succulents, and pelargonium.
Shelagh has a degree in horticultural science and business from the University of Guelph in Ontario, Canada. Her previous positions are chief horticulturist at Manulife Financial Head Office in Toronto, garden intern at Longwood Gardens in Pennsylvania, and conservatory gardener at Syon Park, England, a private estate open to the public.
"I've always loved taking scenery photos. I think I'm especially lucky to work on Alcatraz where every time I'm in the gardens, weeding or watering, something captures my eye, even though I've been there coming up to 6 years now. The contrast of the prison and the plants is really interesting and then you have the constantly changing light on the plants too."
Shelagh Fritz's photo of Alcatraz appears on the back cover of the fall 2012 issue of Pacific Horticulture. Read more about the Gardens of Alcatraz in Serving Time on the Rock, by Zann Cannon Goff in the same issue.
TED PEASE is professor and head of the Department of Journalism and Communication at Utah State University in Logan, Utah. A writer, photographer and recovering newspaper and magazine journalist, he has taught journalism and worked in the mass media since 1976.
Pease has been a newspaper columnist and editor, blogger, photographer, and Pulitzer Prize juror; he is co-editor of four books on the mass media and society, author or coauthor of dozens of scholarly journal articles, book chapters and essays on the press, and hundreds of newspaper columns. He runs his own media consulting company, Ampers&nd Communications—of which his photography business (PeezPix) is part; he also publishes the daily email and blog Today's Word on Journalism, and is book review editor of Journalism and Mass Communication Quarterly, the leading scholarly journal in the mass communication field.
When not in the classroom, Pease is an ocean fisherman and sailor, a bogey golfer, and lumbering tennis player, photographer, and devoted dog companion. For reasons that should be obvious, he has refused to get on a bicycle for more than 35 years, after riding from Seattle to Atlanta. He lived in France for two years a long time ago, playing la guitare américaine dans le Métro in Paris, among other things. He divides his time between Logan, Utah, and Trinidad, California.
Ted Pease's photos accompany Humboldt Botanical Gardens in the fall 2012 issue of Pacific Horticulture.
David Perry  is a Seattle-based photographer and storyteller with a keen knack for observation and a twinkle in his eye. His reverence for gardens and their growers is apparent in the pictures he makes and his playful, sometimes irreverent manner of speaking about them keeps audiences on the edge of their seats.
Perry has earned his living authoring photographs for more than thirty years, completing assignments for books, magazines, annual reports and ad campaigns in all 50 states and around the world. In the past year his work has been featured in Fine Gardening, Sunset, Better Homes & Gardens, Flower, Leaf, Garden Design and Cut Flower Quarterly.
Perry is the photographer and co-creator of The 50 Mile Bouquet: Seasonal, Local and Sustainable Flowers, in collaboration with Debra Prinzing. He is an popular and engaging speaker whose workshops and lectures inform, enlighten and entertain. Find out more at  https://davidperryphoto.com.
David Perry's photos illustrate Compost Happens in the fall 2012 issue of Pacific Horticulture. His work also appears in Bloom Time and on the  front cover of that same issue.