Tucked away in rural Scappoose, Oregon, artist Michihiro Kosuge stands outside his home and studio on his seven-plus acre property. Coffee in hand, Michi greets me like an old friend. The sun is shining and warm as I scan the property and see several stone sculptures placed just so in his clearing in the woods.
"Sculpture takes patience," Michi tells me. "Gardening takes patience."
Gardeners know this. Michi knows this.
Gardens and sculpture have been connected for centuries and when well matched the combination has the power to create a unique and evolving sense of place. I am a passionate gardener and a lover of art. Powerful sculpture in the garden seems a perfect marriage. It is in this spirit that I share the sculptures of Michihiro Kosuge.
I was a fine arts student at Portland State University where Michi was chair of the Fine Arts department and a professor of sculpture. I have known Michi's work for more than a decade and have encountered several pieces around Portland including at the downtown Portland bus mall, the Portland Art Museum, Portland Community College, the Japanese Gardens, parks, hospitals, and private residences. Beyond Portland, his works are sited throughout the West Coast.
It seemed our paths were meant to cross again when the Laura Russo Gallery that represents Michi hired me. I find particular delight in working with a person who shares a common passion for gardening, respect for the environment, and who is keen on connecting natural and sculptural elements with a goal of creating a sense of place. This is key for Michi. Place to him means embracing the passage of time as it washes over the garden or bus mall or hospital entrance. It means interaction between nature in all its changing seasons and the seemingly static nature of stone. It is an energy and dynamic created when two very different materials are juxtaposed and one is constantly changing.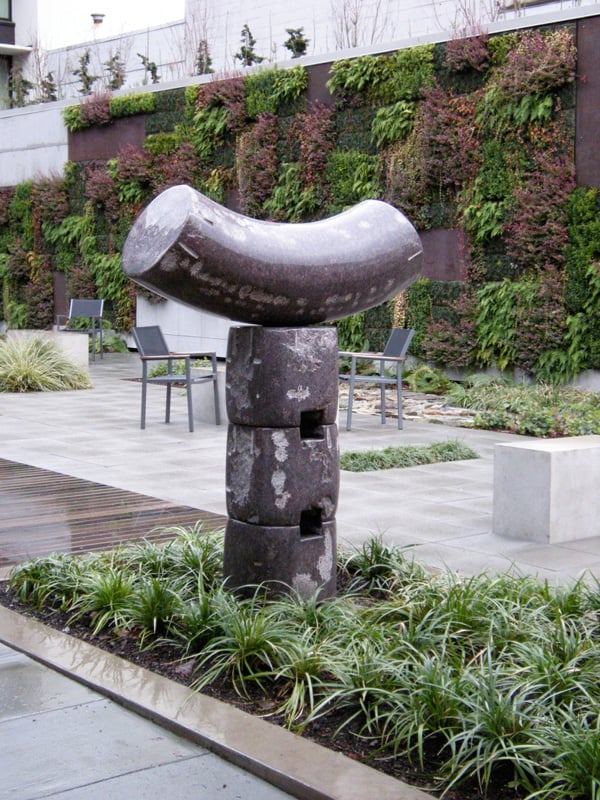 A prime example of a sense of place being created by combining landscape with sculptural elements is the Tri-Met bus mall/Hotel Modera project in downtown Portland. The piece titled Continuation consists of five separate but related sculptures made of repurposed granite from a former reflecting pool and fountain located on the transit mall. The goal was to create sculptures that both respond to and emphasize natural and human-designed spaces. By repurposing existing materials, Michi honored what was there before for a sense of history and permanence. By incorporating his sculptures in one of the most heavily traveled parts of Portland, Michi made sure to create works that are meant to be touched, meant to be sat upon. He created an urban garden for commuters to enjoy.
Born in Tokyo in 1943, Michi draws on Japanese traditions and aesthetics. Combining his formal training at the San Francisco Art Institute and an instinctive understanding of stone, Michi's work creates welcoming spaces of rest and solace. While in the presence of his garden sculptures, I stop and experience the landscape around it with a renewed appreciation.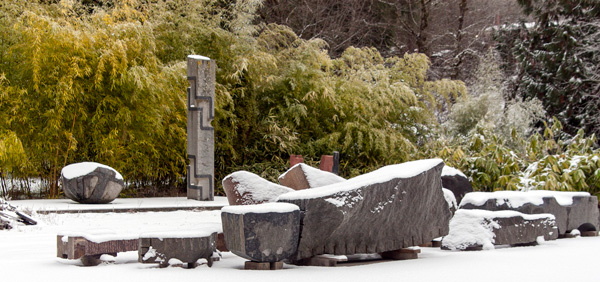 Two other examples that illustrate a creation of place are works sited on his Scappoose property. Volcano Flow is a four-piece granite sculpture he created after experiencing the lava fields that dominate the landscape on the Big Island of Hawaii. Whether the viewer is aware of its inspiration or not, there is a primal familiarity in the liquefied waves of rock and when set against the cool greens of late spring grasses, it ripples across the meadow. The other work, Memorial, is dedicated to a loved one. Three varieties of bamboo planted alongside the upright stone sculpture will eventually, and by intention, fill in and surround the piece. In winter, when Memorial is covered in snow, the starkness of the stone against a gray sky has a piercing, monumental effect, creating a place very different from my summertime visit when the bamboo rustled in the warm breezes.
Since joining the gallery, I have become increasingly acquainted with the process that informs Michi's work. Now retired from Portland State University, his philosophy remains the same: work every day and strive to continually evolve as an artist. His work is slow and meticulous; there are no shortcuts when working with granite. This, he says, teaches him patience. In a finished piece, Michi instinctually combines smooth glass-like polishes with rough and raw passages to allow the beauty of the stone in all its forms to show. Combining the natural qualities of stone with hand-made manipulation allows his sculptures to maintain an organic presence and, at the same time, establish a human connection.
Sculpture, like plant choices and planting styles, is a very personal matter. The interaction of humans with nature and a profound respect for the environment has long been important to Michi. His work underscores connections between plants, gardens, and the human relationship to the natural world. I slow down in the presence of his sculpture. I feel the patience and want to linger.
Leaving Michi's Scappoose garden and studio, I take with me a visual memory of his sculptures and workspace, the meadow and wildflowers, and the trees surrounding this clearing. Without realizing it at first, I also carry away with me a feeling of connection to his little paradise. Gratefully, this feeling still lingers.