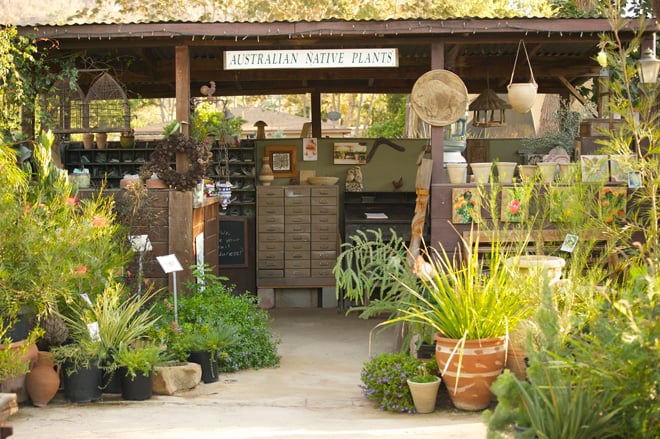 [sidebar]For information about renting the house visit Australian Native Plants Nursery or call 805-649-3362.[/sidebar]
In 2013, Jo O'Connell jumped at the opportunity to buy the junkyard next door. It was an opportunity to expand her thriving Australian Native Plants Nursery in Casitas Springs, California. The land was full of trash, completely uncultivated, and burdened with a crumbling 1929-era house that everyone insisted should be destroyed. The neighborhood was originally populated with oilfield worker's cottages, and this house was one of several that were still standing.
Though untouched for more than 40 years, Jo could see that the house had potential. "I didn't want a cheap new house going up on what I knew would one day be a beautiful property," she says, "And I wanted to maintain the integrity of the neighborhood." Finally, Jo found a contractor who shared her vision. "The house had good bones and we were able to renovate the interior without compromising the original charm. We even restored the old barn adjoining the house. We're just delighted with the results." Nowadays the old charmer is in high demand as a vacation rental property. Surrounded by gorgeous Australian native plants, you might think you were taking a break in the Outback.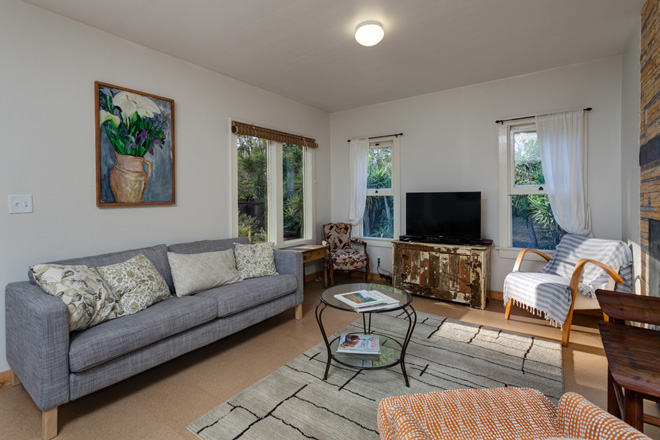 But that wasn't always the case. "We had to clear the site of blacktop, sheet metal, old equipment, black widow spiders, snakes…you name it," says Jo. "No one had cared for the land in forever, so it was really a challenge! I started by planting the borders with several varieties of acacia because they can tolerate depleted soil, are fast growing, and frost hardy."
Frost can indeed be a problem in Casitas Springs, with nighttime winter temperatures often dipping down into the high teens. "The cold winters aren't all bad, though," admits Jo. "We like that it gets cold enough to discourage damaging pests. And because the nursery is fairly close to the coast, summers are warm and balmy, typically around six degrees cooler than Ojai, seven miles further inland."
The acacias created protective microclimates for new plantings of the young Aussie natives, such as Banksia, Grevillea, Hakea, and Chamelaucium. "We planted in spring and everything grew vigorously over the summer," says Jo. "In Casitas Springs, new plants establish much better if they go in during the spring instead of fall." Unless conditions are particularly dry, Jo only waters deeply once a month—even new plant material. That's because South African and Australian natives are extremely drought tolerant. "With established plants, I normally don't bother to water at all," she declares.
The charming cottage garden surrounding the restored house is bursting with grevilleas, leucadendrons, proteas, hakeas, and lomandras. From the back patio, guests are within easy reach of the nursery, several picturesque sitting areas, and vegetable gardens dotted around the nursery grounds.
Why did Jo and her husband Byron choose Casitas Springs in the first place? "Well, I didn't," laughs Jo. "But it's really worked out. I came to Southern California in 1992 to establish the Taft Gardens in Ojai, met and married Byron, and he already had the first piece of land here. He hadn't done much with it and told me to develop it in any way I liked. I didn't need a second invitation—it was as if the land was telling me what it wanted to be! As soon as the Taft project ended we rolled up our sleeves and started the nursery. And Casitas Springs has turned out to be a perfect location. We enjoy our down-to-earth neighbors and we love the easy accessibility to Ventura and Ojai. It's only five minutes' drive to each center. We get customers from everywhere, many even come up for the day from LA."
Rental guests are welcome to wander around the three-acre nursery, pick some vegetables from the garden, or gather a few free-range eggs from Jo's "chooks" who cluck and peck happily around the grounds. I'm completely happy here in my Australian 'home away from home,'" says Jo. "We've been here 23 years and I'm still enjoying it!"
---
The following is a list of plants in the landscape surrounding the rental properties:
Acacia pycnantha, A. rubidia, A. spectabilis, A. viscidula
Banksia integrifolia, B.grandis, B. serrata
Bauhinia galpinii
Callistemon 'Kings Park Special'
Chamelaucium 'My Sweet 16', C. 'Purple Pride'
Correa 'Dusky Bells', C. glabra 'Coliban River'
Dianella 'Luna Gold'
Eremophila maculata 'Carmine Star'
Grevillea lanigera, G. leucopteris, G. 'Poorinda Blondie', G. rhylotica, G. 'Sylvia'
Hakea arachaeoides, H. bucculenta, H. dactyloides, H. elliptica, H. platysperma
Leptospermum scoparium, L. 'Bush Bronze', L. 'Dark Shadows'
Leucadendron 'Inca Gold', L. meridian 'More Silver', L. salignum 'Blush', L. s. 'Chief', L. s. 'Golden Tulip', L. 'Wilsons Wonder'
Lomandra 'Breeze', L. 'Katie Bells', L. 'Tropic Belle'
Myoporum floribunda
Prostanthera magnifica
Protea 'May Day', P. 'Susara'