Sure, my smartphone is a communication device. But it's also my portable notebook, a map in the wilderness, a camera that makes me look like I know what I'm doing, and even a contemporary iteration of an old-school transistor radio that keeps me company while I work in the garden. But I never thought it would allow me to take my garden library along on every hike and road trip.
On a recent wine country vacation the California Gardens app led us to the whimsical plantings at Peju Province in the Napa Valley. Manipulating and contorting giant sycamores might not be for everyone, but the practice certainly has its roots in folk traditions: search the application for "Gilroy Gardens." We were charmed by the quirky landscape just off Highway 29.
I once had a friend who declared herself to be a "woody person." This was largely in relief of the rest of us who simply couldn't get enough perennials to satisfy our lust for all things herbaceous. Since then, I have come to my horticultural senses and appreciate the lasting presence and structure woody plants contribute in all four seasons. The CityTree app is your guide to identifying the trees around you, as well as a tool for vetting possible candidates for your landscape. We went with a Persian ironwood (Parrotia persica) in our new back garden.
Last spring, armed with bird guides and binoculars, friends and I set off to catch bluebirds on their return to Bickleton, Washington. However, in the course of a day with our eyes trained on the sky we became completely distracted by a carpet of wildflowers beneath our feet. Fortunately, one of us had the Washington Wildflowers app to help ID the curious ground hugging violet whose blooms and fleshy foliage were valiantly thriving in the exposed and windy prairie conditions. Seemingly delicate sagebrush violet (Viola trinervata), spiny phlox (Phlox hoodia), and bulbous prairie-star (Lithophragma glabrum) dotted the still-dormant grassland among clumps of the more rugged thyme-leaved wild buckwheat (Eriogonum thymoides) and the wicked spines of carpeting Columbia prickly-pear (Opuntia ×columbiana).
I have little interest in living life online when the real thing is so much more fragrant and muddy and filled with texture. However, the information these garden apps put my fingertips has enriched my travels without distracting from the world before me.
---
California Gardens
David Laws, Sutro Media
iPhone, iPad – Free, Upgrade ($2.99) provides access to additional offline content including nearly 2,000 photos and maps. Android – $1.99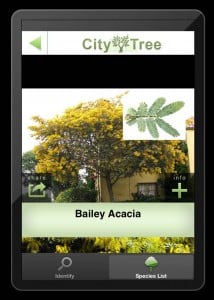 CityTree
Dr Matt Ritter
iPhone, iPad, Android – $3.99
Washington Wildflowers
University of Washington Herbarium at the Burke Museum, authors of Wildflowers of the Pacific Northwest, and High Country Apps
iPhone, iPad, Android – Free; upgrade ($7.99) covers more than 870 plants