---
OUR MISSION IS TO ADVOCATE FOR THE GARDEN AND ITS POWER
TO ENRICH LIVES AND HEAL THE ENVIRONMENT.
We envision a resilient world dependent on the thoughtful cultivation of plants.  
---
Gardening in the Pacific region is different. 
Climate vulnerability and growing conditions are unique here.
If you live in the Pacific region, you know that seasons in your garden look different from the rest of North America. You have likely observed that the Pacific Ocean annually influences weather patterns from the coasts to the mountains.
In an already complex region, climate scientists tell us that extreme changes are underway. Urban communities are especially vulnerable to the full range of climate change effects, many of which impact human health, e.g., wildfires, droughts, biodiversity loss, heat dome effects.
In order to live in this new climate era, we seek to deepen our understanding of where we are and embrace an optimistic approach to stewarding our landscapes. Gardeners have an existential interest in supporting biodiversity and the health of ecosystems on which human and environmental resilience depends.
As a non-profit education focused organization, we are increasing the number of beautiful, resilient gardens and landscapes that benefit nature and people in the Pacific region. We achieve this through optimistic stories on new media platforms, in-person events and experiences, and accessible spaces for dialogue among trusted members of our multi-disciplinary community.
Our members are essential to our impact. Join Pacific Horticulture– for the access to expertise and resources, innovative gardening techniques, and for the connections to others who share your enthusiasm for plants.
Our resources serve (but are not limited to) California, Oregon, Washington, British Columbia, Hawaii, Alaska, and Baja California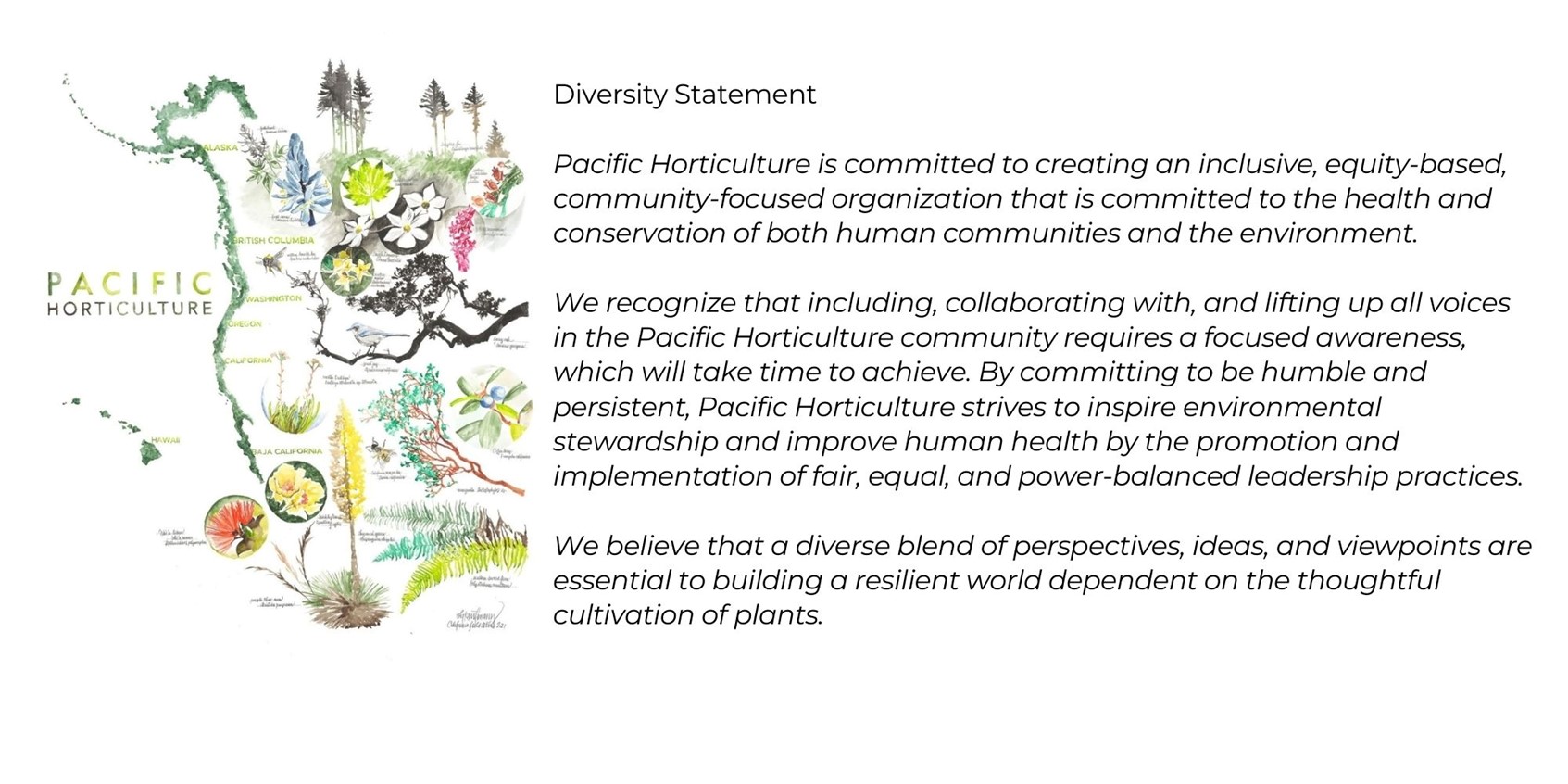 We have a passion for multidisciplinary connections. We invite participation in our "no silo zone" network of diverse allies meeting on digital platforms and in-person: gardeners, designers, scientists, horticulturists, nursery growers, educators, students, planners, and everyone with an interest in collaborative dialogue and action. Together we are finding new models for allowing nature to thrive with us where we live.
For over 50 years, West Coast gardeners looked to the pages of our award-winning quarterly journal for information and inspiration on planting gardens in the distinctive climate of the West Coast. We are committed to staying relevant for the next 50 years and we have a plan to accomplish this.
Today we exist in a media environment that often values lifestyle over authentic inclusivity. Our response is built on consistency, representing diverse perspectives, and providing high quality information. Our tools include storytelling, where community members see themselves represented, confirming that the benefits of gardens, greenspace, and access to nature are for everyone.
Our relevant regional stories focus on topics such as: wildlife and habitat planting, drought resilience, inspired and beautiful garden design, fire preparedness, urban and watershed ecology, green infrastructure, native and climate-adapted plant selections, and the effects of gardens and gardening on human health.
ANNUAL REPORT – 2021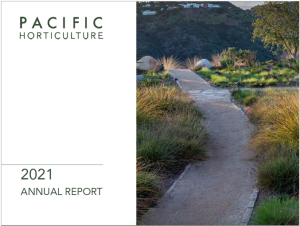 STRATEGIC PLAN – 2020 – 2023
Read more about the future of Pacific Horticulture in our Strategic Plan 2020-2023, published in October 2019.
ANNUAL REPORTS
PACIFIC HORTICULTURE 990 FILINGS
Have a comment or suggestion for our content? Click here
Pacific Horticulture is a 501(c)(3) organization dedicated to promoting horticultural and environmental literacy throughout the Pacific region. A copy of the latest official registration and financial report may be obtained by contacting Pacific Horticulture at our mailing address.
Federal Tax ID 94-1684498

This link leads to the machine-readable files that are made available in response to the federal Transparency in Coverage Rule and include negotiated service rates and out-of-network allowed amounts between health plans and health care providers. The machine-readable files are formatted to allow researchers, regulators, and application developers to more easily access and analyze data. https://healthy.kaiserpermanente.org/front-door/machine-readable