Melinda Kralj began as a volunteer at the University of California and worked her way up to become curator of the Australian plant collection – the largest of any outside of Australia – where she designed and helped install its distinctive Australian Rock Garden.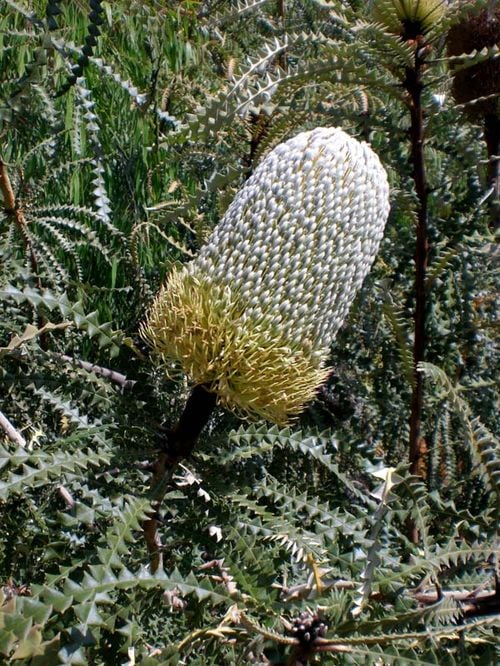 Banksia "Ric Rack Banksia"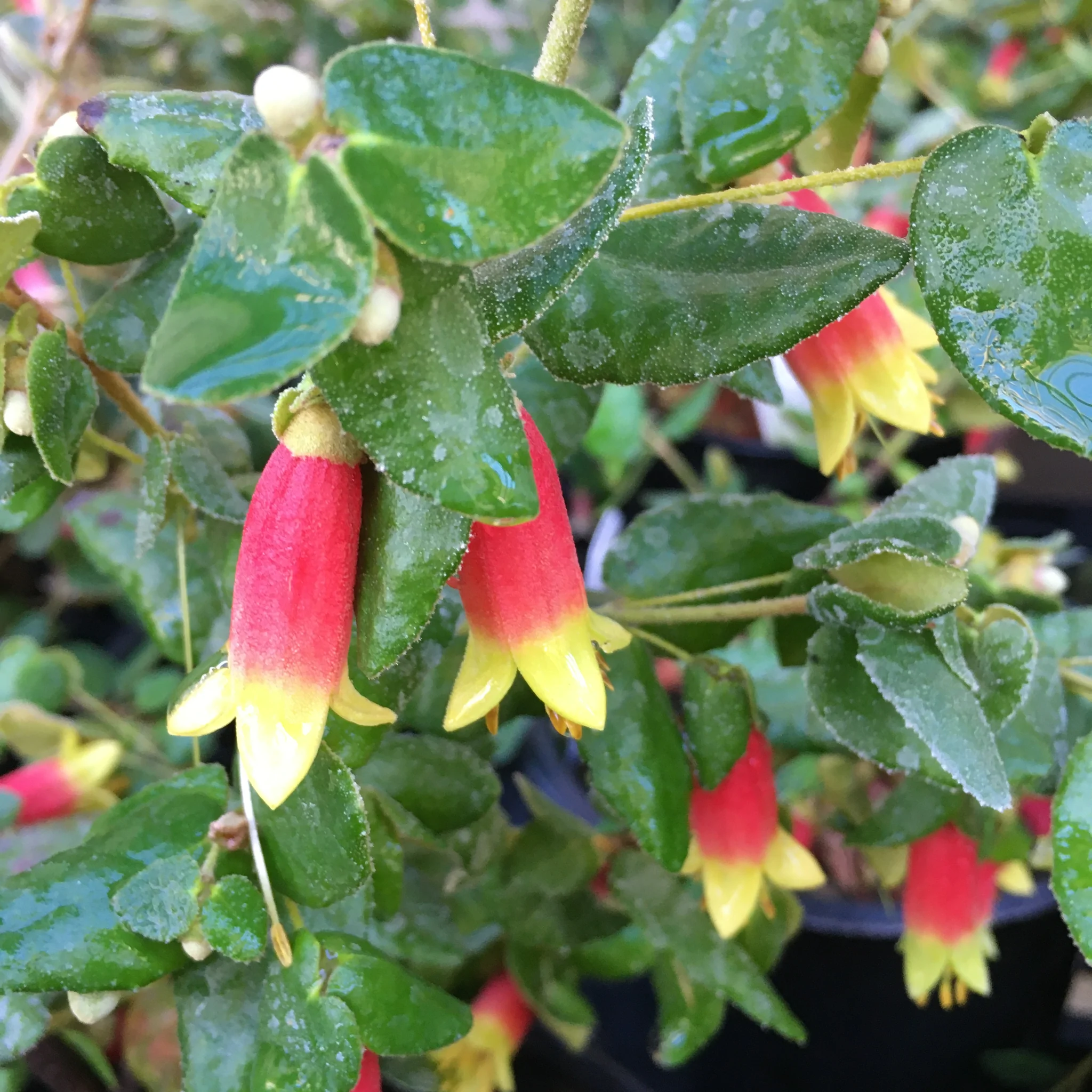 Correa reflexa 'Cape Nelson'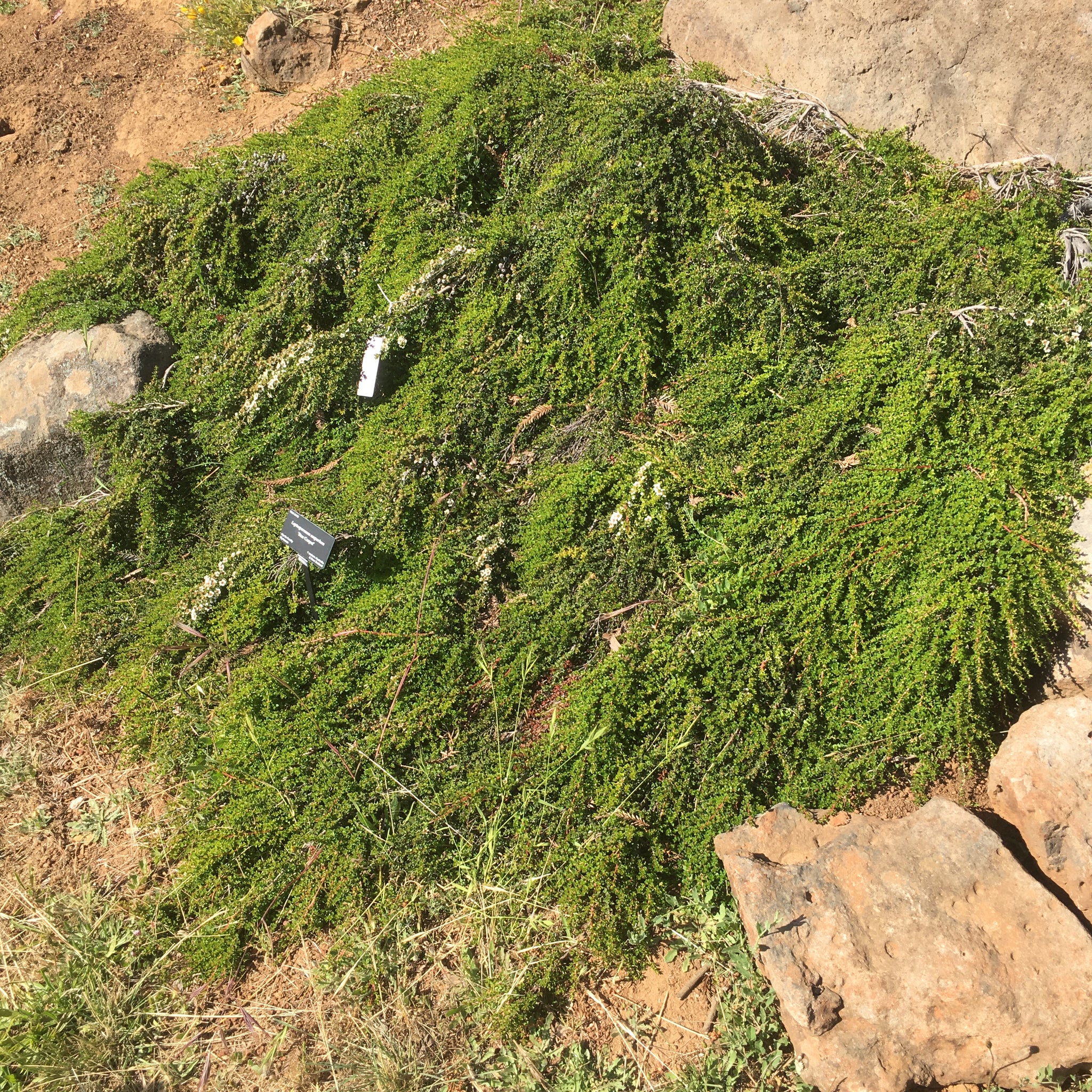 Leptospermum scoparium 'Star Carpet'
Banksia "Ric Rack Banksia"
Banksia "Ric Rack Banksia"
This Banksia Brings Extravagant Flowers and Foliage. Spreading medium shrub to small ornamental tree 9-18'. Creamy-yellow long lasting flowers, with thin, silvery grey-green deeply toothed leaves. Flowers most of the year. Well-drained, light to heavy soils in open sunny position. Tolerant of alkaline soils. Drought and moderately frost tolerant. Grown commercially for cut flowers. Makes an attractive hedge or screen.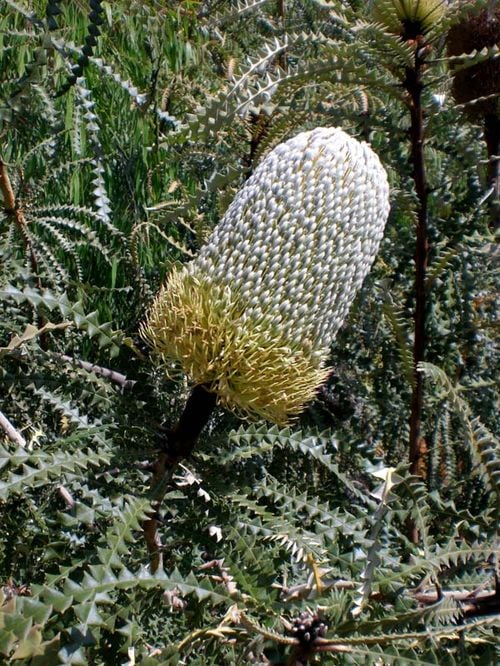 Conditions When It Thrives
Well-drained soil, full sun
Drought-loving once established
Hardy to approximately 20-25 degrees Fahrenheit
Can be grown as shrubs or small trees from 12-20' tall.
First Banksia species specimens were collected in 1770, and the genus was named by Carl Linneus in honor of Joseph Banks.
Zig-zag foliage looks like it was pruned with pinking shears, otherworldly 1' tall creamy yellow inflorescences bloom most of the year in Berkeley. They make great dramatic additions for floral arrangements.
Seasonal Appearance/Dormancy
Can tolerate sandy soil, but avoid direct salt spray. Avoid winter rains.
Correa reflexa 'Cape Nelson'
Plants You Need |
Sustainable Gardening
Correa reflexa 'Cape Nelson'
A Standout Correa. An evergreen shrub to 4 feet tall and wide that has small dark glossy olive green elliptic leaves that clasp the stems and narrow tubular lipstick-red flowers from fall through spring. Best in cool coastal sun to partial shade with good drainage. Drought tolerant once established but performs best with summer irrigation. Hardy to the mid to low 20°s F. This long blooming shrub is attractive to hummingbirds and can be pruned to shape or to keep smaller and adds interest to the mixed flower border or woodland garden in mass or as a single specimen and is good for container gardening. This plant originated from Kangaroo Island, Australia's third largest island, that is located 70 miles southwest of Adelaide at the entrance of Gulf St Vincent.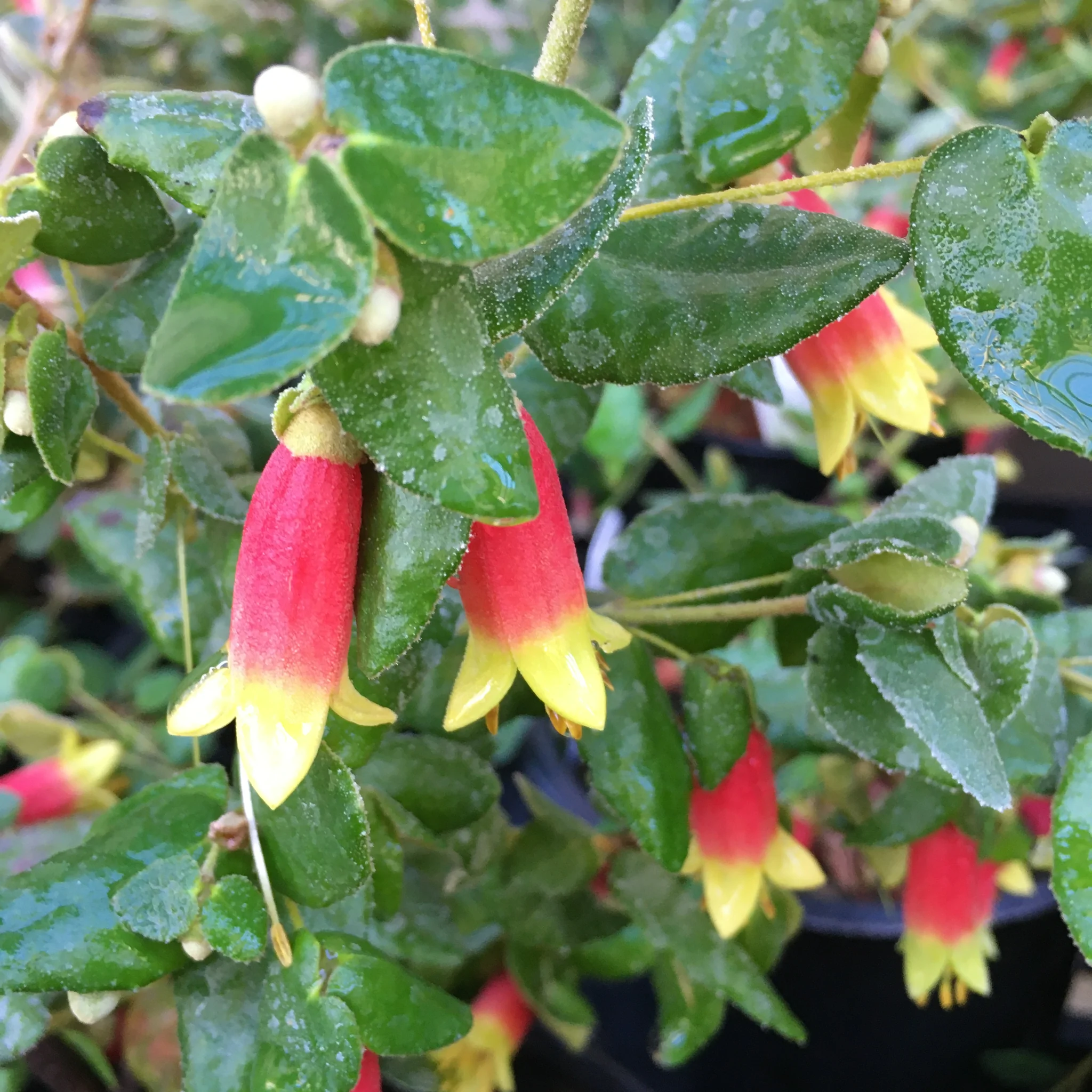 Conditions When It Thrives
Full sun, well-drained, fertile soil.
Pollinator-attracting, particularly birds, drought-loving once established
Victoria state, Australia
Although some reports say it can grow 10' wide, Kralj says this shrub gets 2.5' tall x 4' wide.
Flowers are dangling trumpets in cerise with flared lemon tips. Elliptical leaves are olive-green.
Of all the Correas from the Cape Nelson are UC Santa Cruz Arboretum & Botanic Garden trialed, this showy performer won the right to be named as a cultivar. Also, Correas are in the citrus family, Rutaceae.
Seasonal Appearance/Dormancy
Great for the front of the border, along paths, or in a pot where their foliage and flowers can be appreciated up close
Leptospermum scoparium 'Star Carpet'
Plants You Need |
Sustainable Gardening
Leptospermum scoparium 'Star Carpet'
Trailing Leptospermum Offers Summer fireworks Backed by Evergreen Foliage. A spreading evergreen groundcover that stays flat to the ground and grows to 6 to 8 feet wide but can be kept smaller with pruning. The stems are covered by quarter inch long sharp tipped sessile scale-like leaves that are bright green in new growth and darkening with age. In mid spring the plant is covered by the lightly fragrant single white flowers with greenish centers that present themselves well on the foliage, looking like stars against the dark sky.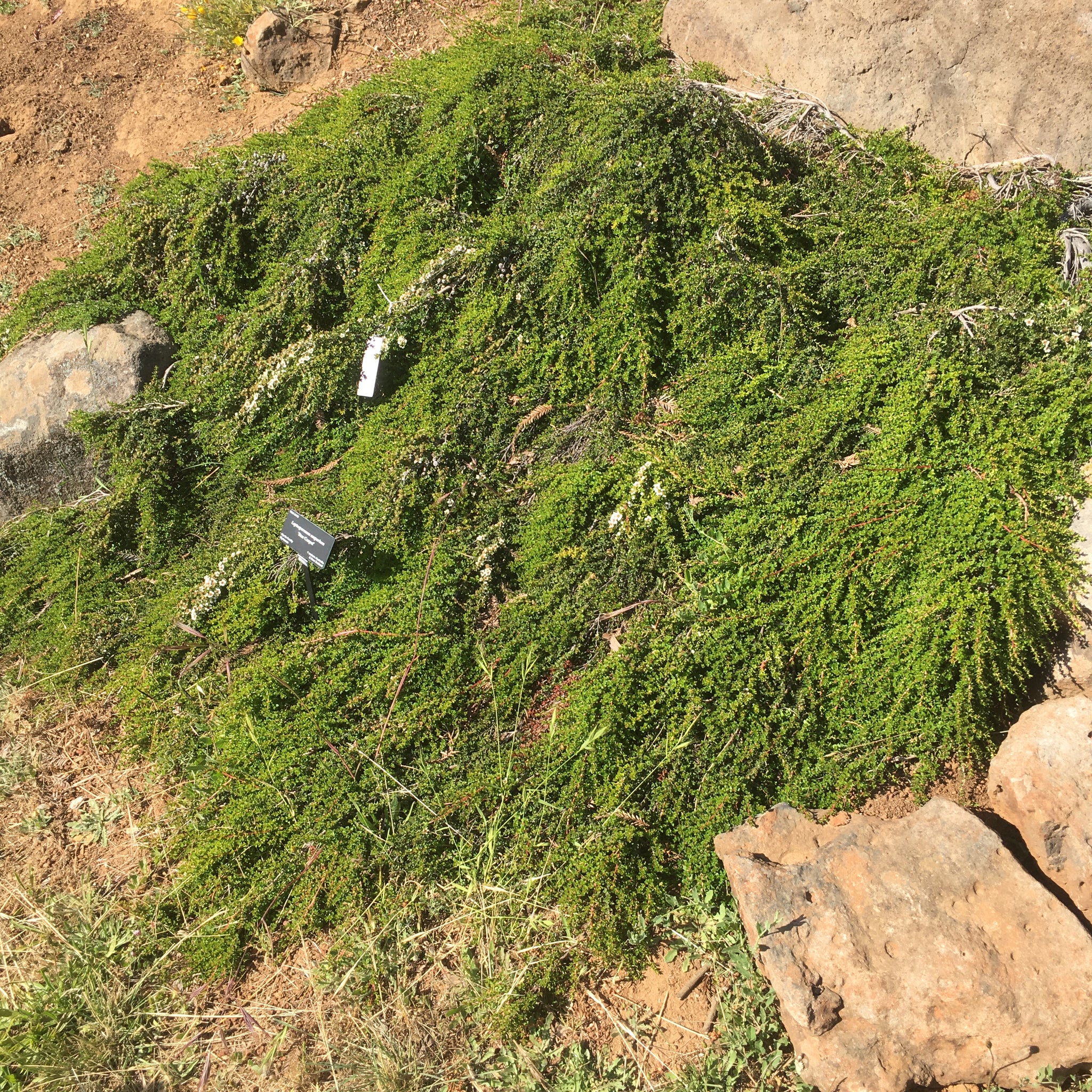 Conditions When It Thrives
Cold hardy to approximately 20 degrees Fahrenheit. Prefers slightly acidic, well-drained, fertile soil. Water well to establish while young, after which it is somewhat tolerant of drier conditions.
Attractive to many pollinators, especially bees.
Australia and New Zealand
This evergreen groundcover creeps along the ground nearly flat, to about 7' wide, with small glossy leaves making the perfect backdrop for the clouds of white single cupped flowers with lime green centers.
The leaves are aromatic when crushed.
Explorer Captain James Cook gave his crew a tea from Leptospermum species to combat scurvy in 1768, hence the common name of 'Tea Tree'. Manuka honey is made from Leptospermum blossoms.
Melinda adores its beautiful, graceful texture as it drapes over a wall, festooned with white flower fireworks in summer.
Seasonal Appearance/Dormancy